Sometimes, looking for a fancy and high-end chandelier can create more troubles than we anticipated. They can be quite expensive, and a single damaged piece could lead to a fixture that doesn't work until you buy the replacement parts — some of which can also be hard to find.
If you don't want to deal with any of that but still need a stunning chandelier, then a mason jar chandelier is the perfect alternative for you.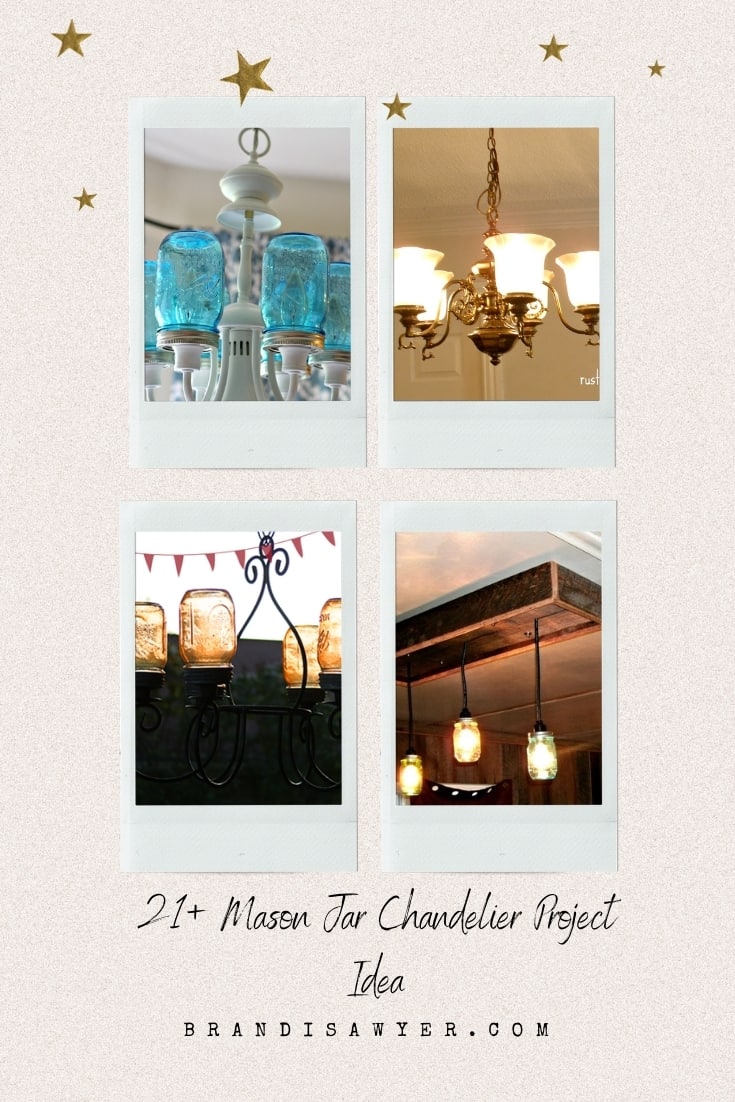 In this article, we'll cover many project ideas to create our own mason jar chandelier. Since creativity works in wonderful ways, each of the entries in this post has a unique touch that makes the chandeliers ideal for kitchens, living rooms, and even outdoor areas.
To inspire your DIY skills, we've gathered multiple blogs with fully detailed instructions on how to create the chandeliers step-by-step.
So, got your supplies ready? Let's start this journey, then!
Why Have a Mason Jar Chandelier?
There are many reasons why having a mason jar chandelier is a good idea, and here we'll tell you a few of them.
A Different Look
Tired of your household looking the same after years? The mason jar chandelier comes as an easy solution to change the decoration in specific areas at home. Who knows? It may even encourage you to do a complete makeover after you see how good these fixtures look.
Easy for Everyone
Even if you're not into DIY activities, the mason jar chandelier works as an excellent method to get you into projects created with your own hands. These chandeliers are simple, affordable, and won't require an excessive amount of effort to get the job done.
Many Styles
Do you want the rustic look of the farmhouse style? Or perhaps you're looking for a modern, stylish mason jar chandelier? Whatever the case may be, you'll find tons of different mason jar chandelier styles that fit your needs.
Fun
Lastly, you'll have a lot of fun making them. You can do it alone or with companions and spend high-quality time putting your DIY skills to the test.
Mason Jar Chandelier Project Ideas You Can't-Miss
Let's just head into the most inspiring project ideas for our mason jar chandelier:
1. Rustic Mason Jar Chandelier
There's something about vintage-styled chandeliers that make us admire their beauty. However, modern houses may not have a place for this type of old fixtures.
When that happens, setting up a mason jar chandelier may bring some long-needed innovation for the living room, kitchen, or other areas of the house.
2. Budget-Friendly Outdoor Mason Jar Chandelier
Why stick to interiors? Set up a mason jar chandelier in the backyard, and you'll have the perfect place to hang out with friends, family, and guests visiting the house.
Want to know the best part? This project is inexpensive! If you got the will to pull it through, Shanty 2 Chic has the steps to guide you.
3. Three-Lined Mason Jar Chandelier Project
Watching the photos shared by Julie makes this project look simple, but there's a bit of handiwork involved to create this piece of art.
Luckily, Julie's detailed explanation for every step inspired us to keep going and ultimately make our version of this beautiful mason jar chandelier.
4. Holiday-Inspired Mason Jar Chandelier
Looking to spend some quality time with people close to you during the holidays? Proper lighting is essential to set the mood, and this beautiful chandelier featuring a mason jar design can create the perfect atmosphere both outside and indoors.
5. Romantic Mason Jar Chandelier w/ Blue Traces
Let your creativity run free as you create your mason jar chandelier from scratch! For this project, the combination of blue heritage mason jars with teardrop crystal prisms won't only provide bright lighting but also gives our chandelier stunning blue colors.
6. Easy DIY Mason Jar Chandelier
Even the most simple DIY projects can help us create gorgeous fixtures for our home. In this case, we'll be working on a mason jar chandelier that is both easy and affordable to make, which should be enough to inspire homeowners to try it out.
7. Southern Charm Mason Jar Chandelier
As the name suggests, this mason jar chandelier's outshines with southern charm. The fact that it is straightforward makes it even more enjoyable.
That's also beneficial for us since we won't have to spend too much money to complete this project from our home's comfort and using basic materials.
8. Hanging Mason Jar Flower Chandelier
The following chandelier is a bit different. It doesn't have the classic lights inside, but rather a selection of flowers that make this mason jar chandelier perfect for outdoor areas with plenty of green around.
There's nothing complicated about this project, so everyone gets to have one of these at home to improve the decoration.
9. DIY Jar Chandelier
If you liked the previous chandelier featuring flowers, you'd also love this one.
This mason jar chandelier is ideal for outdoor locations, as it uses the beauty of the flowers included to bring a natural decoration style that most will admire.
10. Turquoise Mason Jar Chandelier
It's incredible what we can accomplish with simple tools and materials found in every household.
This chandelier is a clear example of that, as it required nothing more than getting a few mason jars to breathe new life into an old, worn-down chandelier.
11. A French Farmhouse Style Mason Jar Chandelier
With a matching combination between the mason jar and beautiful chandelier droplets, this project idea gives us a mason jar chandelier that quickly becomes the center of attention in the house. It stands out above everything else, improving the room's decoration.
12. Bright Light Chandelier Using Colorful Mason Jars
This fantastic idea from Johnnie's website allows us to reimagine what a chandelier can look like when using colorful mason jars as the central theme.
By teaching us how to work on this project step by step using pictures, we can keep the pace and follow the instructions thoroughly.
13. The Perfect Mason Jar Chandelier for Special Events
By looking at the pictures shared by Jeanette on her blog, we can tell this is an incredible fixture that would grab everyone's attention during those special days.
This chandelier quickly enhances the room's decoration, making it an easy DIY project that we can't ignore.
14. Piled Up Mason Jar Chandelier
When the traditional chandelier design doesn't cut it out for you anymore, perhaps trying new things would be a good idea.
This project is perfect for those moments, as it offers a different take on what a mason jar chandelier can look like. It is simple, easy to do, and highly effective for many areas of the house.
15. White & Blue Mason Jar Chandelier
Although not necessarily the fanciest out there, this idea allows us to create a classic mason jar chandelier with impeccable white and blue colors. Naturally, you can customize the materials as you see fit to match the decoration of your home.
16. Natural Outdoor Mason Jar Chandelier
We've talked about outdoor chandeliers before, but this one ditches the traditional style in exchange for a more natural, organic look featuring sticks. Y
ou heard that right. Besides looking pretty good, carrying out this idea doesn't take much time nor effort. It's the perfect decoration style for outdoor dining areas, recreational spaces, and more.
17. Outdoor Mason Jar Chandelier with Candles
We're once again relying on candles to set the perfect mood for some quality time in the backyard or other outdoor locations.
This chandelier is perfect for that, as it combines votive candles with glass holders to create a beautiful mason jar chandelier.
18. Mason Jar Chandelier with Barn Wood
This chandelier idea may be simple, but it's so satisfying once you set it up in its designated place. Jolynn Powers inspires us with a fun project to create a mason jar chandelier from old barn wood.
19. 'Giant Pepper Mill' Mason Jar Chandelier
Kids are the cutest, aren't they? Called a 'giant pepper mill' by the daughter of the person behind this idea, this chandelier is truly something else. The writer suggests the idea came after finding a wooden turned post on the side of the road, indicating to us that creativity can hit at the weirdest moments.
And we're glad it did. This fun project has given us one of the most exciting mason jar chandeliers, and we want to share it with you as well.
20. Wagon Wheel Chandelier Featuring Mason Jars
Mainly featuring a wooden wheel and mason jars, this project allows us to work on an impressive chandelier using pretty basic materials and tools.
The combination of mason jar lights with the country look of a wagon wheel is definitely a piece of decoration that deserves our attention.
21. Shabby Chic Mason Jar Chandelier
If you're looking for a chic chandelier, it doesn't get any better than this. One of the most surprising properties of this chandelier is how good the pink color looks, though you're free to use whichever paint you like the most.
The bright lights are also a plus, as they pleasantly illuminate areas like the kitchen.
22. Baby Food Chandelier (Inspirational)
Ready to have your heart melted? Figuratively, of course. This particular idea doesn't use mason jars as we know them, but the concept translates easily to these molded glass jars.
Primarily, we liked using two-barrel hoops, which efficiently bring all the parts together to create a beautiful chandelier.
23. Mason Jar Lanterns
Candles always have a certain mystique around them when used for decoration purposes. That's why this idea found at DIY Cozy Home brought a smile to our face: it looks great, works perfectly as decor, and best of all, it's easy to accomplish.
Though not necessarily a chandelier per se, you can still draw inspiration from it to make your own.
24. Hanging Mason Jars Chandelier
Though not much different from other ideas we've seen, we really enjoyed the thorough explanation and the attention to detail in this article.
By sharing every step of the way and all the tools needed, we found at Brucekatlin a gorgeous chandelier using mason jars and green leaves for a more natural feel.
Conclusion
With some mason jar chandeliers requiring as few as a $10 investment, everyone can find a suitable option that matches both their house decoration and their budgets.
It all comes down to how proficient are your DIY skills, which we can assure you will only get better when you start working on one of these projects.
So, don't think about it too much, and get ready to bring a fascinating, innovative look to your house by installing one of the mason jar chandeliers mentioned here.