Easy access between rooms, beautiful looks, and their capacity to save space are some of the reasons why having a barn door at home would be a good idea. But of course, working on our ideal barn door requires the right plan to follow.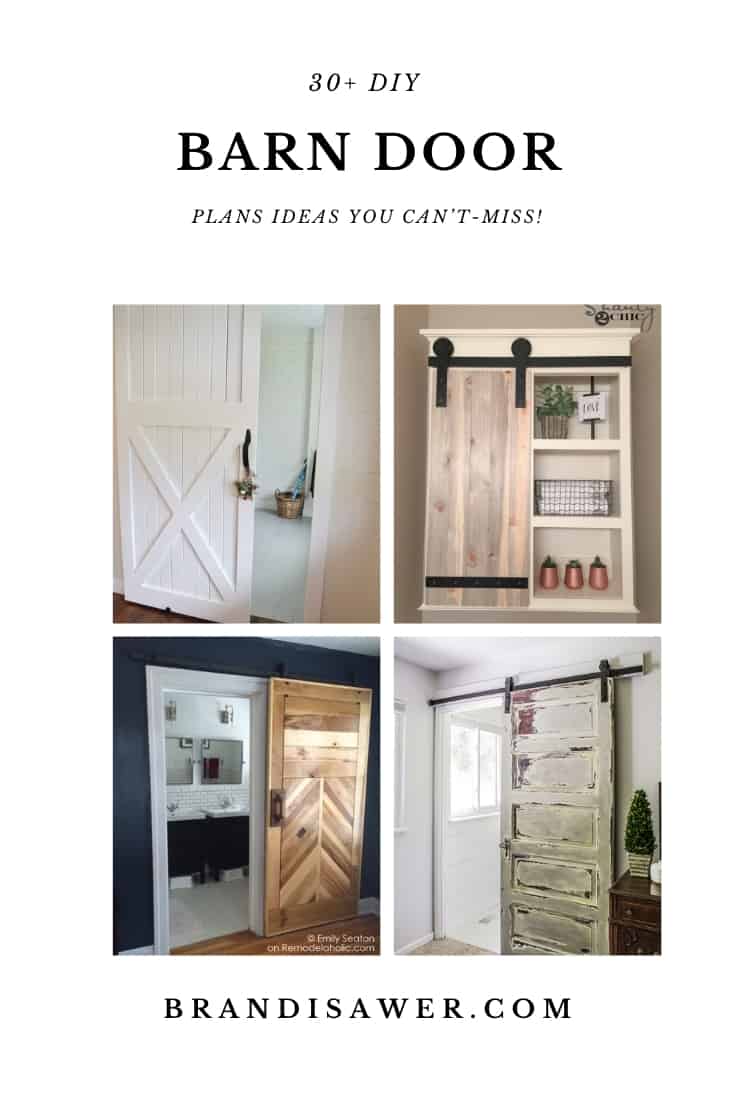 In this article, we'll cover different ideas shared by DIYers and professionals that inspired our creativity. Besides a brief comment on each plan, you'll also find links for a detailed explanation of how to create the barn doors.

So, got those DIY skills ready? Then follow us as we dig deeper into the wonders of barn doors and how to set them up.
Why Have a Barn Door at Home?
Truthfully, the question here would be: why not?

With their popularity on the rise, barn doors have become a hot trend that many people want in their ideal households. Sounds like a stretch? Yes, but there's a solid ground to back up that claim. In fact, sliding barn doors can effectively increase house value significantly.

Other than that, there are multiple reasons why you'd want to have a barn door set up.
Aesthetics
First and foremost, barn doors look incredible. With many styles that include rustic finishes, this type of door brings a fresh, natural feel to areas like the bathroom, laundry room, closet, and more.
Variety
From traditional to sliding and dutch barn doors, the wide variety available guarantees every homeowner finds one that meets their expectations.
Inspirational
Even if the barn doors mentioned here won't fit your house, they still can inspire us to create our own projects.
Affordable
Though each plan idea is different, the truth is that most of the barn doors featured in our list are affordable. Naturally, figuring out the budget available will help you pick the plan that suits your financial resources.
Barn Door Plans Ideas to Follow
Now that we know why having a barn door is a good idea, we'll explore thoughtful ideas that will help us create our own.
1. Traditional Barn Door
To begin our list, we're taking a closer look at a simple yet effective idea to create a traditional barn door for our home.
We liked this project because the creator guides the readers every step of the way, sharing tips about which materials to use, how to use them, and much more useful information.

So, if you're looking for a traditional barn door.
2. Yellow Barn Door for the Kitchen
Wooden items, even doors, just fit well in the decoration of most households. This material brings a natural look to any area you put it, which is the case of this beautiful yellow barn door for kitchens.
3. DIY Fabric Sliding Door
Here's another alternative if for people not sold on the rustic appearance of a rustic barn door. Though it doesn't look much like it, this fabric barn door sure does provide a bit of an innovative look to embellish the decoration at home.
4. Sliding Barn Door With a Modern Twist
Feel like a rustic barn door just doesn't cut it for your innovative, modern house? Then this idea is for you. Featuring stylish geometric patterns with eye-catching materials, this project will help you create a barn door that feels up to date.
5. Rustic Laundry Room Barn Door
While colorful barn doors bring a cheerful and vibrant look to the house, a rustic wood may be the ideal choice for many households.
Jenna shares with us a beautiful barn door that magnifies the beauty of a natural element like wood, which blends well in many areas of the house, including the laundry room.
6. A Wood Chevron Barn Door
Featuring a herringbone pattern, this solid chevron barn door is relatively easy to make. At Remodelaholic, we have the information needed about the materials and steps to create this beautiful barn door.
7. Barn Door Headboard and Faux Barn Door Track Hardware
Since barn doors look great, why not add them to our bedrooms? Sounds good, doesn't it? Well, it only gets better once you see the result.
Follow this idea to create a majestic barn door headboard that significantly improves the look of the bedroom.
8. Wide Rustic Barn Door
Besides being extra-large, this barn door can be quite intimidating due to its roughness. However, the people behind this idea know how to make it more welcoming: adding a wreath as the last bit of decoration needed.
9. A Modern Barn Door
Forget about rustic doors! We're looking for a barn dorn to add a sophisticated, modern, and contemporary look to the household.
If that's the case, then this project is the one for you. The best thing about this door is that it easily blends with the rest of the decoration.
10. A Barn Door that Won't Break the Bank
Want a barn door but don't want to spend lots of money on it? Don't worry! Shannon from Home Made Lovely gives us a fantastic idea easy to pull through, using inexpensive materials that aren't necessarily expensive.
This article is thoroughly detailed, and there are multiple posts to keep you on track during each step.
11. Sliding Doors to Laundry Room
The combination of wooden materials with glass panels makes these barn doors look astonishing. Both elements work well together, providing an elegant door to connect different rooms in the house.
In this case, Shara from Woodshop Diaries makes the barn doors for the laundry room, and the result is impressive.
12. Bleached Wood Barn Doors
How about something different? The following barn door plan isn't as rustic or colorful as other ideas mentioned here, but it still looks incredibly good.
Once set up, these bleached wood barn doors will surely grab the attention of every guest that steps foot in the house.
13. Sliding Barn Door Media Console
Entertainment rooms can be a lot of fun, but you know what's better? You guessed it: having a barn door to hide the TV, consoles, and other entertainment appliances in the room.
Sounds like a handful, and yet at Shanty 2 Chic, we've found the perfect way to bring this idea to our homes.
14. Simple, Eye-catching Barn Door Plan
Though simple, this barn door quickly grabbed our attention due to its lovely texture and design. It ditches the good old rustic appearance in exchange for a modern, updated look that easily blends with the rest of the room's decoration.
15. A Herringbone Barn Door
The woman behind this idea claims it's only her second door created, and she still manages to make it look stylish, professional, and eye-catching due to the barn door's gorgeous finish.
Indeed, an inspirational post that kickstarted our motivation to work on our own barn doors.
16. Closet Barn Doors
A barn door for the closet adds a lot of charm and style to the bedroom. We once again rely on Jenna Sue to guide us through the process of bringing this idea to life, as she gracefully shares with us all of the steps required to create the closet barn doors.
17. Building a Barn Door with Plywood
Looking for a different take on classic barn doors? Then you may want to check this one out. It features a barn door's traditional and beautiful look while having an innovative texture that feels and looks incredible.
18. Hallway-Laundry Room Sliding Barn Door
Tired of constant door banging because there's not enough space between rooms? What you need is an efficient way to connect both areas of the house using a barn door that makes the most out of the space given.
This plan can give you the information needed to make that happen.
19. Dutch Barn Door
With individual top and bottom, this dutch barn door is convenient if there are babies or pets in the house.
Furthermore, you can follow this plan and customize it as needed to make it work as an exit to the backyard, among other purposes.
20. Barn Door Baby Gate
We always want the best life for our babies, and that includes keeping them safe behind durable, protected, and of course, stylish doors.
This baby gate features a cute barn door design that conveniently fits well in the house without being an issue.
Suitable for stairs and other potentially dangerous areas, this barn door baby gate would for sure be an excellent addition to our homes.
21. Rolling Barn Door with Plumbing Pipe
This project idea is, well, ideal for people who want to engage in creating a complex yet rewarding barn door.
By featuring DIY hardware using a plumbing pipe, you can create an incredible mechanism that works perfectly.
22. Building a Simple Sliding Barn Door
Unlike the previous project, this one is easier and requires a lot less effort and hardware—Though in no way does that mean that this barn door is less attractive.
Follow Mandi's steps as she works on a simple project with a satisfying result.
23.DIY Barn Style Door
Barn-style doors provide a unique touch to different areas of the house. In this case, the combination of rustic materials with intense colors leads to a perfect small shed door.
24. Master Bathroom Barn Door
Let's start by saying this barn door style is not for everyone. It doesn't work well with all decorations styles, so it fits better under specific circumstances. However, if you're looking for a farmhouse-style decoration, this door can't escape you.
25.Crawl Space Barn Door
The crawl space can be a bit awkward because we don't always know how to cover the entrance. Of course, that is until we found this brilliant idea that uses a barn door to access this housing area. This particular barn door is small, simple, and easy to make, which most people appreciate.
26. Sliding Barn Door Bathroom Cabinet
Despite being ordinary items you'd find in any household, we still prefer to have toilet paper and other bathroom items away from plain sight.
This barn door idea is perfect for that, as it blends the benefits of hidden storage with an open shelving design that looks incredible.
27. Textured Sliding Barn Door
Featuring a rustic look, this barn door comes as an excellent solution to solve the issue of not having enough space for a regular door.
The sliding mechanism is excellent, allowing smooth opening/closing whether you're entering or leaving the rooms.
28. DIY Farmhouse Barn Door Style
With farmhouse style and barn door's popularity gone mainstream, it's only natural that we want to try them out to see if it works.
Here, we have a barn door that offers a balance between both trends, as it offers the best of both styles.
29. Sliding Barn Door with White Colors
This idea shows us that we can create great DIY projects using tools and materials that no longer seem to have any use.
The author claims to have found an old door that looks in bad shape in the pictures but then undergoes a transformation to become a proper barn door.
30. Sliding Barn Door Created with Inexpensive Hardware
Have a set of casters and a pipe track that have no use? You may want to reconsider it. Cassity from Remodelaholic shows us that we can accomplish great things using inexpensive hardware, as seen in her fully detailed barn door idea.
31. Building a Barn Door for Around 20 Bucks!
The less amount of money invested, the better. This barn door fits perfectly in farmhouse-style decorations.
Featuring wood, the door is rustic, durable, and a great addition for households with vintage fixtures.
32. Large, Sliding Barn Door
We all love a success story. Jessica and Joshua started with an inspiring barn door idea that they shared on their blog from beginning to end, letting their readers know how to follow their steps to create this large, sliding barn door.
Conclusion
Working on DIY projects can take a lot of effort, but when the result is a beautiful barn door, every bit of time put into it feels highly rewarding once you finish.
Now that we've explored multiple ideas that'll help you create eye-catching barn doors, it's your turn to bring out the tools and polish your DIY skills to work on the barn door you liked the most.