A brad nailer is a pneumatic power tool commonly used for lightweight applications like fastening molding or small trim pieces to wood. This tool uses small 18-gauge brad nails, which prevents the nail from splitting the material it's being driven into and makes the nail less obvious. Due to this, many homeowners have questioned whether you can use a brad nailer for paneling.
Can Brad Nailers Be Used For Paneling?
Yes, a brad nailer can be used for paneling, although a pneumatic finish nailer is better. Brad nails can attach lightweight materials such as 1/4-inch or 1/8-inch paneling to a wall or ceiling. However, for thicker paneling or for applications that require more holding power, use a stapler or a larger gauge nailer.
Using nails with panel adhesive is the best way to secure paneling to walls. Overall, pneumatic nail guns are the best tool for paneling since they provide you with the right balance of power, precision, and efficiency. While finish nailers are commonly used for paneling, it is possible to use a brad nailer for paneling work.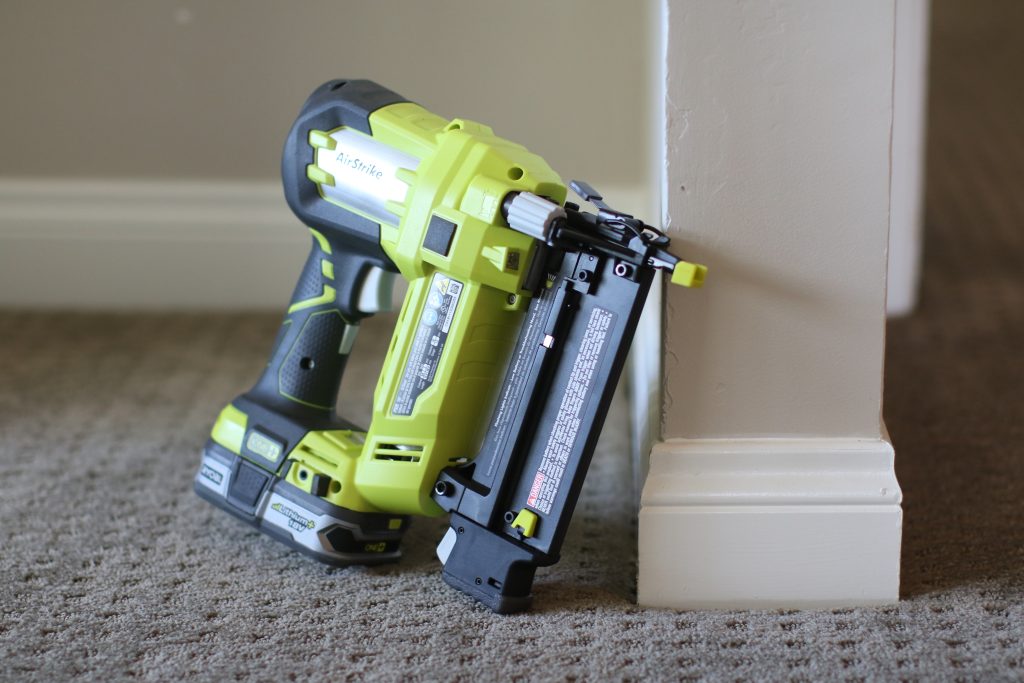 The suitability of a brad nailer for paneling depends on factors like the brad nail's holding power and the size of the panels. Finishing nails are slightly thicker than brad nails, which allows them to create a stronger hold than brad nails. However, many homeowners prefer thinner brad nails because they're easy to mask in the paneling and don't always need to be filled.
Since both brad and various finish nailers can be used for paneling work, you should choose the correct nail gun based on your specific paneling. Brad nail lengths range from ½ to 2 ½-inches, which makes them ideal for thinner paneling and delicate woodworking jobs. Finish nails range between 1 and 3½-inches, which is ideal for thicker paneling that requires more holding power.
Paneling older walls may also require longer nails to penetrate the framing, making finish nailers ideal. As a golden rule, any steel wire nails used for paneling must be at least 1½-inches to penetrate the structural framing. Luckily, both brad nails and finish nails are made from steel wire and are available in lengths equal to and longer than 1½-inch.
Overall, brad nailers can be used for most paneling work, provided that the correct nail length is being used. Many homeowners and contractors prefer using the slightly thinner brad nails for paneling because it makes the finishing process even simpler. The following section will outline how to use your brad nailer for paneling!
How to Use Your Brad Nailer for Paneling
Follow these steps when using your brad nailer for paneling! These steps will also apply when using other types of pneumatic nail guns for paneling, including finish nailers.
Step One: Prepare Your Paneling
Start by measuring and cutting your paneling to fit your walls. You will then need to place the panels against the wall to ensure they are level and cut properly. Ask someone to help you hold the panels against the walls while checking and securing the paneling. The following video outlines some mistakes to avoid with your brad nailer!
Step Two: Choose the Right Nail Length
It's important to choose the correct nail length. Any steel wire brad or finish nails used for paneling must be at least 1 ½-inches. Thicker paneling and older walls will require longer nails to properly secure the panels. If you're using brad nails, you can purchase a headless type for a seamless finish.
Step Three: Secure the Paneling
You must apply adhesive to the wall with a caulk gun before securing the paneling. While it is possible to solely use nails without an adhesive, the adhesive will increase the holding power of the brad nails. Once the adhesive has been applied, you can position the panel correctly and use your brad nailer to secure the paneling to the wall.
Step Four: Fill the Nail Holes
If you're using a brad nailer to install paneling, you won't need to fill the small nail holes left behind – you can proceed to finish your paneling! It will be necessary to fill larger nail holes left behind by thicker finishing nails. Wood filler can be used to fill holes before sanding the paneling down until it's smooth.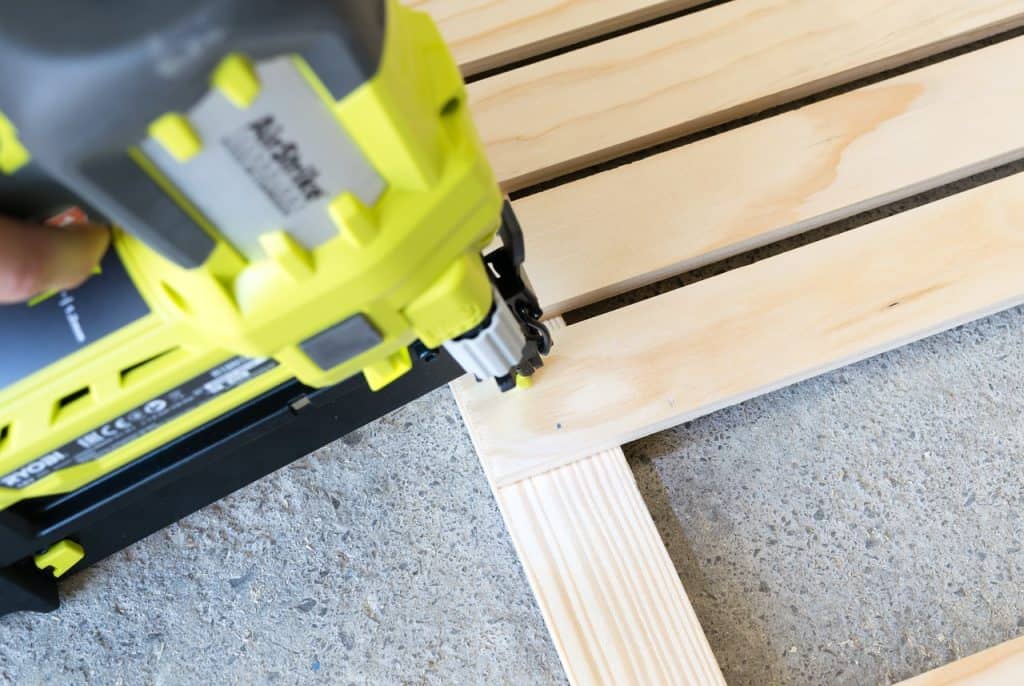 Step Five: Finish Your Paneling
You can now finish your paneling! Start by cleaning the paneling and priming the wood with a brush. A thin coat of paint can then be applied to your paneling surfaces. After the first paint coat has dried, you can apply a second coat to ensure a perfectly even finish that will last for years.
Frequently Asked Questions
The following answers to further questions regarding installing panels and using nailers may bring additional clarity to your project.
What Is the Best Nail Length for Paneling?
While the nails you use for paneling must be at least 1½-inches, the length depends on the thickness of your panels and the type of walls you're attaching the panels to. Older walls and thicker panels will require longer brad or finish nails. Brad nailers and finish nailers are compatible with a variety of different nail lengths.
What Is the Best Nailer for Paneling?
While finishing nails are considered the best pneumatic nail gun for paneling, there are many benefits to using a brad nailer. Brad nails prevent wood splitting and leave behind smaller holes that don't need to be filled. Finish nails can be used for thicker wood cuts but might split thinner panels.
What's the Best Brad Nailer for Paneling?
The Metabo HPT Brad Nailer kit is the ideal brad nailer for paneling. The nailer uses nails between 5/8- and 2-inches in length and has an impressive five-year warranty. The lightweight design makes the tool easy to use for long periods. You can adjust the nail depth for a more professional finish. There are many variations of the brad nailer available, with some including the necessary air compressor.
Will Brad Nails Securely Hold Paneling?
Provided the correct installation steps were followed, and the right nail length was used, steel wire brad nails will be able to hold paneling securely. Using brad nails in conjunction with an adhesive will ensure the panels are securely installed.
9 BRAD NAIL MISTAKES (and how to avoid them!)
Conclusion
While finish nailers are considered the best tool for paneling, brad nailers make a suitable replacement. Both brad and finish nails are made from steel wire and come in appropriate lengths for paneling. Many people prefer the thinner gauge of brad nails because it creates a seamless appearance that's easier to finish.