When it comes to securing shingles or fiberglass onto your roof to protect your home, you can only trust the best roofing nailers. Roofing nailers are designed specifically for roofing jobs and the fasteners they use help hold the shingles tightly so that they do not fall from your roofing.
On the other hand, the shingles must not be difficult to remove when they finally need to be replaced.
The roofing nailers we feature here in this review will fulfill all these requirements and more. You will find them meeting your highest standards in terms of materials used, comfort, and power.
What To Look For When Buying A Roofing Nailer
The products we've featured in this guide have been included from our own experience using them or from extensive and collaborative research.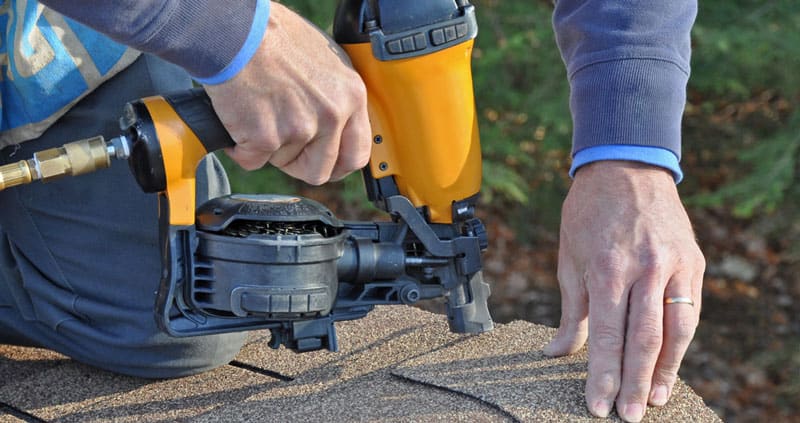 We've looked at what hundreds of current users have to say and therefore we can be sure to feature those that really 'nail it'.
You will get the best performance, durability, and versatility with the roofing nailers we mentioned here.
When it comes to shopping for the best roofing nailers it's important to keep important criteria on what to look for. To help you with your shopping, we've also included a list of features to pay attention to.
Lock-Out Mechanism for Empty Firing
Only some models come with a mechanism that lets you know exactly when you need to replenish your fastener supply by coming to a halt.
This is an important mechanism considering that an empty fire can leave dents or marks on your work surface where a fastener should have been.
The lock-out mechanism prevents this as it won't work if there are no remaining nails. Many of them also contain a magnet that holds the last nail in place to prevent jamming.
Material Used
While aluminum and magnesium are both lightweight, there are actually several important differences between the two metals. Aluminum is resistant to corrosion, has a greater density, and is more stable.
Magnesium on the other hand, is more lightweight than aluminum but has a higher tendency to corrode and maybe even pricier than aluminum.
Adjustable Shingle Guides
Usually, these guides are mini-tools attached to your nailer which can help you make the right measurements for shingle placement.
Many users have found them to be very helpful for placing their shingles accurately. They help to keep track of the distance between shingles so that it will be easier to keep them equally spaced out.
Dual Activation
While many roofing nailers do have this feature, some are solely one mode or another.
Having both sequential and contact (trip) actuation means that your nailer is well-equipped for any type of roofing project.
This way you can easily fire the nails one by one or choose to fire continuously by pressing the trigger once and firing whenever your tool comes in contact with the work surface.
Top 10 Roofing Nail Guns
1. Max CN445R3 Superroofer ROOFING Coil Nailer
The Max CN445R3 Superroofer is a different nailer altogether. It's one of the most lightweight you can find and lasts for several years thanks to its sturdy build and high-quality materials.
The nailer also can safeguard you against errors made in your roofing project with its trigger lock. Fitting all 3/4" to 1-3/4" 15-degree coil nails, it's the perfect tool to use for shingle and siding installation.
At 5.2 pounds, the Super-roofer is both lightweight and heavy-duty, making it the best of both worlds. It reloads easily with depth adjustment and triggers lockout to prevent accidental firing.
It works smoothly almost always and quickly bump-fires. Furthermore, the tar-resistant nose is designed to resist damage four times more effectively than its conventional counterparts.
It comes with a patented maintenance-free cap filter which further protects internal parts from damage and reduces maintenance.
This nailer fits all coil nails (3/4" to 1-3/4") universally. It is also equipped with a swivel plug to prevent the air hose from tangling and ensure that your engine runs smoothly.
It also comes with a trigger lock which helps prevent accidental firing. For better holding power, your tool will also come with a full round head driver blade.
This nailer is known for its ability to fire rapidly and consistently. It is also very unlikely to jam thanks to the built-in magnet which holds the last nail in place. It comes with a contact trip mechanism with anti-double firing which enhances how smoothly it runs.
The contact trip mechanism allows you to keep the trigger pulled and drive a fastener each time your tool comes in contact with a work surface.
Additional Specification
Best for: Lasts several years
Material: Plastic, steel
Power Source: Air-powered
Weight: 5.8 pounds
Operating pressure: 100 PSI
What We Like:
What We Didn't Like:
2. AeroPro CN45N Professional Roofing Nailer
The AeroPro is the top roofing nailer for the best value since it is both lightweight yet heavy-duty and comes with a variety of special features.
You will not have to worry about feeling tired after long hours of operating this tool. With its selective actuation mechanism, you'll also be able to use it for a variety of installation projects.
The heat-treated aluminum hosing that comes with this nailer is designed for extra heavy duty.
At only 5.5 pounds, it is both an easy to carry and highly reliable tool. Its durable design also allows it to be used in even the most extreme conditions.
With a working pressure of 70-120 psi and an air inlet of 3/8" NPT, this nailer has all you need to securely attach roof shingles and siding.
This is one of the most beneficial features of roofing nailers and it's available in this tool. All you need to do to go from sequential (firing one nail at a time) to bump (contact actuation), is flip a switch.
There is also a tool-free precise adjustable drive depth that you can modify to fit project requirements.
Designed with a magazine that accepts 120 coil nails with the following dimensions: 3/4" to 1-3/4" in length and .12-inch diameter.
You can work with your nailer for several hours and multiple projects before needing to replenish your supply.
Additional Specification
Best for: Best value
Material: Heat-Treated
Power Source: Air-powered
Weight: 6.3 pounds
Operating pressure: 70-120 PSI
What We Like:
What We Didn't Like:
3. WEN 61782 Pneumatic Coil Roofing Nailer
The WEN 61782 pneumatic coil roofing nailer is a marvelous tool that rightfully belongs to the 'best roofing nails' category and don't let its lower price fool you.
This WEN nailer comes from a reputable company and even has an adjustable shingle guide and jam-free quick release magazine opening. It's a superbly competent tool that will give you no cause for disappointment.
This helpful tool comes with a shingle guide that slides up and down the bottom of the magazine.
It's a very helpful tool to ensure the nails used for shingle installation are equally spaced from the edge of the previous shingle. It also works for shingles of all sizes.
This allows you to have a near-impeccable installation. It also comes with adjustable depth control so you can be sure your nails are at the right length before driving them in.
This WEN nailer holds up to 120 15 degree coil roofing nails at a time with a quick-release to easily fix jams. It also operates from 70-120 psi-like most nailers.
The adjustable depth-control is adjusted via a dial at the head of the nailer allowing even greater precision and convenience.
At 5.95 pounds, this magnesium-encased nailer lets you work conveniently without compromising on power. It can exert as much as 430-in-pounds of force at 100 psi operating pressure (70-120psi capacity).
This helps secure your siding and shingles for years to come. The rubber grip also prevents fatigue while a rotatable exhaust valve lets you turn the output air away from you and your workspace.
Additional Specification
Best for: Shingles of all sizes
Material: N/A
Power Source: Pneumatic
Weight: 5.95 pounds
Operating pressure: 70 to 120 PSI
What We Like:
What We Didn't Like:
4. BOSTITCH RN461 Coil Roofing Nailer
Aluminum body and carbide tips make this coil roofing nailer one that may as well outlast any other nailer you've had before. It works well for various types of projects and has a zero-nail lock-out to prevent dry firing. It also has various features that enhance the accuracy of your work, for fantastic results.
Made with tough, aircraft-grade aluminum with carbide tips, this is one tool that can protect itself. It's sturdy yet lightweight, tough on the job, and easy on you.
Like other nailers, it fits all roofing coil nails 3/4" to 1-3/4" in length. To prevent empty firing and to ensure long-lasting performance, the tool is designed with a lockout mechanism.
The patented single-action side load canister lets you load the magazine in one quick and easy step.
This tool also comes with the features you'll love such as an adjustable shingle guide, zero-nail lockout, and tool-free depth adjustment with the dial. The dial has five settings allowing you to pick the exact depth you require.
The capacity of this nailer is among the highest with 410 in./lbs. force at 100 psi. The tool enables contact trip firing at a speed of 100 nails per minute making the job much easier for you.
It accepts 15-degree coil roofing nails with a diameter of 0.120in. and a length of 3/4" to 1-3/4".
Additional Specification
Best for: Various types of projects
Material: Plastic, steel
Power Source: Air-powered
Weight: 5.8 pounds
Operating pressure: 100 PSI
What We Like:
What We Didn't Like:
5. MILWAUKEE Coil Roofing Nailer
With a Milwaukee nailer, you can't go wrong. This specific model is designed with high-quality material for a lightweight feel with all the features that you'd expect from the best.
There are also some features that stand out from the rest, such as the self-cleaning air filter and rubber guards which are meant to keep your tool in top conditions for years to come.
This nailer has a high-capacity 'Load-N-Go' magazine that can hold up to 120 nails from 3/4" to 1-3/4" in length.
It is made with all-magnesium housing for ultra convenience and efficient loading. Additionally, a magnet holds the nails in place to prevent jamming.
Many users have said that the nails shoot at a consistent depth, once adjusted, with each usage.
As aforementioned, the self-cleaning air filter prevents dirt and debris from entering the nailer. The tool is made with ultra-lightweight magnesium housing and is compact in size allowing you to take it with you anywhere.
On the side of the tool, thick rubber guards minimize any impending damage. The air deflector comes with a muffler which, in addition to directing air away from you, also reduces the noise.
It comes with a 3/8" NPT quick connector, tool-free depth of drive, and actuation selector.
Near the trigger, there is a selectable trigger knob which allows you to easily switch between sequential versus contact actuation.
Furthermore, to help with the installation process, there is a shingle guide which can be removed as per your convenience and project needs.
Additional Specification
Best for: Lightweight feel
Material: Metal
Power Source: Electric
Weight: 7.35 pounds
Operating pressure: 120 PSI
What We Like:
What We Didn't Like:
6. DEWALT DW45RN Pneumatic Coil Roofing Nailer
Known for its high-speed performance, the DEWALT DW45RN will fascinate you with its performance.
It works great with all types of roofing surfaces and can help shorten the time required to finish your job. It can also store many roofing nails in its magazine, so you can continue your work without having to worry about reloading.
Speed is the defining characteristic of this nailer which can drive over ten nails per second!
At an operating pressure of 70-120 psi and fixed exhaust, its engine seals and feed system are remarkably long-lasting.
It is suitable for numerous applications, including the installation of asphalt roofing shingles.
The specialized DW45RN magazine is designed to fit and fire up to 120 15 degrees, 3/4" to 1-3/4" coil roofing nails before requiring you to reload.
At only 5.2 pounds, this is quite remarkable. Users have also commended this tool for its smooth operation and advanced, ergonomic design.
One sure way to tell that this tool will be a breeze to use is by looking at the depth adjustment wheel. The wheel to prevent inaccurate firing depth. The wheel has numerous detents (pins) allowing you to choose the perfect depth.
Steel skid plates with rubber inserts also protect the tool and prevent it from sliding. It will give extra security while you're working the roof.
Additional Specification
Best for: Good performance
Material: Plastic
Power Source: Pneumatic
Weight: 5.2 pounds
Operating pressure: 70-120 PSI
What We Like:
What We Didn't Like:
7. Senco Roof Pro 455XP Roofing Nailer
This simple nailer is still undeniably one of the best, thanks to it its adjustable nail canister, lightweight material, and durable, ergonomic design. Manufactured in China, it yet remains one of the top-selling in the US and internationally.
Suitable for various uses, it also reduces the overall energy footprint and contains various features that enable it to measure up to domestic competitors.
This nailer has the ability to accommodate a wide range of roofing nails and can fit virtually all true round-head roofing nails 3/4" to 1-3/4" in length and 0.120" in diameter.
Its tool-free adjustable depth of drive lets you be in charge of drive depth. It also contains a 360-degree adjustable exhaust so you can safely direct air output away no matter where you are.
At around 5.5 pounds with aluminum housing, it's lightweight enough for one-hand operation. It's the ability to avoid double firing or jamming is distinct and may even surpass competing models.
It is suitable for all applications that require a good roofing nail, whether it be installing asphalt or fiberglass shingles, waterproof tar paper, insulation boards, or siding.
Designed to work via sequential action, it is comfortable to hold for long periods of time without hurting your arm or hand.
It is also a very well-balanced tool with spot-on weight distribution and stability. The two-piece firing valve design helps to reduce air consumption (power footprint) without compromising power.
Additional Specification
Best for: Ergonomic design
Material: Aluminum
Power Source: Air-powered
Weight: 5.5 pounds
Operating pressure: 70-120 PSI
What We Like:
What We Didn't Like:
8. PORTER-CABLE RN175B Roofing Nailer
The Porter-Cable roofing nailer with adjustable shingle guide and quick-set depth of drive is designed with you in mind. It's a user-friendly model with time-tested materials and dual firing modes which means you can adjust the operational mode to whatever your installation project calls for.
Featuring a tool-free adjustable shingle guide (with lock), quick-set depth of drive, and skid-resistant pads (wear guards), you can trust that your nailer will last you a good while. These features will protect both your handy nailer and the shingles you're installing.
The compact design (4.8 pounds) is meant to be at least five percent lighter than conventional nailers which also leads to better balance and control. It fits all 3/4" to 1-3/4" 14-degree roofing coil nailers with a 0.120" diameter.
It also comes with a tool-free dial for depth adjustment with multiple detents and a dual-door magazine opening. High-grade steel with carbide inserts gives your nailer the ability to resist wear and damage.
The nailer also comes with a dual-firing mode (single sequential and contact) and adjustable exhaust diffuser. The transition between the two modes is said by many to be 'seamless', letting you work with seamless results.
Additional Specification
Best for: Siding projects
Material: Metal and plastic
Power Source: Corded-Electric
Weight: 5.69 pounds
Operating pressure: 120 PSI
What We Like:
What We Didn't Like:
9. Freeman PCN45 Pneumatic Roofing Nailer
The Freeman PCN45 has all the fundamental features you'd look for in a complete roofing nailer. It is also highly affordable and suitable for professionals as well as novice DIY-ers alike. You'll enjoy the easy loading, lightweight body, a comfortable grip, and high-power capacity of this model.
You're free to use this tool on asphalt and cedar shingles, roof and wall sheathing, flooring underlayment, siding, and fences- all with great results.
The nailer comes assembled with a lightweight magnesium body, anodized aluminum cylinder, and a one-piece drive blade that extends its lifetime. Moreover, you'll get a secure grip with the anti-vibration handle and accurate placement with the adjustable shingle guide.
The oil-free design does not require lubrication. Furthermore, there is a safety trigger lock with you can use to prevent accidental firing. With the built-in no-mar safety contact, you can be assured that this nailer will not fire unless it is in contact with your work surface.
The product also comes with a belt hook and 1/4" NPT fitting/anti-dust cap. This protects both your nailer and precious work.
This nailer fits all 3/4" to 1-3/4" 15-degree nailers with 0.120" diameter. It contains a 360-degree adjustable exhaust, operates at 70-110 psi, and has a magazine capacity of 120 nails.
Additional Specification
Best for: Affordable and suitable
Material: Magnesium
Power Source: Air Powered
Weight: 5.46 pounds
Operating pressure: 70 – 115 PSI
What We Like:
What We Didn't Like:
Frequently Asked Questions & Answered
On a Final Note
This guide has provided you with the main guidelines for choosing the right roofing (coil) nailer for you and your project needs. We believe that with your careful consideration and the tips we've shared, you'll be able to make a wise and worthwhile addition to your tool collection.
The Max CN444R3 Superroofer certainly fits its name. With a maintenance-free cap filter and dial-adjustable depth control, you will have complete management over how you want your nailer to operate. You'll also relax knowing that it will stay clean and protected, and is designed to be virtually 'jam-resistant.'
Another good choice would be the AeroPro CN45N, which as we mentioned has a selective actuation switch and durable heavy-duty aluminum housing. This makes it a nailer than can match and surpass your expectations.