Whether you are a DIY enthusiast or a professional woodworker, chances are you may be looking for a way to make working with wood easier. To achieve this, you will need a jig to help you attach two pieces of wood without much effort. A high-quality jig will hide the screws. This ensures you end up with a professional-looking product.
Therefore, how can you be sure you are getting the best pocket hole jig to suit your needs? We have analyzed the materials that jigs are constructed with and the accessories that are included. You will also find out whether you can adjust the drilling angle. These tips will help you make an informed decision while shopping.
Our Top Pocket Hole Jig Reviews
Invalid table id.
Kreg Foreman DB210
The Kreg DB210 pocket hole jig is suitable for hobbyists and professionals. It will enable you to create pocket holes accurately and efficiently. One interesting thing is how it creates holes on its own without using a cordless drill with bits.
The entire process of drilling holes is carried out in one motion. This allows you to make up to 4 or 5 pocket holes on workpieces easily and quickly. Unlike a K5 or K4 jig that will require you to clamp and unclamp down the board every time, you won't have to worry about this with Kreg Foreman.
Additionally, the board remains horizontal with this device. This makes it easier to work with larger boards since it provides a big working surface area. The powerful device can also work on all your pocket hole needs effortlessly.
Adjusting the clamping system is easy, which allows it to accommodate the thickness of the board. The Kreg DB210 accepts boards ranging from ½-inch to 1.5-inch in thickness. It is equipped with a standard pocket hole drill bit.
However, it can be changed. Use the HD bit to accommodate strong joints in materials that are greater than 1.5-inch thick. Or, use the Micro-Pocket bit to accept thinner wood pieces. This means the Foreman jig can handle anything.
The device also comes with an integrated storage tray to enable you to store the essential pieces with the jig. You can also take it to your job site and use it as you would in your workshop since its portable. It is designed for people looking for tools that can perform the job quickly and easily.
What We Like
Ability to create standard, HD and mini size pocket holes
Large working surface for providing stability
Easy to change drill bit using one tool
Dust collection system included
Storage tray
What We Don't Like
Kreg DB210 Foreman Pocket-Hole Machine - Automatic...
Easy Woodworking Tools: Kreg pocket-hole joinery is the fast, strong, easy way to join wood-drill,...
Fast, Precise Pocket Holes: The Foreman Pocket-Hole Machine works with twice the speed and half the...
Premium Home Improvement: This 20 lb pocket-hole machine is portable and fast at every jobsite
Last update on 2023-09-28 / Affiliate links / Images from Amazon Product Advertising API
Kreg R3
The Kreg R3 is an excellent tool. It is designed to handle a variety of different projects ranging from small to medium-duty tasks. This means you can fix a shelf that is in pieces using this tool. Unlike the Kreg Foreman jig, this model doesn't have a clamping mechanism.
However, it is designed to work with a Kreg Face Clamp perfectly. It can also use any other type of clamp. Its intuitive features make it an excellent option for hobbyists and DIYers. The jig uses hardened steel holes and a pocket hole angle for durability. Since the steel comes into contact with the bit whenever holes are drilled, the model must be durable.
You can use a variety of clamps since the clamping mechanism of this model is not built into the tool. This will enable you to use what you may have in your shop or clamp it to different types of surfaces.
To adjust the depth, first use the sliders. Then, set the measurement based on the thickness of the material you are joining and drilling into. It also has a carrying case with a depth collar gauge that is molded into the plastic. This helps you set the correct depth for the drill bit collar.
Additionally, it has the wood chip relief holes to allow wood chips and sawdust to escape while drilling into the holes. This increases the longevity of the bits and drilling efficiency. It also makes the holes easier to drill and keeps them cleaner.
What We Like
Sliders that make it easy to set depth up to nine different settings
Attaches with c-clamp or bar clamp
Durable design
Included carrying case
Perfect for beginners
Easy to use
What We Don't Like
No built-in clamping system
Unsuitable for heavy-duty jobs
Kreg R3 Jr. Pocket-Hole Jig System - Portable Kreg...
Premium Home Improvement: This pocket-hole jig is a portable carpentry tool that makes strong joints
Angle Drill Woodworking Tools: Make lasting joints at several angles so you can reduce pocket hole...
Versatile Carpenter Tools: The included clamp adaptor helps the drill guide work with most clamps
Last update on 2023-09-28 / Affiliate links / Images from Amazon Product Advertising API
GRR-Ripper 3D Pushblock
The GRR-Ripper 3D Pushblock jig boasts of sturdy construction and ease of use. Its great mechanism will allow you to use the tool with smaller stock. The one remarkable feature of this pocket hole jig is that you can use it alongside a jointer, a router table, a table saw, or a band saw.
The jig utilizes the three-dimensional force to ensure your pieces of wood get the best control. Additionally, the design of the GRR-Ripper tool reduces kickback. Also, the blade guard that moves with it ensures your hands are protected from potential accidents.
If you like precision, you will get thin and accurate rips at ¼ inches thickness. One unique feature of this tool is its push block design that is rare to find in the market. For added convenience, the downward pressure of this model makes it easy to use, especially if you are working on the go.
The inward pressure also ensures the stock is steady while the forward pressure prevents burning. There is also the balance support feature for people with nervous hands to ensure your cuts are stabilized. Another good thing about this jig is that it is suitable for a variety of materials, including different types of wood, plastic, and aluminum.
The 3D Pushblock jig cuts with high precision and is also adjustable to enable you to get perfect results. With this tool, you will get versatility for various applications, including long stock ripping, freehand routing, and face jointing.
The package also includes an instructional DVD. It offers 2 hours of teaching you how to use this pocket hole jig on band saws, jointers, and other equipment. Overall, the GRR jig is a multi-purpose tool that is worth your consideration. It will also ensure you stay safe in your workplace due to the many safety features it packs.
What We Like
Can be used alongside a table saw, or a band saw
Prevents kickback and protects hands
Durable grip for maximum hold
Three-dimensional force
Balance support feature
Easy to adjust
What We Don't Like
Standard blade guard can't be used with this jig
Last update on 2023-09-28 / Affiliate links / Images from Amazon Product Advertising API
General Tools 850
The General Tools 850 is a versatile kit. It includes a 6 inch square drive bit, a 3/8 inch steel stop collar, a 3/8 inch step drill bit, a two-hole pocket jig, an Allen wrench, and a clamp. The kit also comes with wooden pocket holes plugs, coarse square drive screws, and fine square drive screws in a plastic carrying case.
The kit is crafted to be used with a portable base and bench-top. This feature comes in handy when you are planning to travel with your pocket hole jig. Although it lacks in automated features, the tool has a lot to offer. It has a unique heavy-duty aluminum design that makes it durable enough to withstand harsh conditions while still remaining lightweight.
The General Tools jig is designed to work in different environments. It is equipped with pocket plugs to help you achieve smooth finishes. The included hard molded carrying case ensures you pack everything away neatly.
This is a quality, inexpensive jig you can use for angled, flush, and corner pocket holes. You can also use it to create pocket holes for picture frames and face frame cabinets. The built-in clamping system makes it ideal for use in the workshop and on-site.
Although its standards do not match that of the Kreg models in terms of built-in features and design quality, the General 850 jig does a great job and is worth the purchase.
What We Like
Mounts on both portable bases and bench-top
Sturdy aluminum construction
Includes pocket hole plugs
Built-in clamp system
Versatile
Inexpensive
What We Don't Like
Build quality doesn't match up to that of other models on this list
General Tools Woodworking Pocket Hole Jig Kit -...
POCKET HOLE SET: Our easy-to-use tool creates corner and angle pocket hole joints for leg-and-rail...
ANGLED DRILL GUIDE: The drilling kit includes a pocket hole jig with a clamp, replaceable #32 - 3/8"...
WOODWORKING STARTER KIT: You have access to 25 coarse drive screws, 25 fine square, and 25 wooden...
Last update on 2023-09-28 / Affiliate links / Images from Amazon Product Advertising API
Kreg K4
The Kreg K4 pocket hole jig is ideal for DIYers as it is an entry-level model. It is a good investment for people who are new to the jig system and not sold on the idea completely. The jig performs everything the other Kreg models featured on this list do.
The clamping system is very intuitive, making it beginner-friendly. There is a locking nut that ensures the clamp is held at the right distance. Just rotate the plunger to the right length to put enough pressure on your material.
The drill bit guide is held in place by a small screw that slides up and down. There are also clear numbers and lines marked into the side to enable you to see everything clearly. The Kreg jig also comes with a vacuum dust port to help with drilling efficiency and ensure your working environment is cleaner by clearing out debris.
The tool has a simple design, as it only has a few moving parts. You can also take it anywhere with you since it is extremely portable. One major issue with this model is that it lacks in extra features such as storage boxes.
Additionally, adjusting the clamping system is time-consuming, especially if you tend to change thicknesses regularly. The handle also clamps from behind the material, making you reach to the tool's back each time you want to clamp down. If you are working on many pocket holes, this can be tiresome.
What We Like
Drill guide can be removed for portable use
High-quality square bit and drill bit
Intuitive clamping mechanism
Comes with dust port
Ease of use
Portable
What We Don't Like
Time-consuming clamping system
Lacks in extra features
Kreg K4 Pocket Hole Jig - Adjustable, Versatile...
Easy Woodworking Tools: Kreg pocket-hole joinery is the fast, strong, easy way to join wood-drill,...
Adjustable Pocket-Hole Jig: The Pocket-Hole Jig K4 gives you the precision and adjustability of a...
Customizable Setup: This pocket-hole jig has a 3-hole drill guide for pocket holes, perfect for use...
Last update on 2023-09-28 / Affiliate links / Images from Amazon Product Advertising API
Pocket Hole Jig Features and Considerations
Pocket hole jigs come in different sizes, weights, and shapes since they are not designed equally. Some are loaded with many features and can be used with a wide range of materials. Others do not have essential components.
Therefore, you should be aware of the features to pay attention to while shopping. This will enable you to choose the best pocket hole jig for your woodworking needs. Here are the factors to guide you before making the purchase:
Drill Guide
While shopping, opt for drill guides that are made of hardened steel. If they are built with other materials such as aluminum-lined holes, the high-speed steel drill bit may wear them out quickly. When this happens, your joints can lose accuracy.
Therefore, we recommend buying your tool from top manufacturers. This is because they offer a lifetime warranty on their drill guides that ensures your tool is covered against defects.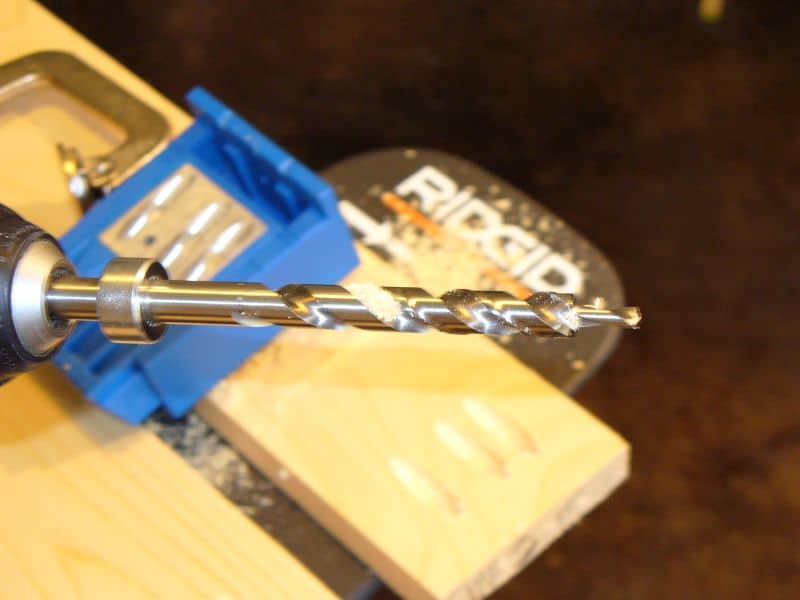 That said, here are the types of drill guides available in the market:
One Hole Guide
These are the smallest drill guides and are suitable for narrow boards since they only have a single hole. This type of drill guide is perfect when you are joining boards that measure ½ inch in thickness.
Two Hole Guide
These guides are more common than their single hole counterparts because of the ability to tackle wider boards comfortably. If you plan to join wide boards, reposition them and you will be good to go.
Three Hole Guide
They provide greater variation and flexibility when it comes to hole placement. The spacing between the drill holes varies to allow you to either choose two holes that are farther apart or close together. This is good depending on the project you are working on.
Drill Bit
Getting an old drill bit is easy. However, you must ensure it is long enough to accomplish the task at hand. This shows the importance of investing in a pocket hole jig that is equipped with drill bits.
Many jigs will require longer bits than those that are usually included with typical drills. This is because the size of standard drill bits may not be compatible with that of the pocket hole jig.
To avoid experiencing such problems, always ensure you get your drill bits from reputable manufacturers. Such bits reach the desired depth and fit through guide holes perfectly.
Screws
Screws are the best choice for long-lasting strength. Unlike nails that push wood pieces apart when they are driven into place, screws grip and draw the pieces together when they are being joined.
However, the readily available size of screws may not be compatible with the size of pocket holes created by a jig. The best thing to do would be to buy a jig that is equipped with screws. This will ensure you use accessories that meet the manufacturer's guidelines for working on specific joints.
One issue with screws is that they have heads that ruin the look of the end product. However, the invention of pocket holes ensures wooden holes are accurate and secured together.
Clamping System
Most pocket hole jigs are crafted to be portable to enable you to carry them to your project site. Check whether the tool you want to buy comes with a clamp or not.
Though you can secure some jigs in place using standard clamps, you will still need a special clamp crafted for the jig to allow you to hold it in place firmly.
If you have a unique jig system, ensure it comes with clamp. A regular clamp may not hold it firmly. When it comes to mounting methods, you will find the following.
Toggle Clamp Models
The clamp in these models holds your board securely and quickly while you are drilling. While these models are less portable, they don't need a separate clamp.
Bench-Mounted Models
These models have lever clamps or screws that hold pieces of wood together. However, you still need to fix them to the bench while some have a recess for fixing the clamp.
It is important to mention that though the clamp may not be included, you may be provided with screws.
Adjustability
Many pocket hole jigs are designed to ensure you get a drilling angle that measures 18 degrees. Although this angle can work for most of your tasks, it may not be suitable for all of them. That is why you should be able to drill holes at various angles.
Therefore, it will be a good idea to get a jig that will enable you to adjust your drilling angle depending on the needs of your project. You should also adjust the jig to match the size of the pieces of the wood you plan to drill.
Other adjustable features your pocket hole jig should have include the workpiece support and depth position sliders. These features tend to increase the usability of a jig like drilling thicker workpieces and eliminating irregularities such as misalignment, which is common in woodworking.
The ability to adjust the drilling angle of your wood is very crucial. It will enable you to create unique products with professional looking finishes. It will also prevent you from getting stuck in the middle of a task because of working with a jig that won't allow you to adjust the drill angle.
Speed
The main reason for buying a pocket hole jig is to increase the speed you usually work with. This will enable you to complete working on your projects quickly while ensuring your work is accurate. While shopping, give priority to jigs that are less complicated because such tools deliver better speed.
On the other hand, complex jigs will give you the accuracy you want. However, they will not allow you to finish your tasks quickly. That said, pocket hole jigs are equipped with built-in drills.
The motor should deliver adequate drilling speed to produce precise cuts. A machine that delivers above 1,500 RPM would be ideal.
Accessories Included
Most of the available jigs are equipped with all the necessary wrenches, bits, clamps, and screws to ensure you have an easy time while using the tool. However, these accessories can be of poor quality and cut rough holes, especially if the jig is affordable.
We recommend investing in high-quality jigs to avoid ending up with bad accessories. If you are shopping for your first jig, ensure dowels and screws are included. You should opt for dowels that are certified by the Forestry Stewardship Council (FSC).
This means the dowels came from a sustainable source. You should also check whether the kit comes with the accessories or if you have to buy them separately.
Ease of Use
As a woodworker, it's important to invest in a pocket hole jig that is easy to assemble and use. Its portability, installation, and operation should also be stress-free to make your life easier. The jig should also be sturdy enough to reduce the need for maintenance and repair.
A tool with the right features will be convenient for you during operation. For instance, pocket hole jigs that have simple designs, and those with waste storage slots are recommended.
They will make cleaning the chips and wood dust easy. Your working environment will also be free from dust, while the risk of damaging the tool will be reduced.
Flexibility
The tool you choose should adhere to different angles, depths, material thickness, and drilling projects. For instance, it should be able to handle small, medium, and large projects comfortably. Consideration should also be given to an-all round jig that can adhere to different requirements, including accommodating various materials and being used in restrictive areas.
Durability
The pocket hole jig you intend to buy should be durable and sturdy. While shopping, choose a jig that comes with durable accessories and is constructed with quality material to last for many uses. Its strength and construction should match the features it has.
Additionally, the tool should be able to withstand any forms of abuse, including falls and a variety of tasks.
The durability of the clamp should also be considered to enable it to accommodate both thick and thin material. This will allow the jig to minimize errors and drill accurately. A tool that can handle pressure with ease is worth the purchase.
Locking Mechanism
Traditional pocket hole jigs will make you keep measuring each board before creating drilling holes in your material at an angle. However, a locking mechanism will help you make repeated pocket holes in wood boards of similar sizes.
The good thing about modern jigs is that they come with a variety of locking mechanisms. Some are a side-to-side mechanism that locks against stops and a front-to-back mechanism that locks against the back fence.
Dust Collection
Plywood and particle boards tend to produce a lot of dust and chips which can make your drill bit to overheat. The dust can also endanger your health and even cause respiratory problems.
When looking for a jig, opt for one with a dust collection system and clearance channels. Buy one you can connect to your shop vacuum or another extraction system. The vacuum will suck the dust from the air in your working environment and prevent your jig from clogging.
Bolts and Nuts
Although different jigs are designed differently, you will need to secure most jig systems on your working space or on a countertop using bolts and nuts. Ensure you buy pocket hole jigs that have these accessories if you don't want to use other means to secure your tool in place.
Intended Use
Before making a purchase, you should make up your mind on what you plan to use the jig for. There is no need to buy the most expensive model, especially if you will only be using the tool occasionally.
Budget
Different jig models are sold at different values. When shopping, get one that is within your spending plan and can still meet your demands. A tool that has reasonable value and one that you intend to use occasionally should be able to meet your needs. On the other hand, expensive jigs are ideal for professionals that need to work on heavy-duty tasks regularly.
Wrap Up
The correct pocket hole jig can increase the value of your products and also save you time. All the pocket hole jigs we have reviewed are suitable for different types of woodworking. Any of them can tackle the level of work you plan to do and give you great value of practicality. We hope this article has helped you narrow down your search. Get the right tool to enjoy your woodworking experience.