Have you tried a number of handsaws, but are not getting that perfect touch of neat finishing to your workpiece?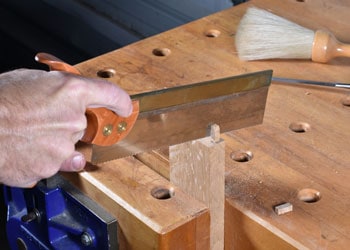 This was my plight until I came across the best dovetail saws, which has been of so much help thus far.
The dovetail saw comes in really handy on both soft and hardwoods. The accuracy and precision I achieved with this saw made me fall in love with it.
I could achieve extremely neat finishing on my workpiece through its very thin blade. A dovetail saw is definitely a tool you will need to add to your list if you are a newbie.
What to Consider When Buying a dovetail Saw?
With the many benefits of a dovetail saw, you should definitely consider getting one. Getting the best dovetail on the market is where the challenge lies.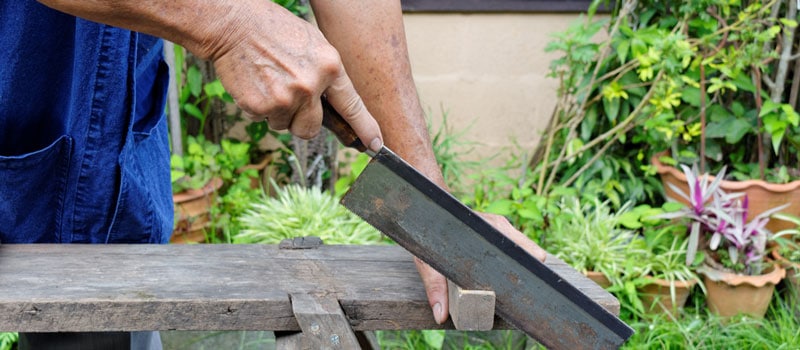 There are so many dovetail saws on the market, and deciding which one will suit your needs, offer durability and fit your budget can be a tiring ordeal. I also had this problem when I was getting my first dovetail saw.
I was lucky, and based on some of the information I gathered, I bought the Gyokucho Dozuki Noko Giri 9-1/2″ dovetail razor saw, which brought me a whole new work experience. I could make tenon and dovetail cuts with ease.
Based on my experience as a woodworker and having used several dovetail saws, below are some of the things to look out for before you buy a dovetail saw.
The comfort of the handle
Every tool has a target price or a price limit. Dovetail saws come at different prices. Thankfully, dovetail saws, in general, are not very expensive.
However, a dovetail saw of good quality will cost you a decent chunk of cash.
When determining your budget and selecting a tool, don't go for a product that is not durable, as you will end up spending more on buying a replacement once it gets bad.
Is it easy to start a cut with the saw?
As a woodworker, you will know that many saws you come across have a little difficulty starting the cut. You might want to get a saw that is easy to start a cut with. The teeth are a key determinant of this.
A saw with fine teeth is generally easier to start a cut with. Dovetail saws commonly have finer teeth of 18 teeth per inch (TPI)and above. However, remember that if you are cutting through hardwood, saws with finer teeth will cut slowly through them.
Some saws don't have easy-to-start teeth, but can achieve faster cuts once you get started. Whether your aim is easy to start cuts or faster cuts overall, be sure to make inquiries before you purchase one. The material you need to cut also should play a part in this decision.
Check the fit and finish of the saw
Most people buy dovetails to achieve neat finishing and a precise cut. Some other saws can achieve neat finishing, but you want the best.
Therefore, make sure that the saw you pick delivers a neat finish.
The blade
The blade is what helps you achieve any cut you might want, from dovetail cuts, to tenon cuts, to wood joinery, to precision cuts.
Therefore, it is a very important part of the saw. The durability of the blade is also extremely important.
You should look for blades that won't get blunt easily or won't cost too much to replace. Japanese saws are typically very cheap, so they are easy to replace. Also, look out for the teeth of the blade.​
If they are 18 TPI, this goes a long way in helping you achieve cleaner and finer cuts.
Whatever your dovetail saw choice might be, make sure your dovetail saw is one that can help you achieve the desired result on your workpiece and also guarantee you durability.
Best Dovetail Saw Reviews
1. Gyokucho Dozuki Noko Giri 9-1/2″ Dovetail Razor Saw
If you are a woodworker, you definitely will fall in love with the Gyokucho dovetail razor saw. The saw has impulse-hardened teeth, which enables it to handle extended wear.
People who work frequently on cabinets and furniture might want to use this tool, as it is perfect for those activities.
With this tool, you can achieve the finest miters on your workpiece. This tool is highly durable as a result of its hard-coated blade, which also reduces corrosion. The rattan handle helps to ensure a firm grip.
The very thin blades of the saw, along with its rigid metal spline, which is attached to the top edge, help to prevent the saw from straight cuts during usage. This saw can carry out deep cuts of up to 3.5 tenon with its 9.5-inch long blade.
Additional Specification
Best For: Cabinet & Furniture work
Blade Length: 9.5-Inches
Weight: 10.2 ounces
Material: Iron
Manufacturer: Gyokucho Trading Company
What We Like:
What We Didn't Like:
2. SUIZAN Japanese Hand Saw Dozuki (Dovetail) Pull Saw
This is another Japanese-made dovetail saw. It is a pull saw, unlike the push saws you normally will see.
This means it cuts materials by pulling. It is made of top-quality Japanese steel, which makes the cuts from this tool very sharp.
This tool gives you a whole new cutting experience, whether you are a beginner or a professional. It has the versatility to carry out a wide range of woodworking activities. With this tool, you are guaranteed accuracy in cutting, combined with efficiency and durability.
The blade of this tool does not rust, so you won't have to change it often, which makes it great value for your money. However, when you do need to change it, the blade is very cheap, so it makes more sense to replace it rather than sharpen it.
Additional Specification
Best For: Cabinet & Furniture work
Blade Length: 6-Inches
Weight: 5.6 ounces
Material: Japanese Steel
Manufacturer: SUIZAN
What We Like:
What We Didn't Like:
3. Japanese Mini Dozuki Panel Saw
The Japanese Mini Dozuki saw is a highly recommended tool if you are new to Japanese saws. The saw, though small in nature, can effectively be used for scoring and cutting veneer or panels.
It has a blade length of 150mm and a kerf size of 0.49mm. If you are considering cleaning shoulders on the tenon, then this tool is sure to deliver.
The blade is rigid during use as a result of the rib on the back of the blade. It works well even on hardwoods such as maple. This tool is preferred by many because of the lack of noise of whirring blades or jigs. It is very effective for silent woodworking along with its great efficiency.
Additional Specification
Best For: Cutting Small Materials
Blade Length: 5.9-Inches
Weight: 3.84 ounces
Material: Steel
Manufacturer: Harima Enterprises
What We Like:
What We Didn't Like:
4. Gyokucho 372 Razor Saw Dotsuki Takebiki Saw
This is another amazing product from Gyokucho. The company is known for quality, and its hard-coated blade goes a long way toward proving that quality.
The blade of this saw reduces corrosion, which increases the durability of the tool.
The thin blade is very efficient at making sharp, precise cuts with its teeth set. You can effectively use this tool to get the results you desire on your cabinet and furniture work.
This tool can be used to achieve some of the best and neatest dovetail cuts you will ever see.
You can use this tool for the finest miter, tenon, and crosscuts. The teeth, which are impulse-hardened, ensure extended durability. They are great for cutting hard and softwoods.
Additional Specification
Best For: Clean & Accurate dovetail
Blade Length: 9-1/2-Inches
Weight: 0.1 ounces
Style: Saw Only
Manufacturer: Gyokucho Trading Company
What We Like:
What We Didn't Like:
5. Dozuki "Z†Saw
The Dozuki Z saw blade is ideal for joining with precision. The blade of this saw is very durable due to its tensioned high-carbon steel and high precision.
This saw is very efficient and is good when you want to carry out tight-fitting.
The handle is very easy to grip. The blade can easily be replaced if it gets worn out because it is easily removable. It is one of the top-selling saws in Japan due to its cutting ability and blade durability.
Accurate cuts are easily attainable as a result of the rigid back. You can control this saw easily, which makes it suitable for beginners.
Additional Specification
Best For: Tight Fitting, Precision Joinery
Blade Length: 9-1/2-Inches
Weight: 0.45 ounces
Material: Iron
Manufacturer: Z-saw
What We Like:
What We Didn't Like:
Dovetail Saw Comparison Chart
[table id=41 /]
Dovetail saws: Western or Japanese
The market is flooded with lots of dovetail saws made by both Western and Japanese companies. This makes your buying choice further difficult.
Here is all you need to know about Western saws and Japanese saws.
Pros of Western saws
Pros of Japanese Saws
Cons of Japanese Saws
How to Use a Dovetail Saw Like a Pro. Video credit Wood and Shop.
Conclusion
If you are a woodworker and you want to achieve very neat finishing with precise cuts, then you should go get a dovetail saw.
There are a number of Western saws on the market, but Japanese saws are also a much-liked option these days.
If you are a first-time Japanese saw user, then I recommend you go for the Japanese Mini Dozuki saw. It is highly effective and preferred by many.
Whether you are using the Gyokucho Dozuki dovetail razor saw, the Suizan pull saw or any other dovetail saw on our list, you are sure to have an amazing experience. These tools make woodworking an amazing experience.