Keeping your chainsaw's blade sharp and ready for the job is easier when you own one of the best chainsaw sharpeners.
Nothing is more annoying than trying to cut some logs for your fireplace with a blunt blade that won't cut.
The market offers a bountiful range of choices, and unless you're an expert, picking the right product could be overwhelming.
What should you look for?
How do you know if the sharpener is compatible with your tool? What other features matter?
Luckily, I'm here to help. I've tested quite a few chainsaw sharpener during my career. The ones mentioned below have satisfied me the most in terms of performance and value for the money.
Check them out, and then read my advice on finding the right chainsaw sharpener for you.
Why Invest in a Chainsaw Sharpener?
Cutting fire logs, trees or branches with a blunt chainsaw is one of the most challenging things for a woodcutter.
When your chainsaw is not doing its job properly anymore, you have two options: change the chainsaw or sharpen its chain.
The latter is definitely a more appropriate choice if you don't want to throw away an otherwise good chainsaw.
A chainsaw sharpener is a great tool that can help you keep the chain in excellent condition to ensure its proper functioning and avoid chainsaw injuries.
Types of Chainsaw Sharpeners
Chainsaw sharpeners come in multiple styles and sizes. Some are universal and ideal to use with all chains; others are built specifically for one type of chain. In addition, you'll typically be able to choose between manual and electric models.
Manual sharpeners are the granddaddy of them all. They may seem old-school, but they do have advantages that still keep them on the market.
The manual sharpeners are further divided into handheld sharpeners and bar-mounted guide sharpeners.
Handheld Sharpeners
​These are perhaps the most popular. They are cheap, easy to use and portable. Just take the sharpener out of your toolkit wherever you are for no-frills sharpening of your chainsaw whenever needed.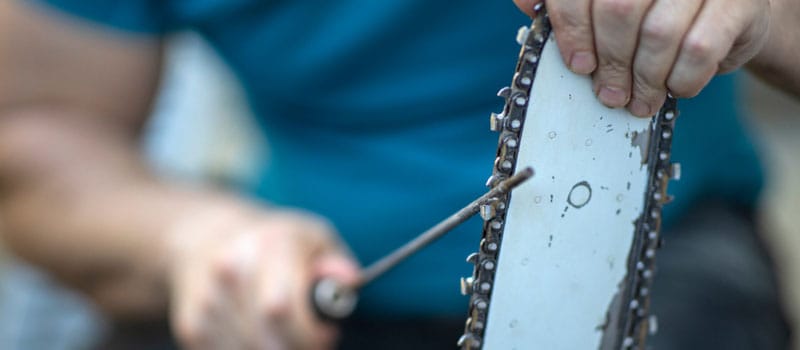 Most handheld sharpeners are round file models with variable diameters. These tools are specific to one type of chainsaw, but manufacturers usually offer the same version of the tool in different sizes to fit most needs.
The sharpening process is simple, albeit tiring and time-consuming. Maintaining the grinding angle with such a tool is also difficult.
Bar-mounted guide sharpeners
These are also transportable, but harder to use in the woods. They are more appropriate for a workshop or shed, as the tool has to be mounted on a stable platform, such as a table or workbench.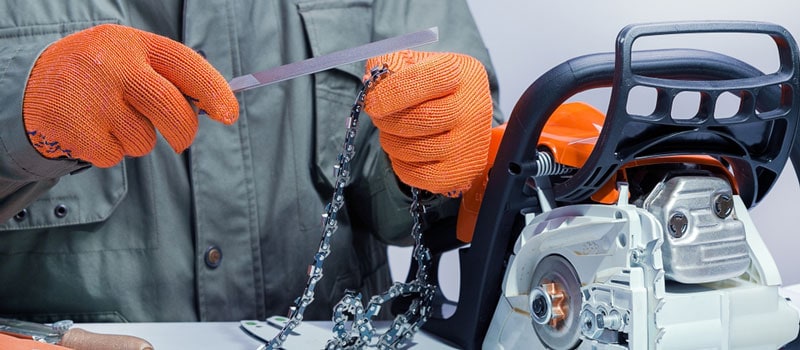 These sharpeners are typically mounted and fastened to a bench, wall or vise and have adjustable settings, which makes them compatible with multiple chainsaws.
You'll also be able to adjust the filing angle and depth, and generally, they offer better control over the grinding action.
However, file shavings could fly off the blade, so it is essential to wear proper equipment to prevent injuries.
Electric Chainsaw Sharpeners
More expensive than the manual models, electric chainsaw sharpeners are designed to take care of the dirty work for you. All you have to do is feed the chain to the grinding wheels and let the machine do the rest.
These tools are often employed by professionals, as they reduce the filing time. However, home users who don't mind the slightly higher price will also benefit from this solution.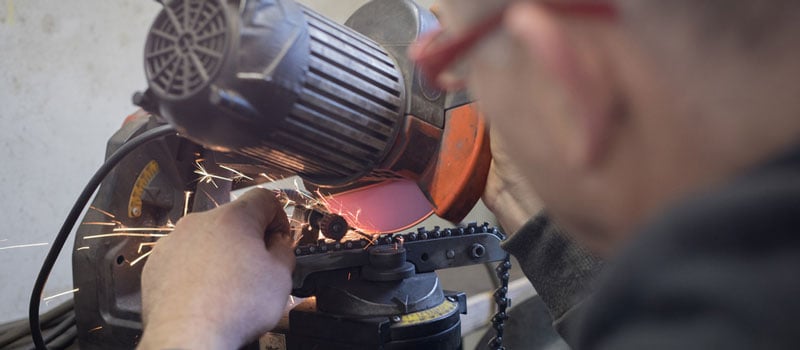 Most electric chainsaw sharpeners are powered by 120V alternating current, which means you won't need a special predisposition in your home circuit to power these workhorses. Moreover, you can even use a power generator as a source of energy in case of a blackout.
Just like the bar-mounted manual models, these machines are typically fastened to a workbench; they can't be used if there is no power source around, and you will have to wear protective gear to prevent injuries.
When and How Often Should You Sharpen Your Chainsaw?
This question doesn't have a universal answer. How often you must sharpen your chainsaw depends on how often you're using it and the type of wood you're cutting.​
A chainsaw used for high-volume industrial work will require more frequent sharpening. The same goes for a chainsaw used to cut mainly damp or wet wood.
If you're mostly cutting dry wood for home use purposes, perhaps sharpening your chain once or twice per season will suffice.
While telling you how much time has to pass between sharpenings is impossible, a good way to know is to check the wood shavings and quality of cut.
If your chainsaw produces woodchips, then the chain is sharp and safe to use.
If instead of woodchips, the chainsaw produces small particles of dust, it should be sharpened.
What to Consider When Choosing a Chainsaw Sharpener?
Chainsaw sharpeners may all look the same, but they are quite different. When choosing the right one for your needs, you must check the size of the cutter and its compatibility with your chain.
Below is a quick guide that shows you what you must consider.
Cutter Type
An important thing to consider when choosing the right chainsaw sharpener is the cutter type.
The cutter is the part of the chain responsible for the cutting action; chainsaws come with round, semi-chisel, or chisel teeth, and their shape determines what type of sharpener you can use.
Round cutter
This is the easiest to file and also the most versatile as far as cutting action is concerned.
Round teeth tolerate dust better than the chisel teeth, and you can easily sharpen them with a manual file and guide sharpener. More often than not, these teeth can also be sharpened with an electric sharpener.
Semi-chisel cutter
This is halfway between the round and chisel, more aggressive than the former, but more delicate than the latter.
This cutter can typically be filed with a manual sharpener built for round teeth, and the benefits of these teeth are that they tolerate dirt and dust better than the other two types of cutters, while staying sharp for longer.
Chisel cutter
This is the most aggressive, and I wouldn't recommend using this type of chain unless you're truly experienced in using a chainsaw. This type of chain is typically used for industrial applications, and this chain requires a specific type of sharpener. These teeth are also less resistant to dust and dirt, and they require constant maintenance and frequent sharpening.
Chainsaw File Size
Another important thing to consider when choosing chainsaw sharpeners is the file size.
This measurement is expressed in either inches or millimeters and determines whether a sharpener is compatible with your tool.
Chainsaw chains have several types of files, but the most popular ones are:
1/4-inch (4 mm)
0.325-inch (4.8 mm)
3/8-inch (5.2 mm)
0.404-inch (5.5 mm)
The sizes in millimeters expressed above typically refer to the diameter of the round file, while the equivalent in inches is used in specialty literature to express the size of the chain pitch.
Some sharpeners are adjustable and compatible with all chain pitches above, whereas others may be compatible with only some of them.
Specialty sharpeners are typically compatible with one type of chain pitch only, and these are perhaps your best bet if you're using the chainsaw for personal use.
Commercial or industrial users operating multiple chainsaw types may benefit more from an adjustable chainsaw sharpener able to handle all of their tools.
Chainsaw Gauge
Last but not least, you must also check the chainsaw gauge. These are tools used to check the length of the cutter, and you'll typically find four types of gauges:
0.43-inch
0.050-inch
0.058-inch
0.063-inch
Regardless of the size of the gauge, it is not recommended to file it below .025 inches, but the depth of the gauge is important, as it actually determines the depth at which your chainsaw is able to cut.
The reason why you shouldn't file the gauge all the way along their length is that this would only shorten their service life.
When filing the gauge, make sure you're sharpening evenly throughout, as otherwise the chain could vibrate and produce rough cuts.
Best Chainsaw Sharpener
Top 10 Roofing Nail Guns
1. Oregon 520-120 Bench Saw Chain Grinder
This Oregon saw sharpener is one of the most popular options, appealing to both average homeowners and professional woodworkers.
Its adjustable profile makes it compatible with a wide range of chainsaws, while the self-centering chain vise allows for easier adjustability.
Chain Compatibility
The Oregon 520-120 is one of the top-rated chainsaw sharpeners on the market, a product designed to work with most types of chainsaw chains.
An adjustable profile allows you to use it with low-profile, full-profile, and pitch chains.
This is possible due to the three-grinding-wheel construction with a capacity between ¼ and .404 inches.
An incorporated quick check grinding template allows for quick adjustments and makes this tool ideal even for less experienced users.
Build and Quality
This electric chainsaw sharpener boasts durable construction and incorporates quality components and features designed to improve the user experience and prolong the machine's lifespan.
A 3/8-horsepower motor provides sufficient power for heavy-duty grinding and spins the wheels up to 3,400 revolutions per minute. A variable motor angle allows for multiple adjustments of the tool, while the one-way motor rotation ensures safe operation.
A nice feature is a self-centering vise designed to provide equal grinding angles with minimum intervention from your side while clamping to all chain sizes for a no-frills universal fit.
Everything is enclosed in a durable aluminum chassis. Furthermore, the unit also incorporates best-in-class safety features including a safety shield with an integrated light.
The chain clamp is also sturdy and built to reduce the risk of injury, while the T-shaped cooling fins allow for excellent temperature regulation, preventing overheating.
A wheel-dressing brick, a template for pitch, a wheel contour, and a depth gauge setting are other interesting features of this well-made chainsaw sharpener. The product also meets all ANSI standards.​
Specialty
This electric chainsaw sharpener comes with three grinding wheels designed to work with most chainsaw chains. The 1/8-inch, 3/16-inch and 1/4-inch wheels are compatible with chains up to 0.404 inches.
Ideal for both contractors and home users, this sharpener is no doubt one of the best you can buy.
Oregon 520-120 Bench Chainsaw Chain Grinder Installation and Set Up
Additional Specification
Best for: High volume sharpening
Type: Bench Grinder
Weight: 19.36 pounds
Type: Corded Electric
Special Features: Newly engineered vise
What We Like:
What We Didn't Like:
2. Timberline Chainsaw Chain Sharpener
This Timberline chainsaw sharpener is perfect for contractors, but built with the home user in mind.
It combines a top-notch design and performance with ease of use in a formula that satisfies most operators.
Chain Compatibility
The Timberline sharpener is a specialty product designed specifically for .325-inch chain pitches. This could seem to be a limitation at first, but upon closer look, investing in a specialty tool could be a better choice.
In fact, unless you're a contractor using chainsaws of different sizes who wants to save some money by investing in a sharpener compatible with all your tools, owning a tool designed to sharpen the specific type of chainsaw chain you own is more lucrative.
The main advantage of the Timberline chainsaw chain sharpener is the ease of use. Perfect for a rookie, this sharpener doesn't require complicated adjustments. It is calibrated to sharpen one type of chain, and all you have to do is run the chain through the machine to improve its cutting power.
Build and Quality
Like most products from Timberline, its chainsaw sharpener is designed for performance. It comes with a powerful high-grade tungsten carbide cutter and carbide guides fixed at an angle of 30 degrees, just perfect for sharpening your chainsaw chain.
If you're one of those users looking for unrivaled control over the tool, know that the manufacturer also provides 25 and 35-degree guides separately.
The overall quality of this tool is superb. It is made of machined aluminum, strong enough to deal with heavy-duty tasks, yet lightweight enough to transport with ease.
The manual sharpener can also be used anywhere, including on a job site where there is no electricity around.
Yes, you'll have to use your brute force to sharpen the chain, but you'll have no limits as far as mobility is concerned.
This newly patented tool is also surprisingly easy to use, despite not being powered by a motor. It is designed for precision and accuracy, and gives you just that.
Unfortunately, the sharpener doesn't come with a work light, which in some cases can be detrimental.
I have found that using a torch is a great alternative, but I'd have liked this tool even more if it was fitted with a light powered by batteries.
Despite this slight drawback, the Timberline chainsaw sharpener is no doubt a great product for the home user.
Specialty
This manual chainsaw sharpener is designed specifically for 0.325-inch chains and comes with a strong tungsten carbide cutter.
Additional Specification
Best for: Work faster, smarter
Pitch chains: .325″
Weight: 2 pounds
Type: N/A
Special Features: Portable Take Everywhere
What We Like:
What We Didn't Like:
3. Stihl 2-in-1 Easy File Chainsaw Chain Sharpener
Stihl is renowned for the quality of its tools, and the 2-in-1 Easy File is no exception. Ready to use right out of the box, this manual chainsaw chain sharpener is one of the best on the market.
An attractive price point makes it appeal to the homeowner and contractor alike, although it's not suitable for high-volume applications.
Chain Compatibility
This practical tool is designed for sharpening the teeth and depth gauge of all chainsaw chain styles. It works with the 1/4, 3/8, .325 and .404-inch chain sizes, giving you just the flexibility you need in case you're using multiple tools.
This characteristic makes the chain sharpener ideal for a contractor's workshop, as long as you only sharpen your chains occasionally.
Build and Quality
The Stihl two-in-one is a robust chain sharpener designed to withstand heavy-duty applications and the test of time. It consists of two round files and one flat file delivered with a unique holder and filing guide designed for performance.
The filing guide simplifies the sharpening process by completing two actions at the same time.
You'll be able to sharpen the saw chain cutters and lower the depth gauges all at once, a feature that is more than convenient for a manual tool.
High-quality files and guides also allow you to get more done at each stroke, which means you'll spend less time sharpening and more time actually sawing wood.
What impresses me about this tool is its accuracy. Although quite expensive for a manual tool, this chainsaw sharpener remains one of the most affordable on the market, and its overall quality definitely pays off.
Specialty
This manual chainsaw sharpener boasts a universal fit and is compatible with all chainsaw chain styles. Its two-in-one construction makes it ideal for both contractors and home users.
Additional Specification
Best for: Homeowner & contractor
Pitch chains: .325″
Weight: 12.3 ounces
Type: Manual
Special Features: Unique holder
What We Like:
What We Didn't Like:
4. Buffalo Tools ECSS Electric Chainsaw Sharpener
If you are a rookie looking for a fully automatic chain sharpener, you may find what you are looking for in the Buffalo Tools ECSS model.
This entry-level electric tool is perfect for the backyard workshop and could benefit a contractor looking for a no-frills tool. It's ridiculously easy to use and compatible with several chain types.
Chain Compatibility
This electric chainsaw chain sharpener by Buffalo Tools is designed for multi-tool compatibility and works with chain gauges between .05 and .08 inches. However, this tool is incompatible with different chain gauges, including the popular .043-inch size.
The grinding wheel measures 4 1/4 x 1/8 inches and is easy to adjust via a convenient knob placed on the tool.​
Build and Quality
Sturdy and durable, this electric sharpener is engineered in rust-resistant metal and is comprised of quality components to ensure its durability.
Despite its reduced dimensions, the sharpener puts out 85 watts of power, sufficient for spinning the grinding wheels at an astonishing speed of 4,200 revolutions per minute.
It draws energy from a standard 120V wall outlet, which means you won't have to predispose a 240V circuit for this tool.
Another great feature is the adjustable design, which allows operators to use it with most types of chains. Easy to use, the product can be fixed to the workbench, to the wall or to a vise for improved stability.
Despite all these features, the sharpener comes at a more than affordable price. It won't last forever and probably won't withstand high-volume applications in an industrial environment, but it's more than accessible to the DIYer who can't afford to invest in a more expensive chainsaw chain sharpener tool.
Specialty
This tool is no doubt the best chainsaw chain sharpener for amateur use. It reaches high speeds and is compatible with some of the most popular chain types, including 0.05 and 0.08-inch models. It is ideal to have in your home arsenal.
Additional Specification
Best for: Easy to use
Volt: 120
Weight: 4.11 pounds
Type: Electric
Special Features: Adjusts To All Chain Designs
What We Like:
What We Didn't Like:
5. Granberg Bar-Mount Chainsaw Sharpener
If you're on the market for a chainsaw sharpener that is easy to use for just about anyone, this might just be it.
This huge tool is best suited for milling large timber – this is due to its size, as well as impressive capabilities.
We're confident that this is a tool suited for both professional contractors and those that just need something for their own use.
Chain Compatibility
This model is known to quickly and easily sharpen any chain, and it mounts to any saw with any file size. It's designed to be a multi-compatibility tool, and it will hold all file sizes for standard chain pitches and lowering depth gauges.
Build and Quality
This chainsaw sharpener is renowned for its durability and has already found faithful users all over the world since its creation in California, USA. It comes with a fantastic set of features that allow the users to set file height and tooth length.
This precision bar-mounted chainsaw sharpener also works as a file holder. It was made out of extremely durable cast aluminum and zinc-plated steel. This is a tool that once bought is expected to last for many years.
This Granberg product measures at 12.5 x 7 x 1.5 inches and weighs a mere 14.4 ounces, making it super easy to operate.
It has 12 months parts and 12 months labor warranty.
Specialty
Undoubtedly, this tool is among the top chainsaw sharpeners for both amateurs and professionals. Its specialty lies in how flexible it is, as it will be suited to any chainsaw. While being affordable, it's comparable to some of the most powerful models out there.
Additional Specification
Best for: Accuracy And Durability
Dimensions: 12.5 x 7 x 1.5 inches
Weight: 1.05 pounds
Warranty: 90 days limited warranty
Special Features: Made of cast aluminum
What We Like:
What We Didn't Like:
6. Timber Tuff CS-BWM Chainsaw Sharpener
For those that are looking for a chainsaw sharpener that will mount easily, this is a good pick.
It's perfect for your workbench, as it securely mounts the majority of work surfaces.
Aside from its praised security, this product also provides a remarkable maximum speed at a noise level that can be considered acceptable. It will sharpen a vast array of chains while keeping you safe the whole time.
Chain Compatibility
This Timber Tuff chainsaw sharpener will sharpen chains from ¼†to ¾â€, which covers the majority of uses most people need a sharpener for. It features three grinding blades that measure 3/16″, â…›â€, and ¼†– this allows for superior sharpening qualities.
Build and Quality
As mentioned above, one of the best things about this particular sharpener is how secure it is. Aside from the steadfast mounting capabilities, it also comes with a thermo-overload protection setting that provides your protection in case of overheating or an electric discharge.
It can be mounted on the wall or on a bench – you choose the right spot in your workshop. It operates on a standard supply voltage, much like most other chain sharpeners: 110v/60Hz, with a motor input power of 230 watts.
The maximum speed you can expect from this chainsaw sharpener is an impressive 3600 RPM/110v. This is accompanied by a noise level measured at 70 dB (A) with light 15w.
Specialty
This chainsaw sharpener fills a niche of its own: its a tool for those that value security without compromising on sheer power and capabilities. We highly recommend it to professionals that want something securely mounted in place.
Additional Specification
Best for: Mount easily
Dimensions: 14.8 x 11.3 x 10.2 inches
Weight: 17.1 pounds
Warranty: 1 year manufacturer
Special Features: 110V/60 Hz motor
What We Like:
What We Didn't Like:
7. XtremepowerUS 85W Electric Chainsaw Grinder
This mini electric chainsaw grinder is ideal for those that want something relatively powerful, but still portable.
If you don't want a massive tool, but rather something compact, XtremepowerUS delivered a product that is worthy of your attention.
Despite its portability, it is bench mounted and gives you a stable, secure base to work from. It was designed with smaller workshops in mind, but without compromising on quality or power.
Chain Compatibility
This tool has a capacity of .80″ to .50″, and it holds the chain in place with a brake handle. The table/vise angle is 35 degrees to the right or left. It's suited for chains of any size, making it a very versatile tool that will bring a lot of value to your workshop.
Build and Quality
The small build of this product had no impact on its power and speed. It runs at an impressive maximum speed of up to 4200 RPM, which is a lot more than some of its bigger counterparts. The motor power is at 85 watts, allowing this to effectively sharpen most chains.
It weighs a mere 5 pounds, and it secures steadily to your workbench, ensuring top safety. This is a sharpener you won't have to worry about using, as it's quick, powerful, and most of all, very safe.
Specialty
It's suitable for professional users that need to keep numerous chains from various saws in top condition. If you're using your chainsaws on a daily basis, you will find a lot of uses for this sharpener.
It's also considerably cost-effective for a non-commercial, domestic user that wants to make sure their chain is always in great condition.
Additional Specification
Best for: Portable
Power Source: Corded-electric
Weight: 5 pounds
Wattage: 85 watts
Special Features: 110v/60Hz motor
What We Like:
What We Didn't Like:
8. CO-Z Electric Chainsaw Sharpener Kit
This is one of the most flexible and versatile chainsaw grinders on the market, coming with a whole lot of amazing features all wrapped nicely into a considerable package.
For those that seek a perfect accommodation when it comes to different sharpening needs, we highly recommend taking a solid look at this CO-Z Electric Chainsaw Sharpener.
Chain Compatibility
This chainsaw sharpener is renowned for how compatible it is, and it is proven by how well it scales. The chain grinding angle is adjustable between 0 and 30 degrees. The motor can be adjusted from 0 to 70 degrees, which is truly impressive. It can work with different chainsaws without an issue.
When you pick this tool up, you will find yourself with a very durable product that was built to last for years. It was made out of solid cast aluminum with reinforced hinges. This ensures sturdiness and most of all, amazing performance. The aluminum casing prevents splashing iron filings too.
Build and Quality
This performance is made easier by the fact that this sharpener has a built-in work light. You won't strain your eyes anymore while maintaining accuracy.
This tool has a remarkable maximum speed of 3000 RPM, and a lot of its focus is places on superior precision. It is bench-mountable.
Specialty
It was designed with the most demanding users in mind, and it will find its place in both large, industrial workshops and dedicated at-home users garages. However, it was designed with professional users in mind.
Additional Specification
Best for: Very durable
Protection: IP20
Weight: 17.16 pounds
Wattage: 230 watts
Special Features: 110v/60Hz motor
What We Like:
What We Didn't Like:
9. UNIDRIFT Chainsaw Sharpener File Kit
This is not just a sharpener, it is a whole set. If you want to buy something that comes with a considerable kit to go with it, this is a product that we recommend you take a look at.
Designed to be ready to go right out of the box, this file kit will improve the life of any workshop user.
Chain Compatibility
It was made out of sturdy materials that are suitable for sharpening any kind of chainsaw chain blades. This makes using it ultra-easy, as you won't have to wonder whether it will work with your particular kind of chain.
Build and Quality
UNIDRIFT, the manufacturer, places a lot of emphasis on how sturdy and robust materials this was made from. It's not something you have to worry about breaking anytime soon, and neither are the tools that come with it.
In this 9-piece set, you will find 3 round files – 3/16″, 7/32″ & 5/32″, a file holder (filing guide), 6″ flat file, depth gauge tool, wood & plastic handles, green roll-up carrying case. Thanks to that, you won't have to worry about buying any extra tools, and the tools you own will be in a neat package.
It is extremely portable and can be carried in a fairly small package that you can take with you on the go.
Specialty
This chainsaw sharpener is mostly recommended to domestic users that will want something portable. It's also suited for freelancers that travel with their tools a lot.
Additional Specification
Best for: Any workshop user
Dimensions: 12.01 x 7.09 x 1.5 inches
Weight: 16 ounces
Flat File: 6″
Special Features: Depth-Gauge Tool
What We Like:
What We Didn't Like:
10. Husqvarna Sharpforce Chain Sharpener
The Sharpforce by Husqvarna is another manual chainsaw chain sharpener tool similar in many ways to the Stihl above. Like Stihl, Husqvarna is associated with high-end lawn and gardening tools, but the main difference between these two manual sharpeners featured in this list is the price.
Husqvarna is reliable, yet much more affordable, ideal for a beginner or amateur user.
Chain Compatibility
Husqvarna Sharpforce is a specialty tool compatible with only one type of chain, although the manufacturer produces it in various sizes.
Nevertheless, the size you choose determines the job it's fit for.
I use 7/32-inch chainsaws, therefore this specific review refers to the corresponding Sharpforce 7/13 chain sharpener.
However, the manufacturer also proposes two other variants of this tool compatible with 3/16-inch and 5/32-inch chains.
Build and Quality
This chainsaw sharpener is a highly functional, robust and durable tool that finds its place in a beginner's arsenal.
Like the Stihl model above, it requires brute force to operate it, and how well it sharpens the teeth usually depends on the operator's expertise.
As far as the tool is concerned, the product comes equipped with a convenient guide, which allows you to sharpen each tooth at the same angle and size, for increased performance and accuracy.
The user-friendly design also makes this sharpener one of the most praised on the market.
The tool is well-balanced and easy to use without provoking user fatigue. You'll be able to sharpen chain after chain without feeling tired.
A drawback is the quality of the plastic handle, which feels rather flimsy. If you're applying too much pressure, the handle could break, causing injuries.
Specialty
Designed with a specific type of blade in mind, this chainsaw sharpener is perfect for a 7/32-inch chain, but variants for other chain sizes are also available.
Perfect for home users and beginners, this tool is easy to use and comes at a more than affordable price.
Additional Specification
Best for: Manual chainsaw
Dimensions: 8 x 8 x 8 inches
Weight: 9.9 ounces
Replacement for: 653000035
Special Features: Filing Guide (3/16″)
What We Like:
What We Didn't Like:
Conclusion
Finding the best chainsaw sharpener is not easy, but now you know some of your best options.
Whether you're looking for a conventional handheld model, a manual bar-mounted guide sharpener or an easy-to-use electric unit, the list above features sufficient models for all users and budgets.