If you need to saw up high, but don't want to use a ladder, the sensible solution would be to get yourself an electric pole saw. This enables you to stay planted firmly on the ground while reaching high places.
A pole saw is essentially a smaller, lighter chainsaw on a stick. It's like a big lollipop with teeth. We have selected 10 of the best electric pole saws and explained why we think they are the best.
Pole saws may seem strange, but you'll find they're a worthy addition to your gardening inventory, especially when you consider the time you'll save by not having to set up ladders.
You won't have to worry about climbing up high, either. While there are other electric pole saw reviews out there, our top 10 list will lift the lid and reveal a little bit more about what makes the best electric pole saw.
Why Electric Pole Saw is Better Than Gas-Powered?
There are a number of reasons why electric tools beat gas powered pole saw.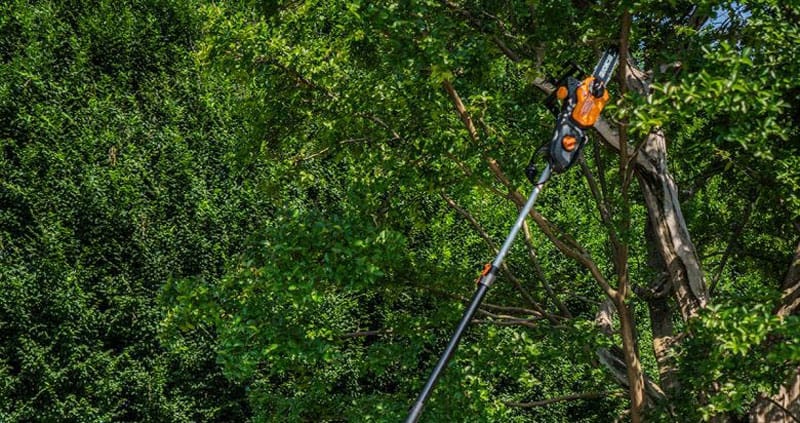 For a start, the electric pole saw is much more Eco-friendly. The amount of smoke and pollution that gas pole sawthrow into the atmosphere is truly horrific. I'm no Eco-warrior, but I appreciate that we all have to play our part for Mother Nature. That's why we didn't review any gas-powered pole saws in this article.
Not only are we saving the environment by using electricity; we're also saving our eardrums. A gas pole saw can be loud! Everybody hates the neighbor that gets up at the crack of dawn on the weekend to trim back hedges using his industrial gas-powered tree trimming tool.
Don't be that guy. The electric pole saw has come a really long way. Whereas before, there was no competition between gas pole saw – and electric-powered tools — gas always was the most powerful — electric tools are fighting back and getting stronger. Most of the pole saws reviewed here to hold their own against their gas-guzzling counterparts, and because they're electric, they're a lot quieter too!
So next weekend, if your annoying neighbor is up early trimming tree branches with his gas-powered pole saw, rather than get angry and shout at him from your bedroom window, maybe put a catalog page of an electric pole saw in his mailbox.
Do I Buy a Corded or Battery-Powered Pole Saws?
Now that we've established the clear benefits of buying the best electric pole saws over a gas-guzzling environmentally unfriendly model, the next obvious question is whether to buy a corded or battery-powered model.
A corded pole saw guarantees a steady stream of power to your device that's instantly available and unlikely to go wrong unless you didn't pay your electricity bill or you accidentally trip on the cable and pull out the plug.
An uncorded pole saw is great for when you're cutting or tree trimming over a wide area.
The obvious problem is that when the battery runs out, you'll either have to take it to a power outlet to charge it up or use a replacement battery pack that can cost a lot of money (in some cases, more than the pole saw itself).
There are a few companies, such as Black and Decker, that have really thought about the benefits of battery power.
Its batteries are interchangeable with other tools in the 20-volt max range, including power tools, garden hedge trimmers and much more. It's a great incentive to invest in other Black and Decker products, and it could be really handy in the right situation to be able to swap around batteries, in case one unexpectedly dies.
Most rechargeable batteries on the models reviewed have a long life, usually between 80 and 100 branches. This is enough for most tasks, and won't leave you hanging high and dry without power in the tank.
🆠Best Electric Pole Saw Review
1. Greenworks 8.5′ 40V Electric Pole Saw
Corded pole saw are always going to have their limitations. Especially if you're working on a big landscaping job over a large area, you'll have to think about whether your cord will stretch, and if the answer is no, then you'll have to pack an extra tool into your inventory.
Gas pole saw, on the other hand, don't have the obvious issues that corded tools have, but they aren't exactly eco-friendly.
So, what's the solution? Well, in the past, cordless pole saw haven't always been that great. Low power and limited battery life spring to mind, for starters.
That's where tools like this Greenworks cordless pole saw really come into their own, and of the cordless options, we consider it the best electric pole saw.
This power saw features a G-MAX battery power system that can be used for multiple tools, not just this one. It's useful when you need it.
You can also buy an additional battery and charger sets if required, rather then having to run back to a power outlet and wait for another full charge, when the work outside needs to be done now.
However, to be fair, with 40 volts and up to 60 cuts on 4×4 lumber, you can go a long way before you'll need to recharge on a single battery pack.
The tech is very advanced, so there's a lot less noise than traditional pole saws. I'm no tech-head, but I do have an appreciation for technology when I can hear people complimenting the size of my pole saw over the noise.
At 8.36 pounds, it's very light and handles very smoothly, which really makes a difference when you're tired.
With a quick-start electric switch, this tool would make a great addition to your landscaping arsenal.
Additional Specification
Best for: Large area
Bar Length: 8-inch
Reach: up to 15 feet
Weight: 9.2 pounds
Key Features: 40V motor
What We Like:
What We Didn't Like:
2. Sun Joe SWJ800E Telescoping Electric Pole Chain Saw
There are a lot of great things you could say about this Sun Joe saw. It's telescopic, which means that on its shortest reach setting, you can use it to cut small logs.
It extends to a maximum of 15 feet, making this one of the longest pole saws on the market.
If like me, the thought of extending out to hard-to-reach areas while attempting to balance yourself at the top of a ladder makes you queasy, then an electric pole saw with good reach will take the risk factor out of climbing a tall ladder to cut back foliage up high.
In fact, this saw is ideal for a number of tasks, which is why we rate it as the best electric pole saw.
Whether you need to trim back overhanging branches or saw up logs for winter storage, this pole saw has a 6.5-amp motor that will make short work of stubborn tasks. It also features an auto-oilier to season the cutting bar and chain with lubrication while in use.
I found it really simple to use, too. To turn it on, you just need to push a button. This makes it a different beast than its gas-powered cousins, which might expel smoke, fumes and excessive noise that are likely to annoy your neighbors while they're sunbathing in the garden.
If you like your neighbors, then the Sun Joe is a much friendlier option. As long as it's been charged, you can be sure that it'll start the first time, unlike many gas powered pole.
With great power comes great responsibility, so to help avoid accidents, this model features a built-in safety switch to help you avoid firing it up by accident.
Additional Specification
Best for: Cut small logs
Bar Length: 8-inch
Reach: up to 15 feet
Weight: 7 pounds
Key Features: 6.5-Amp Motor
What We Like:
What We Didn't Like:
3. Worx WG309 Electric Pole Saw
There's a lot to like about this bad boy. Like a special forces soldier on deployment, it's designed to work longer and harder than its competition.It features an innovative auto tension system to extend the life of its chain and cutting bar.
It's got a monster 8-amp motor that eats through small to medium-sized logs with ease so you can say goodbye to those problem branches hanging over your side of the fence.
The oil tank has a capacity of around 120 milliliters, and what's great about this saw is that it auto-lubricates. This keeps your tool in tip-top condition and extends its life.
Now, I'm no Eco-evangelist, but this tool is electric, meaning it's Eco-friendly so you can feel like you're doing something good for the environment.
It provides a consistent flow of power, meaning higher performance than traditional gas-powered saws.
It feels lightweight in your hand, and the clever ergonomic grip design and rotating handle reduce hand fatigue and keep you out in the garden longer.
The head is detachable, meaning you can do more with this versatile tool. Removing the 8-foot pole from the chainsaw is quick and easy, and requires no tools to complete.
By having this all-in-one kit as part of your landscaping arsenal, you will reduce the number of tools in your inventory, as the need for ladders and separate chainsaws goes out the window.
Additional Specification
Best for: Easily hoist in the air
Bar Length: 10-inch
Reach: up to 10 feet
Weight: 10 pounds
Key Features: 8 Amp motor
What We Like:
What We Didn't Like:
4. BLACK+DECKER LPP120 – Cordless Electric Pole Saw
Black and Decker has been in the tool trade for a long time and has built up a great reputation in that time. However, how is it doing in the pole saw market?
The answer is, of course, pretty well.
Like Greenworks, Black and Decker use an interchangeable battery pack system, so what works on your pole saw will also work on your Black and Decker power drill, pole chainsaw, or garden trimmer.
It's a neat idea, and there's no sacrifice in power either — the 20-volt lithium-ion battery system will keep your electric pole chainsaw running for a long time.
We're talking approximately 100 cuts of your average-sized pine branch per charge. So, you can see that this beast has a lot of power at its disposal. At the higher end, the 8-inch blade will tackle most types of wood up to a diameter of 6 inches.
The battery isn't just interchangeable; it has longer charge retention than most NiCad batteries, making this a valuable addition to your landscaping bag of tricks.
What I also loved about this product was how easy it was to use. Everything is functional — from the fact that it is cordless pole saw to the way it disassembles so easily into a compact size so that you can store it away in places where space is a premium.
Additional Specification
Best for: Running long time
Bar Length: 8-inch
Reach: up to 14 feet
Weight: 10.33 pounds
Key Features: Lithium-Ion battery system
What We Like:
What We Didn't Like:
5. Sun Joe SWJ802E Electric Pole Chain Saw
This Sun Joe chain saw's lightweight pole makes it easy to hold, especially when reaching up high. It's also corded, and while that might not suit everybody, it guarantees a constant, reliable stream of power — unless of course you tug too far and end up pulling the plug out of the socket.
To be honest, what I really don't like is its purple and pinkish color scheme, which I think is a bit "out there†for a landscaping tool. I'm not trying to put you off buying it; it's a great tool still. If your grandma is looking for a pole saw for Christmas, then this could be the perfect gift and I'd highly recommend it.
However, if you buy me a bright purple pole saw for Christmas, please put the receipt in the box so I can replace it with a sensibly colored garden tool.
One of the many good things I can say about this pole saw is the reach. At the maximum stretch, you can get as high up as 15 feet, which is great when dealing with those problem overhanging branches.
The grip is made from comfortable foam, like a cushion in your hand, to combat fatigue. It also has multi-positional heads that you can adjust to three different angles, which is handy for those awkward cuts and hard-to-reach areas. Buy it for your grandma and make her happy this Christmas.
Additional Specification
Best for: Easy to hold
Bar Length: 8-inch
Reach: up to 15 feet
Weight: 7.9 pounds
Key Features: 6.5 Amp motor
What We Like:
What We Didn't Like:
6. WEN 4021 Electric Pole Saw
What's nice about this electric pole saw from WEN is how easy it is to use.
It features a nice, bright orange tension system for the chain that effectively works like a dial that you crank left or right to either tighten or loosen the chain, depending on your requirements. Because the system is so easy to use, it also takes away the need for tools to tighten the tension on the chain.
It uses an automatic system for oiling the machinery, which is convenient if you're on the clock, as it prevents you from having to worry about whether you need to lubricate your tools. The only problem with this is that you have to buy the machine oil separately. Bummer.
The 6.5-amp motor is not the most powerful we've seen on this list, but it is adequate for most small tasks, including trimming back small branches and everyday foliage trims.
The telescoping pole adjusts up to 9 feet, which is pretty good, and means that for most cutting projects that are up high, you can keep the ladder in your garage.
I really liked the ergonomic handle; I found it was really useful to get some extra grip and weight behind cutting back difficult branches up high.
The safety switch was pretty neat, too. Especially when you've finished the job, your brain can kick back a gear, and that's when accidents can happen. The safety switch adds an additional barrier to potential disaster.
Additional Specification
Best for: Good clean cut
Bar Length: 8-inch
Reach: up to 13.5 feet
Weight: 8 pounds
Key Features: 6.5 amps motor
What We Like:
What We Didn't Like:
7. Sun Joe SWJ803E – Electric Pole Chain Saw
Sun Joe features heavily on this list for good reason. Its electric pole saws are easy to use, lightweight and packed with features, and this particular model deserves its place on this best electric pole saw top 10 list.
Because this model is easy to hold, tasks that require you to reach up high aren't as challenging as you'd think, and this model makes short work of trimming back those troublesome branches that seem to be growing at a rapid rate over your neighbor's back garden fence and into your yard.
It's also corded, which might not suit you if you have a massive garden, but what you can be sure of is a steady, constant stream of power.
What's really great about this product being electric is how Eco-friendly it is compared to gas powered pole saw.
The subtle shades of green on this model are much easier on the eye than its purple counterpart reviewed earlier, making this less of a present for your grandma, and probably the model that you'd actually want to keep.
I was a big fan of the multi-angled head, especially when it came to cutting up troublesome branches. It meant I could really get some weight behind the cutting tool, making the task so much easier.
Additional Specification
Best for: Easy to use
Bar Length: 8-inch
Reach: up to 14 feet
Weight: 7.9 Pounds
Key Features: 8.0 amps motor
What We Like:
What We Didn't Like:
8. Greenworks 8-Inch 6.5 Amp Corded Pole Saw
The first thing that really impressed me about this pole saw was that it came with a case.
This may sound like a strange thing to say, but if you only have so much space in your garage, shed or workshop, and like me, you like to have things packed away neatly, then this actually makes a big difference.
Another quirky thing I liked about this model is that it has an oil level that is easy to read. Other pole saws often overlook this small detail, but if you can actually see how much oil is left in the reservoir, then you're less likely to go dry, which can damage or reduce the life of your tool.
The three-piece aluminum extension pole out as far as 8 feet, which doesn't make it the longest pole we've ever reviewed, but most landscapers would agree that it's not the size of the pole that counts, but what you do with your tool. With a 6.5-amp motor that takes less than a few seconds to get going, there's a lot you can do with this beast.
It's powerful enough to make light work of small to medium-sized branches and difficult foliage, and its reach means you can leave the ladder at home.
I really liked the easily adjustable tensioning system. A quick tug on the easy-to-use dial tightens (or loosens) the chain to your required tension.
Additional Specification
Best for: Superior performance
Bar Length: 8-inch
Reach: up to 8 feet
Weight: 10.47 Pounds
Key Features: 6.5 amps motor
What We Like:
What We Didn't Like:
9. Earthwise CVPS41008 Corded Pole Saw
This versatile kit converts easily from a pole saw to a chainsaw. When in pole saw mode, it has a multi-angle head that makes branches that sprout out at awkward angles much easier to cut back.
It extension pole up to 9 feet, which is far enough to leave the ladder in the workshop gathering dust.
I liked the fiberglass pole construction. Its lightweight, strong and telescopic features are perfect for working at various heights and great for reducing fatigue.
However, it is when this tool converts to chainsaw mode that things really get interesting. Conversion takes seconds, and it doesn't take a deep thinking expert to work out how to put it all back together again.
In pole chainsaw mode, the 10-inch chain and cutting bar are big enough to chew its way through most small to medium-sized logs, and it has an easy-to-use tension adjustment knob to keep your tool nice and tight. Once you're done, there is a handy blade cover to keep the dust off.
Another quirky thing that I haven't seen with other models reviewed is that it has a shoulder strap. It's sometimes the little things that can make the most difference, and the strap is a really useful addition.
It comes with an automatic oiling system, which is handy if you forget to keep your tools lubricated. It keeps things running smoothly and lasting much longer.
Additional Specification
Best for: Easy to cut limbs
Bar Length: 10-inch
Reach: up to 8 feet
Weight: 9.25 Pounds
Key Features: 7 amps motor
What We Like:
What We Didn't Like:
10. Remington RM1025P Electric pole saw
What really stands out about this pole saw is that it has a detachable head, making this pole chainsaw/pole saw combo tool from Remington a damn good option, and worthy of a place on this list.
Once you've finished cutting those problem branches up high, the head is safe to detach, as it uses a secure "flip n lock†clamp system that requires no tools.
The action is smooth and quick, meaning an easy interchange, depending on your cutting requirements. You can then get on with the task of cutting those branches down to the perfect size.
This model also has a powerful 8-amp motor that runs efficiently on electricity. That meant that I was able to cut up the small to medium-sized logs I had in my shed with total ease.
In fact, I managed to complete that task so quickly I still had time to tackle the hard-to-reach limbs hanging over my yard wall that needed tree trimming back.
The pole itself feels ultra-sturdy, and the hand grip is non-slip and comfortable to hold. This is especially important when you're cutting things up high.
There's a real sense of quality craftsmanship with this pole saw. It's made of aluminum, and it's just under 12.5 pounds, which, when you consider how much this pole can do, is an impressive achievement.
Depending on the job at hand, once you've extension pole to your desired length, you can clamp it securely into place.
The maximum reach is 15 feet, making this a good choice for those problem low-hanging branches. When used, the pole saw gives a little kickback. This is due to the specially designed 10-inch chain and bar combo.
Additional Specification
Best for: Easy interchange
Bar Length: 10-inch
Reach: up to 15 feet
Weight: 12.4 pounds
Key Features: 8 amps motor
What We Like:
What We Didn't Like:
âš–ï¸Electric Pole Saw Comparison Chart
[table id=15 /]
🙋 Electric Pole Saw Related Question and Answered
Are two-in-one pole chainsaws worth the hype?
In short, yes, they are.
A pole saw in itself gives you increased flexibility, meaning you can leave your ladder at home, and therefore, you have less equipment to carry to a job.
A two-in-one option just increases your flexibility further. You no longer have to pack an additional pole chainsaw if you can detach the head from your pole saw to do the same task.
Considering that you'll be spending most of your time cutting back branches, having the means to then easily cut those branches into manageable chunks later makes a lot of sense.
Can I still use a ladder whilst holding a pole saw?
One of the best things about having a pole saw is that it removes the need to use a ladder.
The advice you get with pole saws is that you need to keep both feet firmly on the ground and in a stable position. So, if you're still struggling to reach, I wouldn't recommend climbing a ladder with a pole saw.
You'll make yourself unbalanced, and that could lead to injury.
Conclusion
When you're considering buying an electric pole saw, think about the tasks you'll need it for.
If you're going to need to reach up to high places, make sure you get one with a decent length. Also, consider your health and safety. Make sure you have both feet planted firmly on the ground when you're tree trimming up high with your pole saw and don't overextend yourself.
Get a model where you can easily adjust the tension on the chain. It's so important to keep tasks like this simple — it encourages you to do it often and keep your tool in good running order.
Think about the oil system. Most electric models automatically lubricate the chain, but if it doesn't have an easy-to-read oil level and it runs out without you noticing, this could have a detrimental effect on the longevity of your tool.
Think about how much power you want. This will, of course, depend on the tasks you'll be using it for. If you're only thinking about using it for easy-to-trim back foliage, then why go into overkill mode and get the most powerful (and probably most expensive) tool on the market?
Finally, with great power comes great responsibility, so my final piece of advice is to stay safe and read the instructions. Know your tool well to minimize the risk of accidents.