Framing nailers are commonly used in the construction of walls, flooring, decks, fencing, and other framing structures that require long, sturdy nails. You should use a framing nailer whenever attaching wooden planks or boards to structures – but is it possible to use a framing nailer for roofing? Here's what you must know!
Can A Framing Nailer Be Used For Roofing?
A framing nailer should never be used for roofing. Framing nailers use much larger nails than dedicated roofing nailers, which means framing nailers use more force when driving nails into wooden materials. This powered nailer would shatter and damage shingles, making it unsuitable for roofing work.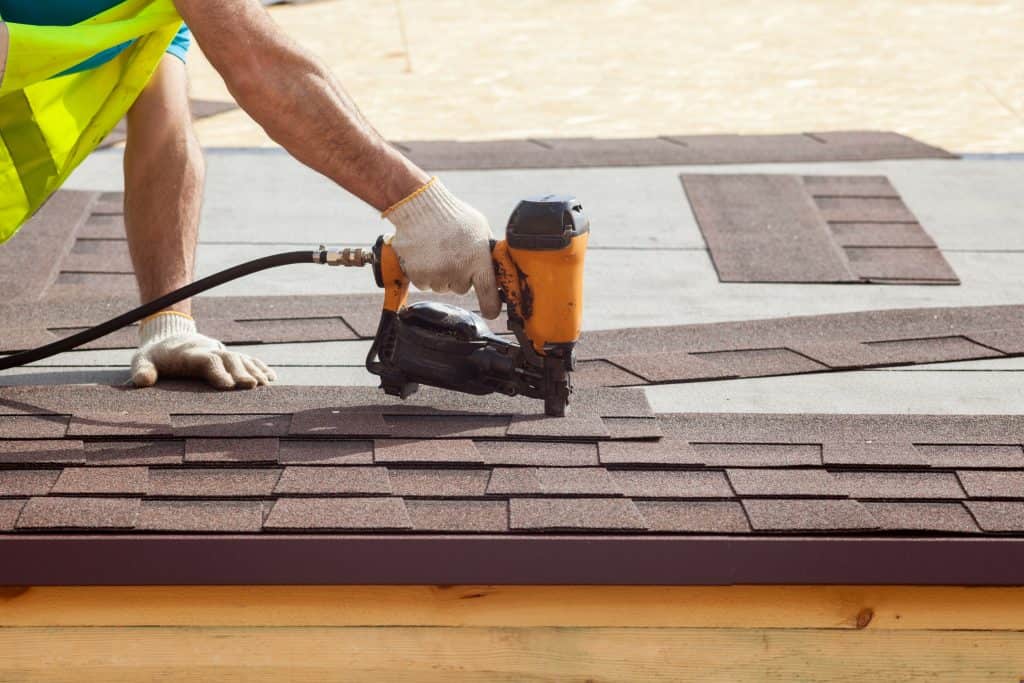 Ultimately, framing nails will not be able to hold shingles. The sheer power of the best framing nailer will shoot a nail straight through your shingle, potentially damaging the surface below.
Roofing requires a nailer that offers more control and precision while still allowing you to fire multiple nails quickly.
Roofing nails are also incompatible with framing nailers, which means you can't use the right type of nail with a different nailer. Roofing materials must be secured with small nails that sit flush with the shingle's surface, which is why it's important to use the best roofing nailer and specialized roofing nails when installing roofing materials.
As a golden rule, roofing nails should always be between one and two inches in length. Framing nails, on the other hand, tend to range between two and four inches.
However, even the shortest framing nails are unsuitable for roofing work due to the increased power of the framing nailer, which is used to drive nails into thick, dense wooden materials.
What Happens If You Use A Framing Nailer For Roofing?
You risk damaging your roof or roofing materials when using a framing nailer for roofing. The framing nailer's power will shoot nails straight through shingles, potentially damaging them.
You can also injure yourself when attempting to use a framing nailer for roofing due to the larger size of framing nailers, making them difficult to use on the roof. 
Which Nailer Should You Use For Roofing Work?
You should always use a dedicated roofing nailer when completing roofing or siding work where control and precision are key. These lightweight and compact tools are specially designed to be used on rooftops when installing roofing materials, while other nailers are designed to complete different tasks.
Are Roofing Nailers Easy To Use?
Roofing nailers have made installing shingles even faster and easier – which is largely due to the brilliant design of the tool. Roofing nailers have a lightweight design, which makes them easy to control on your rooftop, even when precision is key! Anyone with experience using standard nail guns will be able to operate a roofing nailer.
One thing is for sure: a roofing nailer is much easier to use than a framing nailer! It would be difficult to control a large framing nailer on your roof while using it for precise roofing work. Even cordless framing nailers that don't have power cords to worry about are harder.
Roofing nailers are designed to promote portability, making them easier to maneuver on your roof while working with shingles.
Are There Alternative Tools For Roofing When You Don't Have A Roofing Nailer?
While using a roofing nailer is generally the fastest method of attaching roofing materials, hand-nailing is a valid and widely-used alternative. Ultimately, both methods are commonly used by roofers and will not impact the quality level of the roofing work. Due to this, hand-nailing is the best alternative for those who don't own a roofing nailer.
There are even some benefits to hand-nailing shingles and other roofing materials.
Hand-nailing gives you even more control over the fastening process than a roofing nailer, which helps ensure the nail is driven into the right location and is deep enough.
Most homeowners with wooden roof decks prefer hand-nailing due to these benefits.
Another powerful tool to consider for roofing is a roofing stapler. Many homeowners find roofing staplers easier to handle than roofing nailers, with easier repairs. While using nails to attach roofing materials will require less long-term maintenance than staples, many people prefer using specialized roofing staplers due to their speed and ease of use.
Ultimately, your choice of roofing tool comes down to personal preference. Hand-nailing, roof nailers, and roofing staplers can all yield excellent results when done correctly.
However, it's important to only use a method or tool intended for attaching shingles. You shouldn't use other nailers and staplers that aren't designed for use with roofing materials, even if you're using one of the best framing nailers.
Frequently Asked Questions
Will Using A Framing Nailer For Roofing Damage Your Nailer?
While using a framing nailer for roofing will not damage your nailer itself, it can damage your roof deck or roofing materials. It's important to note that using smaller roofing nails with a framing nailer can damage the nailer since it's designed for specific nail sizes. Always use the right size roofing nails with a roofing nailer!
Can You Use A Roofing Nailer For Framing? 
You shouldn't use a roofing nailer for framing and vice versa. Roofing nails are smaller than those used by framing nailers, which means they aren't strong enough to support the weight of thick, dense construction materials. Ultimately, roofing nails have insufficient holding power for structural uses like building walls, flooring, and decks for homes.  
Is There Any Nailer That Can Be Used For Framing And Roofing? 
Unfortunately, no powered nailer can be used for both framing and roofing projects. These tasks each require specialized nails and tools to be done properly. While framing nailers are designed to drive nails into thick lumber materials, roofing nailers are designed to drive nails through more delicate roofing materials.  
Conclusion
Framing nailers should never be used for roofing. The larger size and increased power of framing nailers mean they cannot be used to install shingles and other roofing materials. Framing nails are much larger than roofing nails, which will shoot straight through shingles and damage your roof deck. You also risk injuring yourself when incorrectly using a framing nailer!