As a contractor, you know that the quality of your work depends on your skills as well as buying the right gear. The right contractor table saw allows you to cut through a variety of materials for your job site requirements. Buying the right one means that you'll be able to excel at what you do.
A table saw is a power saw that you need to cut through everything from metal sheets to wood. ​Beyond its ability to cut so many different types of materials, it is very accurate and allows you to make a lot of cuts in a short period of time.
A smaller one that suits DIY projects won't satisfy your needs as a professional. ​We'll help you choose the best contractor table saw for all needs and funds, along with walking you through what to consider ​as you find the right option.
Our Top Contractor Table Saw Reviews
To help you make the right decision, we've reviewed some of the best contractor table saws on the market. By taking a look at their features, you'll be able to decide on the best addition to your workshop.
Invalid table id.
SawStop CNS175-TGP36
The first table saw on our list is the SawStop CNS175-TGP36, with a special focus on precision. Thanks to the 36" fencing system, you'll be able to enjoy a precise and smooth cutting experience. Moreover, it comes with extension wings that allow you to work on larger pieces of wood. The T-glide fence system is made of thick cast-iron that provides lockdown without deflection for your safety.
The motor works at 1.75 HP, with a peak power of 4 HP; enough for most hobbyists and professionals. Your table saw comes with a 10-inch blade but a smaller blade can be fitted, depending on the nature of the job.
Dealing with dust is minimized thanks to the shrouded blade that improves dust collection and reduces airborne particles. Sawdust has been proven to be a safety hazard but the Dust Collection Blade Guard and Dust Collection Port capture the majority of it. Moreover, you can install the advanced Overarm Dust Collection accessory.
Safety is one of the best features of this table saw as the blade carries a small electric charge signal. It will activate the safety system and stop the blade if it gets in touch with skin.
An aluminum brake stops the blade and shuts off the motor. After that, the blade is driven under the table to prevent any contact with your body. This process happens in less than 5 milliseconds and you'll be able to get your blade back to work. However, you should know that the safety system can be easily activated if you're using wood that has too much moisture.
This isn't a portable table saw as it weighs almost 340 pounds with its blade and extension wings. However, that extra weight means more stability and less vibration. Moreover, if you must move it, it's compatible two accessories for better mobility but it's more expensive than other models on the market.
What We Like
An automatic safety system that stops the blade
Robust tabletop with extension wings to work on larger wood sheets
Advanced dust collection system
Enough horsepower to cut through different materials
Comes with details instructions
What We Don't Like
Heavyweight table saw
More expensive
SawStop 10-Inch Contractor Saw, 1.75-HP, 36-Inch...
SAWSTOP PATENTED SAFETY SYSTEM: Stops a spinning blade on contact with skin. The blade stops in less...
UNMATCHED QUALITY: The trunnion and arbor are built for precision, strength and stability. Poly...
RELIABILITY: The Control Box houses the on-off switch, power paddle, and on-board computer, and...
Last update on 2023-11-19 / Affiliate links / Images from Amazon Product Advertising API
Dewalt DWE7491RS 10"
Dewalt provides professionals and hobbyists with a high-quality table saw that proves that precise and clean cuts don't necessary. The Dewalt DWE7491RS has a15 amp motor that cuts through hardwood easily and the computer-balanced plates reduce the vibration for more accurate results.
Collecting sawdust is easy thanks to the 2.5" dust port that connects to a vacuum for efficient dust collection. The 32.5" rip capacity allows you to cut through different materials with no issues. You can achieve a 3 1/8" inch cut at 90 degrees and 2 1/4" at 45 degrees.
This saw is an excellent choice for professionals and hobbyists who work on floorboards, bookshelves, framing lumber, and railings. It features a 10-inch tungsten carbide blade which stays sharp and can also cut through PVC and other job site materials.
If you're looking for a lightweight and portable table saw, then you need to check this one out because it weighs 90 pounds and 110 pounds with all the accessories. The telescoping fence rails extend and retract for easy storage and better portability. It has a well-built smooth-rolling stand for easy assembly and break down to keep your table saw stable and allow you to move it wherever you need to.
The table saw features a fully integrated storage system to keep all your accessories within reach. This is a good choice for beginners. It takes about an hour to assemble but comes with detailed instructions to walk you through the process. The flip-over ripping fence is suitable for tricky cuts.
You might have to buy an extension because the power cord is rather short. Some parts of the stand are made of plastic so they're not that robust. Although the dust port removes most of the sawdust, you should use a piece of cloth to wipe the blade clean because the dust will accumulate in the enclosure that houses the blade, affecting its performance over time.
Read our review of the Dewalt DWE7491 table saw.
What We Like
Lightweight table saw
Works on several types of materials
Precise and clean cuts with no vibrations
Flexible and stable stand for portability
What We Don't Like
Some of the parts of the stand are made of plastic
The power cord is short and needs an extension
DEWALT 10 Inch Table Saw, 32-1/2 Inch Rip...
Your purchase includes one Dewalt table saw, 10inch 24-tooth carbide blade, rolling stand, push...
Other Specs: Max rip to left of blade – 22inch | Max rip to right of blade – 32-1/2inch | Max...
Rolling stand designed for easy set up and breakdown with excellent stability
Last update on 2023-12-05 / Affiliate links / Images from Amazon Product Advertising API
Powermatic PM1000 1791001K
Despite being able to work with 115V of power, this table saw from Powermatic cuts easily through any type of wood you decide to put through. No extra wiring is needed as you have the option to use this table saw in your home workshop or any job site. Using a 1.75 HP, the motor of this table saw delivers clean and precise cuts with zero vibrations to guarantee the quality of the outcome.
Maximum dust collection is achieved thanks to the blade surround and collection hose. This maintains the condition of the blade and allows you to focus on the job with no issues as sawdust can obstruct your view. The power switch is smartly located to provide hands-free operation.
This is a heavyweight table saw, weighing 465 pounds. If you're looking for a portable option, this one won't work for you. It's more suitable for professionals who need a sturdy and stable table saw that minimizes vibrations while working with different materials. Fatigue and strain are minimized because the table saw can handle any material easily.
It's more expensive than other models on the market, so it might not be the best option for hobbyists. Tool-less guard assembly allows you to use this machine fast. However, this table saw lacks some of the smart safety features that you should expect to find at a machine.
Thanks to the miter gauge, you can master a variety of cuts as the gauge leans 60 degrees to either side. This is a great choice for professionals who work with larger pieces of wood as it features a 50-inch fence.
Assembling this machine is straightforward and allows you to make the best of its powerful blade and motor fast. However, no riving knife is included which is something a professional would expect.
What We Like
Powerful table saw that needs 115 V of power
Minimum vibration to improve the quality of the cuts
Works with larger pieces of material and different types of wood
Efficient sawdust collection
What We Don't Like
Expensive and heavyweight model
No riving knife is included
Lacks some of the safety features
Powermatic PM1000, 10-Inch Cabinet Saw, 52-Inch...
PRECISION-GROUND CAST IRON WORK SURFACE: Features a beveled edge for smoother operation.
POLY-V BELT DRIVE SYSTEM: Reduces vibration and maximizes efficiency.
MITER GAUGE PIVOTS 60° LEFT/RIGHT: Allows easy adjustment for a full range of cuts.
Last update on 2023-11-19 / Affiliate links / Images from Amazon Product Advertising API
Makita 2705X1 10"
Makita designed the 2705X1 10" contractor table saw for professionals and hobbyists who need a powerful yet portable machine. It comes with a 15 AMP motor that delivers 4,800 RPM and guarantees tool-less assembly so you can start using it for all your job site tasks. It comes with an easy-to-read scale with a magnifying lens, so you can determine and adjust the cut for whatever the material you're working with.
This table saw combines versatility with reliability as it can rip through more material in one pass. The tool-less modular blade guard system features dual side guards so you can easily measure from the blade to the rip fence for precise and accurate cuts.
It features anti-kickback pawls and riving knife so you can adjust your cuts depending on the nature of the job. The riving knife can be set to three cutting positions; through, non-through, and dado cuts for more versatility.
The tabletop stays flat for accurate cuts and the side extension to the right allows you to extend the rip capacity to 25 1/8 inch. However, the extension table isn't 100% level with the main table. It features a T-slot miter that stabilizes your material and is extremely beneficial when you're working with bigger pieces.
Durability of the tabletop is one of the most impressive features of this table saw. It's made of aluminum, which is lighter than cast-iron but can withstand heavy-duty use. However, you'll need some time in order to assemble this machine.
If you're looking for a lightweight contractor table saw, then you need to check this one out. It weighs 114 pounds and comes with a special stand that allows you to set it up wherever you like. The spring-loaded flexible system allows you to fold it and store it conveniently after you're done.
What We Like
Lightweight and portable contractor table saw
Foldable stand for easy storage
Riving knife can be adjusted to three different positions
Clear blade guard for more accuracy
T-slot miter to stabilize the material
What We Don't Like
Takes some time to be fully assembled
The extension table isn't 100% level with the main tabletop
Makita 2705X1 10" Table Saw with Stand
Powerful 15.0 AMP motor delivers 4,800 RPM for improved performance
Large cutting capacity (3-9/16" at 90° and 2-1/2" at 45°); rips 4x material in one pass
Large 25" ripping capacity for cutting plywood/sheet material
Last update on 2023-11-19 / Affiliate links / Images from Amazon Product Advertising API
SKIL 3410-02 10"
This SKIL 3410-02 10-Inch Table Saw entry-level contractor table saw is an excellent choice for hobbyists, DIY enthusiasts, and professionals who need the best performance without breaking the bank. It's designed to provide better portability so you can handle all the tasks on the job site or at your workshop easily.
It features a 15 AMP motor that delivers 5,000 RPM which is quite high for a lightweight machine like this one. This table saw provides a self-aligning rip fence for more accurate results, making it a great option for DIY lovers who have no previous experience with this machine.
The EZ view measurement system is a great addition that facilitates the job. It's also quite stable which minimizes vibration that causes fatigue and affects the accuracy of your cuts.
With a tabletop made of cast-aluminum, durable but lighter than cast-iron, this table saw will be extremely portable as it weighs 67 pounds. The length of the table can be extended from 26 to 32 inches to allow you to work on bigger sheets of material for all your job site needs. The stand is made of heavy-duty steel that supports the weight of your table saw. It features a quick-mount system that allows you to store it conveniently when you're done.
You can adjust the bevel angle up to 47 degrees, this table saw will allow you to perform different cuts accurately. It can cut with a maximum depth of 2.5 inches at 45 degrees and 3.5 inches at 90 degrees.
However, this table saw doesn't have a sawdust collection mechanism. This means that your workshop will be filled with dust which can obstruct the view while you're using this machine. Moreover, it has limited ripping capacity compared to other machines on the market.
What We Like
Lightweight and portable contractor table saw
Heavy-duty steel stand with the quick-mount system
Extendable tabletop made of cast aluminum
Powerful motor that minimizes vibrations
What We Don't Like
No dust collection mechanism
The gauge is somehow flimsy
SKIL 3410-02 10-Inch Table Saw with Folding Stand
20-inch x 26-inch cast aluminum table extends to 20-inch x 32-inch for longer work pieces
3-1/2-Inch cut height capacity for cutting through 4x materials
Heavy-duty steel stand for fast setup and easy transport. Bevel angle range:0° to 47°
Last update on 2023-11-19 / Affiliate links / Images from Amazon Product Advertising API
Different Table Saw Types
Understanding the difference between the various table saw types will help you choose the right one for every job. Based on their portability, there are two types; portable and stationary.
Portable table saws are lighter and smaller. This means that they're more suitable for less demanding jobs and DIY projects. Benchtop saws, compact table saws, and job site table saws are all portable so they won't be used for more stressful jobs.
On the other hand, stationary table saws are more rugged, heavier, and more durable. These are the ones that you can use for more demanding jobs. Hybrid, cabinet, and contractor table saws are all stationary.
Contractor table saws are rugged and powerful. These used to be more portable in the past, but as the demands on the jobsite increased, their motor became bigger and more powerful.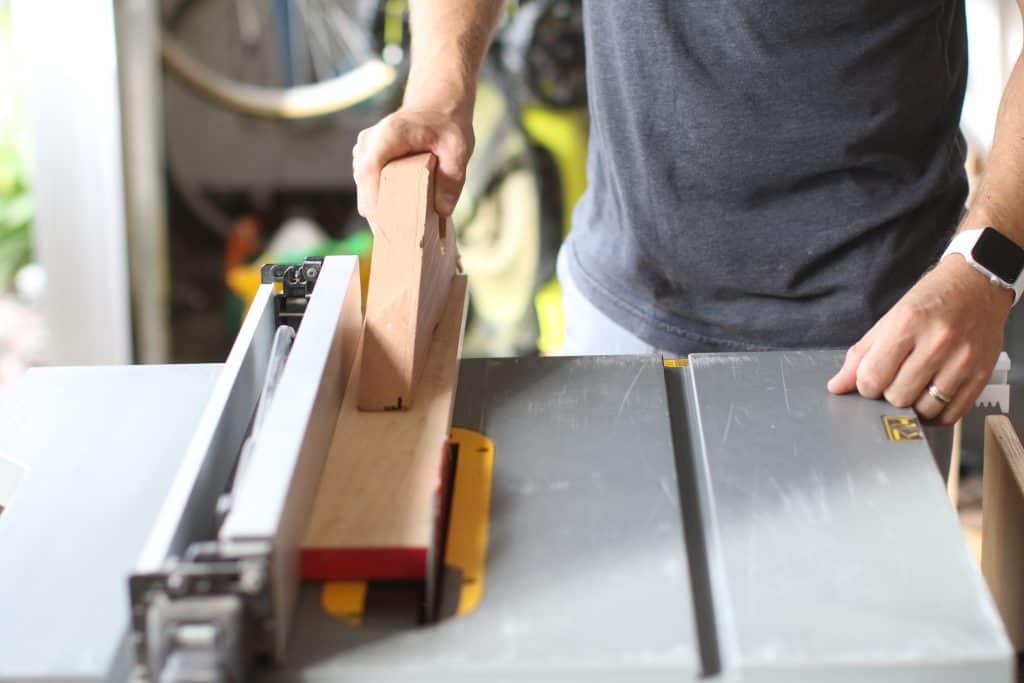 A typical contractor table saw will have the following features:
weighs around 200 pounds​
big outboard induction motor
longer belt that produces more vibration than other types
This is a staple in the workshop of a serious hobbyist or professional contractor because it won't let you down. It can handle the serious jobs that the other table saws won't be able to tolerate.
Hybrid table saws usually have inboard induction motors so they're considered to be a mix of traditional contractor saws and cabinet saws. Cabinet saws are the most powerful. They're usually very heavy and built to last for decades. These are the ones that you can find in big factories and workshops.
Why ​Opt For a Contractor ​Version
A contractor table saw isn't the most powerful among other stationary table saws. However, it's extremely popular. Here are some reasons why most consumers like to buy this specific type:
​offers the needed power of a cabinet saw with the versatility of a hybrid saw.
easier to use and move around than a cabinet table saw since it's lighter.
doesn't take much space compared to a cabinet table saw.
suitable for professionals and hobbyists because it's not that bulky or difficult to use.
​Contractor Table Saw Features and Considerations
Whether you're buying a table saw for the first time or looking for a replacement, choosing the right one can be a bit tricky. Precision is everything when it comes to work delivered to your clients or something that you want to keep at home.
When you're shopping for the best contractor table saw, there are a few things that you should take into consideration. Here are a few factors that you should think about to evaluate various models.
Weight
The weight of your contractor table saw affects its portability. It also refers to how rugged and powerful the table saw will be.
Contractor table saws are typically heavy, weighing between 200 and 400 pounds. Moving one on your own will be extremely difficult. However, there are some lightweight options that you can consider if you need something that you can easily move around in your workshop.
To move a heavier contractor table saw, you might need the help of a few people. Nevertheless, these heavyweight models are more stable and don't vibrate as much. They will deliver more precise results to guarantee the high-quality of your work.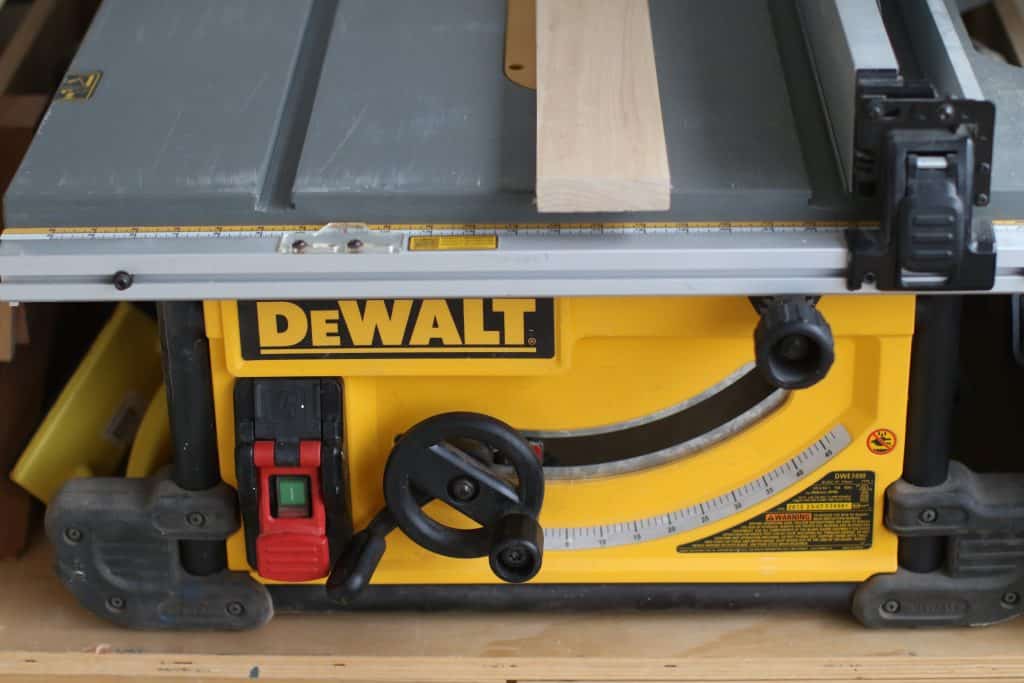 Tabletop Material
This is where you'll keep the material you're working with. A cast-iron tabletop is the most common choice because it's robust and wear-resistant. Stainless steel is another choice that you can consider while shopping for your table saw.
If you're considering a lightweight model, you should stick to aluminum. Aluminum is durable so the tabletop won't break or scratch and it's lighter than iron and steel.
Tabletop Size
This is directly related to the projects you're working on. The size of the tabletop should be big enough to help you finish all your jobs in the best quality. Moreover, you should have enough space in your workshop to set up the tabletop so you can move comfortably.
Horsepower
This refers to the strength of the motor you're working with. The right power of the motor depends on the job needs and the material you're working with.
Most professionals think that horsepower between 1 and 3 is enough for all their job needs. Less than 1 is extremely weak and won't be enough to help you cut through different materials. Some professionals need more powerful table saws. These should think of buying a table saw where the horsepower of the motor is 5 or more.
Fencing and Miter Gauge
These are essential to guarantee the quality of your work. The fencing maintains stability so you can deliver accurate cuts and the miter gauge will allow you to make angled cuts.
These two accessories are essential when it comes to choosing a contractor table saw for professional purposes. Without them, your work won't be of the desired quality.
Storage Space
This is where you can keep extra blades and other accessories. A bigger storage space means that your workshop will be clutter-free. Moreover, it's safer to keep your accessories away from the workspace.
Safety Features
Safety should be your main concern when you're working with heavy machinery. This is why you should make sure that your contractor table saw is designed to keep the buyer safe while working on his project.
A good blade guard is essential to protect you while working with sharp blades. This guarantees that your hands will be safe when you're using your machine. However, the most common problem with a blade guard is that it might obstruct the view. As a result, you might not be able to see the material you're working properly.
Anti-kickback is another feature that protects your face and eyes from flying pieces of wood and metal that might accidentally hit you. You should also look for something that has riving knives and vibration protection.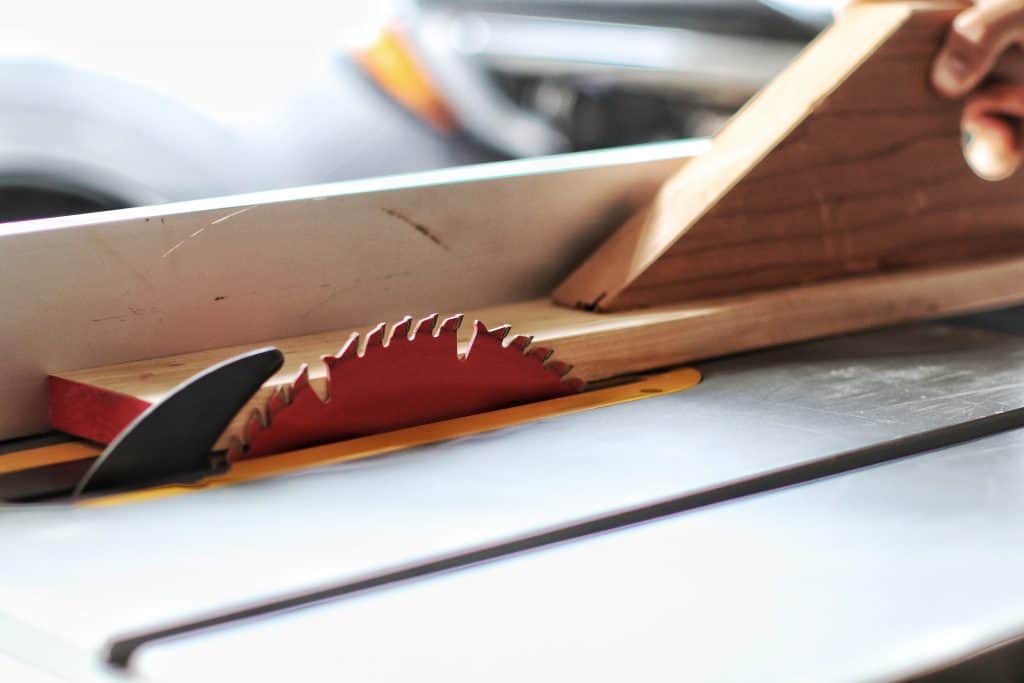 Choosing the Right Blade
Focusing on the specifications of the blade when you're shopping for a table saw guarantees the quality of your cuts regardless of the material you're working with. Blades come in different shapes and sizes. There are a few factors that can help you decide on the right blade to pick.
Material
Your blade material depends on the materials you're likely to cut using your table saw. For example, if you're using the table saw for woodwork, you'll need a blade made of robust metal. Steel and carbon steel are usually suitable for cutting through different kinds of wood.
For more challenging materials like different types of metals, you'll need a special diamond-tipped tungsten blade. This is sharp enough to cut through metal sheets. Tungsten carbide is the right material to pick if you're cutting through PVC and other types of plastic.
Teeth Per Inch
The number of teeth per inch affects the speed of the blade and the quality of your cuts. If the blade has more teeth per inch, it will cut slower but the cut will be more accurate and precise. Having fewer teeth per inch means that your blade will allow you to cut fast but the result might not be as clean as you want it to be.
Depending on your needs as a professional and the nature of the job you have, you can easily pick the right number of teeth for your blade. This is one of the most important factors that professionals use while evaluating the performance of a table saw.
Type
There are two types of blades available for your contractor table saw; rip blades and crosscut blades. Rip blades have larger gullets so they're fast, especially when they cut through wood. Moreover, they will keep the dust away.
Crosscut blades have smaller gaps between the teeth so they won't cut fast. However, the results are always cleaner and more precise.
Size
Most blades are between 8 and 12 inches. You should make sure that the blade size is suitable for your tabletop and the size of the object you're working with. There are larger blades that suit professionals and hobbyists who work with bigger wood or metal sheets.
Wrap Up
The best contractor table saw is an important investment. This is why you should focus on quality and accuracy when you're weighing different options.
We chose the SawStop CNS175-TGP36 as our top pick because it's reliable and delivers accurate cuts. Moreover, it features one of the most impressive safety systems on the market to minimize risk regardless of your experience level.
If this model is out of your range, you can take a look at the DEWALT 10-Inch Table Saw. It's lightweight and portable and features an impressive sawdust system for a better view.
Both of these options deliver the needed performance. You can also take a look at all the other options to choose something that suits your needs.
Table Saw Basics for Beginners