You need a good fence to get the best results out of your band saw. The best aftermarket bandsaw fence is going to add stability to your work and help you to produce consistently better results over time. It will be durable, dependable, and extremely accurate.
But there are also risks with any aftermarket product—and even the distinct possibility that they may actually make your tool perform worse.
I don't want that for you. I want you to enjoy great results from your new band saw rip fence. That being the case read on for some bandsaw fence reviews.
What to look for When Buying a Bandsaw Fence
Now you've seen products that will help you to improve your cut quality. But which one is right for you? If you haven't quite decided yet you may find plenty of utility in this handy guide.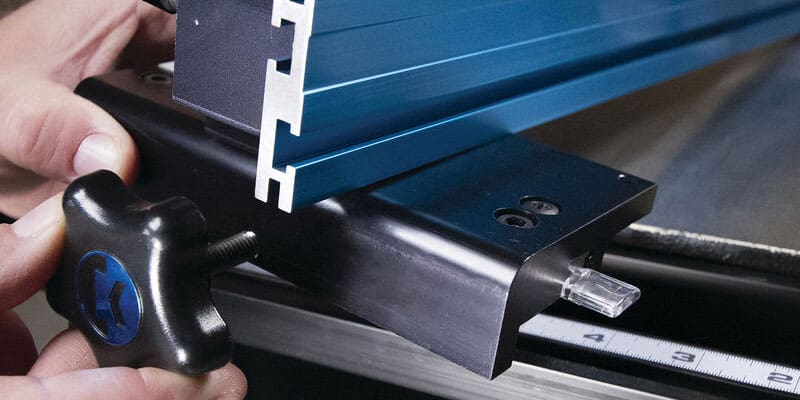 Price
As you might have noticed bandsaw fences can vary quite substantially in price. For example, the Kreg costs roughly as much as some bandsaws. If you want a product that will last basically forever, you can find it with higher-end products.
However, you can also get things that are cheap and easy. A cheap band saw fence will still be able to perform a wide range of different cut results but it probably won't last for nearly as long.
Compatibility
How compatible is your band saw fence? Ideally, you will be able to get something that can work with any fence you might have on hand. However such is not always the case. Some products will only work with saws that came from the same manufacturer. The Grizzly was a good example of a product like this.
Nine times out of ten you will be fine with pretty much any product. However, if you want to make sure you are getting your hands on something that you can actually use it will help to do a little bit of research before you buy. The manufacturer will almost always include information about its compatibility with the packaging.
Ideally, you will be able to find a universal bandsaw fence.
Build Quality
What is the fence made out of? With the right material, it is going to last pretty much forever and there is a wide range of different options to choose from. Bandsaw table doesn't put their accessories through quite as much stress as say a table saw.
Aluminum is a great material insofar as the fact that it is extremely durable and lightweight. However, there is a range of different options to choose from. Ideally, you will be able to find a material that fits your lifestyle while also giving you the most bang for your buck.
No matter what, the product you buy will be better than a DIY bandsaw fence. Guides like this will help you to identify the product that will help you to combine all of the optimal qualities.
Installation
It's kind of funny to discuss how difficult a saw fence is to install. After all, the person that knows how to use a band saw fence probably won't have all that much trouble putting it on. However, they can actually be a little bit frustrating, even for the best of us.
The complication of the installation can vary pretty substantially from product to product.
If you want to keep things extremely simple there are magnetic options that will hook up pretty effortlessly to whatever saw you have on hand. However, at the end of the day, you don't necessarily need to worry about paying more just to get an easy installation.
Best Aftermarket Bandsaw Fence
1. Kreg KMS7200 Bandsaw Fence
The Kreg bandsaw fence is a good product for people that are just looking for a high-quality product and they don't mind how much it costs. As far as bandsaw accessories go, this is about as good as it gets. Bandsaw fences depend on stability and you have that in abundance with the Kreg.
It is a durable product that features highly calibrated measurementsn. This means that it will be ea to adjust and use with accuracy. It is also extremely versatile. The unit can be naturally hooked up onto nearly any bandsaw.
Bottom line. If you are looking for the best product you can get your hands on the Kreg KMS7200 should be a strong candidate.
That said. The Kreg KMS7200 also has its distinct drawbacks. Namely? Price. It is one of the most expensive products on our list so buyers on a budget beware!
Additional Specification
Best For: 14-inch Band Saws
Material: Metal
Color: Blue
Weight: 8.76 pounds
Manufacturer: Kreg
What We Like:
What We Didn't Like:
2. Grizzly Industrial H7587 – Resaw Fence
The Grizzly Industrial is a great product that features a durable build and reliable measurements. The unit is easy to install and can be effortlessly retrofitted onto older products, making it a good all-around option for any Grizzly bandsaw.
These features make the product easy to cut at a variety of different angles. The high-quality cut capacity does make it a very durable and reliable product that will help to eliminate blade drift.
However, it does have somewhat limited compatibility. These units are mostly designed for working with Grizzly products. It does have limited compatibility for other brands, but a good deal of people will find themselves out of luck.
Like the Kreg, it helps to produce excellent cut quality, but it does have some unfortunate drawbacks.
Additional Specification
Best For: 14″ Bandsaws
Material: Metal
Color: Silver
Weight: 16.05 pounds
Manufacturer: Grizzly Industrial
What We Like:
What We Didn't Like:
3. CARTER MAGFENCE II Universal Magnetic Fence
This next unit features a T-Slot design concept with a durable lightweight aluminum build. If you want a fence that will effectively last forever this next unit may serve as a good alternative to the Kreg.
The unit attaches magnetically which makes it about as easy to install as you can get. It also can be pretty much universally applied to any bandsaw fence, making it extremely versatile.
The only real issue is that like the Kreg it is one of the more expensive products on the market. It will last forever but it still won't work extremely well for the buyer on a budget.
Additional Specification
Best For: Bandsaw, Drill press, Spindle sander
Material: Aluminum
Color: Blue
Weight: 3.27 pounds
Manufacturer: Carter Products Co. Inc.
What We Like:
What We Didn't Like:
4. POWERTEC BS900RF Rip Fence for POWERTEC
This next product serves as a great option for the buyer on a budget. The cut quality is high and it will still do well to serve the needs of the user that needs fine results.
If you are a professional that needs fine results on a budget this will be an enticing option to consider. It features all the utility of the other products on our list but at a fraction of the price of the Kreg.
Unfortunately, you also get some of the saw issues that tend to come with cheaper products. It's not extremely durable. For occasional use, it will do just fine but for the heavy-duty user that makes lots of cuts it probably won't work out so well.
Additional Specification
Best For: POWERTEC BS900
Material: Aluminum
Color: White
Weight: 4.6 ounces
Manufacturer: Southern Technology LLC
What We Like:
What We Didn't Like:
5. Rikon 10-305 10-Inch Bandsaw With Fence
This last unit is a little bit different than some of the other options on our list in that it actually comes with a bandsaw. For the buyer that is building out their shop from scratch, this is a great opportunity because it is actually similar in price to some of the higher-end fences on our list.
The fence itself is durable, easy to install, and long enough to handle larger stock. The only real problem is that for a lot of buyers this package will feature more than they need. If you aren't looking for a bandsaw you'll definitely favor something more affordable.
Additional Specification
Best For: Rikon 10-305
Material: Aluminum
Color: White
Weight: 75.8 pounds
Manufacturer: Rikon
What We Like:
What We Didn't Like:
Bandsaw Fence Comparison Chart
[table id=27 /]
Frequently Asked Question And Answered
Do you absolutely need a band saw fence?
Yes! For the optimal level of accuracy, safety, and effectiveness you definitely need to invest in a decent band saw fence.
What size bandsaw fence do I need?
The size of your fence will depend on a number of factors. This includes the size of your saw, as well as the type of stock that you tend to work with. The larger the fence, the larger the stock that you will be able to safely use.
What is the best band saw fence?
It is hard to say what bandsaw is best. The truth of the matter is that different users are going to have different needs. If you want the highest level of quality you can get your hands on it may help to invest in something like the Kreg—a dependable product that comes from a company with plenty of pedigree.
However, the truth of the matter is that the best product for one person might not be the best product for another.
Is it safe to use a DIY bandsaw fence?
It is always best to invest in an aftermarket product that comes from a reputable manufacturer. When it comes to the world of saws, safety is such an important factor. Even though you may be able to improvise a solution in a tight spot, that probably won't be the best route to take.
Conclusion
Have you figured it out yet? Which of these bandsaw reviews spoke to you the most? Maybe you appreciated the overwhelming quality of the Kreg. It's a great product that will effectively last forever should you decide to go with it.
Unfortunately, though, it is also fairly pricey. Buyers on a budget can combine quality and value by going with something a little bit easier. The POWERTEC BS900RF Rip Fence for POWERTEC BS900 Wood Band Saw is a good example of a product that effectively meets all of your needs at a good price.
However, these are just a couple of products that I thought really stood out. The truth? All of the options on our list today are pretty great at what they do. All you need to do is figure out which of them spoke to you the most.