Throughout my years of experience, I've used multiple styles of miter saws to cut perfect 90° crosscuts in lumber. Like any woodworker, I found my favorites, and they are both coming from Dewalt.
Read my Dewalt DWS779 vs DWS780 reviews to find out how they compare, which is my top choice, and which could be the best for you.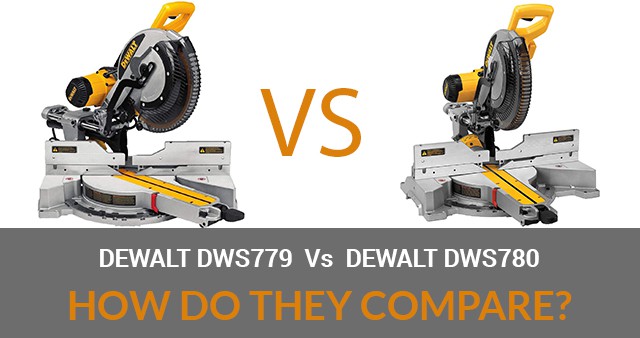 Dewalt DWS779 Review
The Dewalt DWS779 is a reliable sliding compound miter saw designed for precision and coming at a competitive price.
The lack of a few important features makes it more suitable for the amateur woodworker than for the pro; nonetheless, I found it to be a dependable tool that withstands high-volume applications, and that can handle large pieces of stock.
Powerful and fast, this machine can slice through wood easily, and with the right blade, it can even handle alternative materials.
Let's have an in-depth look at its features.
Power
Dewalt is renowned as a trustworthy manufacturer of power tools, and its Dewalt DWS779 doesn't disappoint. This tool comes equipped with a reliable 15-Amp motor that produces sufficient power to drive the blade at high speeds.
Compared to most miter saws on the market, the DWS779 is one of the most powerful.
This translates into the capacity of handling harder stock or alternative materials like steel and plastic, but also larger and thicker workpieces.
Speed
What I learned during my years of practice is that high-capacity motor typically means high-speed wood cutting tools. And the DWS779 certainly doesn't let you down on this.
The powerful motor on this miter saw spins the blade up to 3,800 revolutions per minute (RPM), a speed high enough to slice through soft and hardwood, metal, plastic, and aluminum like a knife through melted butter.
I liked the speed is adjustable, which means you can choose the right RPM to match the needs of your cutting project.
Capacity
Perhaps the feature that impressed me the most is the high capacity this tool has. Most sliding miter saws can handle lumber up to 12 inches wide, but the DWS779 can actually deal with workpieces measuring up to 2×16 inches for dimensional 90° crosscuts and up to 2×12 inches for 45° bevel cuts.
Combine this with the blade's capability of tilting both to the left and to the right, and you'll understand why I'm so fond of this machine.
Other things I like about this unit's cutting capacity are the tall sliding fences with support crown molding up to 7.5 inches, that guarantee cutting accuracy.
Precision
Talking about precision, the Dewalt DWS779 excels at it.
The machine comes with an integrated Cutline Blade Positioning System designed to provide adjustment-free cut line indications. This feature ensures cutting accuracy on all materials and regardless of the angle you're cutting.
Furthermore, dual horizontal steel rails are also designed to ensure accuracy thanks to the innovative cutting mechanism and linear ball bearings.
A slight drawback is the absence of a LED guide; however, this feature may benefit the novice but most woodworkers can do just fine without it. Honestly, I didn't find the lack of this feature to have a major negative impact on my results.
What We Like:
Double bevel sliding mechanism
High speed up to 3,800 RPM
Ideal for wood, metal, and plastic
Compatible with various blades
Easy to change the blades
Comfortable to maneuver
Great price point
What We Didn't Like:
No LED guide
Some plastic components seem flimsy
DEWALT Miter Saw, 12 Inch Double Bevel Sliding...
Stainless steel miter detent plate of the 12-inch miter saw blade comes with 10 positive stops
The mitre saw has a precise miter system and machined base fence support
Precise miter system and machined base fence support Cam-lock miter handle with detent override...
Last update on 2023-09-28 / Affiliate links / Images from Amazon Product Advertising API
Dewalt DWS779 FAQs
Does This Model Comes With a Laser Guide?
No. This model does not have a laser guide, but it comes with an integrated Cutline Blade Positioning System.
What Is the Recommended Voltage Capacity?
The Dewalt DWS779 operates at 120V 60Hz and plugs into a traditional wall outlet or power generator receptacle.
Are the Measurements Metric?
No. Dewalt DWS779 uses the standard American measurement system, and all units are expressed in inches.
Dewalt DWS780 Review
The Dewalt DWS780 is nothing but the DWS779's upgraded version and shares many features with its brother. However, some extra features make this tool more suitable for the pro than for the amateur.
Built with durability in mind, this machine withstands high-volume demands and heavy-duty workshop tasks.
One of the things that make the difference between the two units is the DWS780's construction that employs rugged materials like iron and stainless steel that handle hard materials in industrial environments.
Of course, rugged construction and additional features reflect in the heftier price. The DWS780 is no doubt more capable than the DWS779 model, but as an amateur, you might do just fine with the latter.
That said, I confess the DWS780's capacities impressed me. Here's an in-depth look at them.
Power
From a strict amperage point of view, the DWS780 is identical with the 779 models. This sliding miter saw is also equipped with a 15-Amp motor that delivers reliable power to the blade.
Just like the DSW779 above, this power tool is corded and works on 120V 60Hz AC. It plugs into a traditional outlet or, alternatively, you can use a suitable power generator receptacle for job site applications.
The brushless motor has a long lifespan and provides sufficient power to the blade to spin at high speeds.
Speed
The motor is not the only thing the two miter saws have in common. Another mutual trait is the maximum speed, which coincides. With a blade spinning at 3,800 RPM, the DWS780 miter saw handles all types of wood, including plywood, but also metals and plastic, to name just a few.
Like the other unit reviewed in this guide, the DWS780 is compatible with wood, metal, and plastic blades, including high-speed steel blades and diamond blades.
Capacity
A dual side bevel system and high cutting capacity add versatility to the operation and make this miter saw perfect for a commercial workshop.
At first glance, the miter saw has the same cutting capacity as its brother above, handling workpieces up to 2×16 inches for 90° crosscuts and 2×12 inches for 45° bevel cuts. The miter tilts to 60° to the right and 50° to the left for an easy adjustment.
Moreover, the hassle-free operation is ensured by the bevel capacity from zero to 49 degrees with multiple positive stops at 0, 22.5, 33.9, 45, and 49 degrees in both directions.
Precision
The upgraded Dewalt DWS780 was built for precision, and the machine guarantees a high level of accuracy thanks to the features developed specifically for this purpose.
Perhaps the most praised feature is the exclusive XPS cross-cut positioning system developed to provide adjustment-free cut line indications.
Tall sliding fence supports, exclusive back fence design and the dented plate with cam lock ensures accuracy even for the repeated cuts with no or hassle-free adjustments.
What We Like:
Integrated XPS cross cut positioning system
Double bevel sliding mechanism
Exclusive back fence design
Increased miter capacity
Multiple positive bevel adjustments
Rugged workshop construction
What We Didn't Like:
The blade doesn't cut all the way to the fence when using the blade depth stop
Inefficient dust collector system
The clamp doesn't have a locking mechanism, making the machine a bit unsafe
DEWALT Miter Saw, 12 Inch, 15 Amp, 3,800 RPM,...
Integrated CUTLINE Blade Positioning System provides adjustment free cut line indication for better...
XPS technology uses an LED to project light down either side of the blade, creating a shadow on the...
Super-efficient dust collection system of DEWALT miter saw captures over 75% of dust generated
Last update on 2023-09-27 / Affiliate links / Images from Amazon Product Advertising API
Frequently Asked Questions
Can I Use the Dewalt DWS780 on Metals?
The Dewalt DWS780 is a miter saw developed for cutting wood. However, thanks to its high speed and high-capacity motor, you can use it to cut metals and other materials, provided you use a specialty blade.
Does the Miter Saw Come With a Stand?
No. This miter saw comes without a stand and can be bench mounted; I recommend installing it on a compatible miter saw stand, though, for improved stability and accuracy.
Is This Miter Saw Portable?
Yes. The Dewalt DWS780 weighs only 57 pounds and is compact enough to transport with ease. A folding stand with wheels can make transportation easier.
My Verdict
I have used both Dewalt miter saws for light-duty and heavy-duty demands and must say they both impressed me with their performance. Each model comes with pros and cons, and choosing one over another is often a matter of preference.
If it were me, I'd choose the DWS779 for amateur and light-duty work. With capabilities similar to the DWS780, this machine may not have a laser guide and could be a little less precise, but it comes at an attractive price point that won't break the bank.
The DW780, on the other hand, is more suitable for a professional. It is powered by the same motor and spins at the same speed but has a laser guide and a more versatile bevel function that guarantees precision and versatility for heavy-duty, high-volume jobs.
Both machines are compatible with several types of stands, and both models can be mounted on the bench.
Table Saw Basics for Beginners
Final Thoughts
I hope the Dewalt DWS779 vs. DWS780 reviews above can help you choose the right tool for your workshop. The two miter saws are very similar, so at the end of the day, you could base your choice on your needs and budget.
Do you need the utmost performance? Perhaps the ​Dewalt DWS780 is the best miter saw for you.
Are you looking for a budget-friendly alternative? The Dewalt DWS779 could be a better choice.
All things that matter, such as cutting precision, performance, and accuracy are satisfactory on both tools. From a woodworker's perspective, even if the DWS779 model comes without the XPS crosscut system, you can achieve great results with both machines.
Both units have drawbacks when it comes to safety, while the dust extraction system could also be improved on both machines.