If you work with wood, then a chainsaw is one of the things that you cannot do without. Of course, you can use an axe to chop and cut wood, but if your interest is to make fine cuts and to use very little energy in doing so, then a chainsaw is the way to go.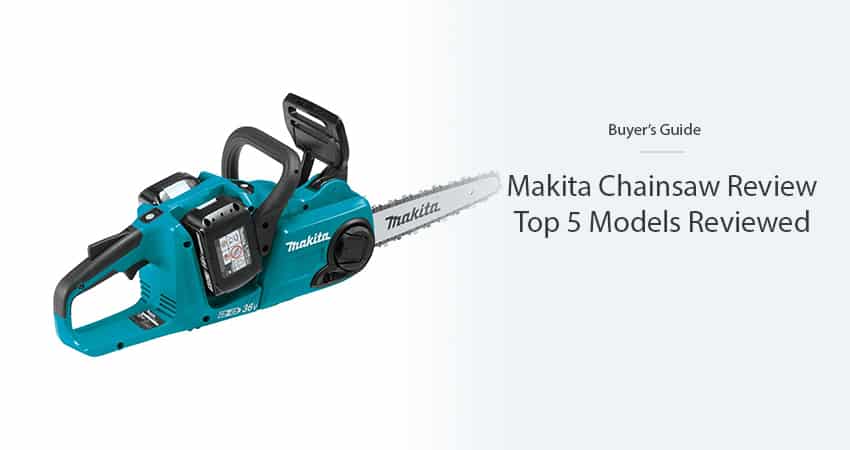 There are lots of these tools in the market, and this has made picking the right one for your woodworking needs a challenge. Makita, however, is a reliable tool company and you can never go wrong when you pick on of their chainsaws for your domestic or commercial needs.
In this article, I will review some of Makita's chainsaws to make your selection process a little bit easier.
The Different Types of Makita Chainsaws
Makita chainsaws come in three variants differentiated by how they are powered. They include gas, battery-powered, and corded electric chainsaws.
Each type has its own advantages and disadvantages which I will highlight below so as to help you make the best decision when buying a chainsaw.
Gas-powered Chainsaws
Gas chainsaws run on gasoline and they are more powerful than other types of chainsaws in the market. They are also costly than the rest but the amount of power that they can generate makes them ideal if you have some complex woodworking assignments like clearing forests or cutting large tree trunks and branches.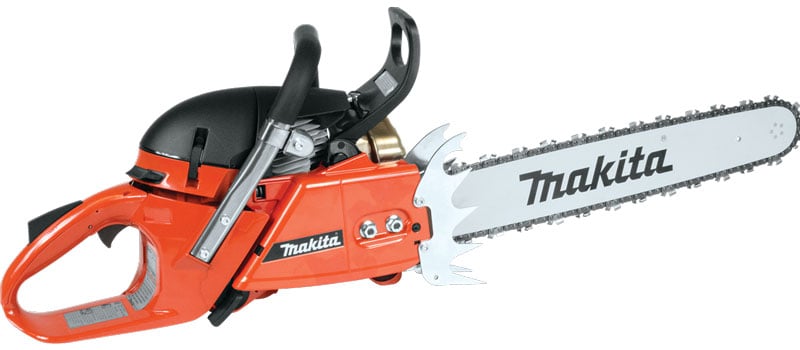 The drawback to gas-powered chainsaws is that they are louder and they emit gasses that harm the environment. They are also expensive to maintain and this greatly increases the cost of operating them.
Corded Electric Chainsaws
Corded chainsaws are powered by electricity and you will have to connect them to a power outlet to use them. They are not powerful like the gas models and this makes them less ideal for large-scale commercial use.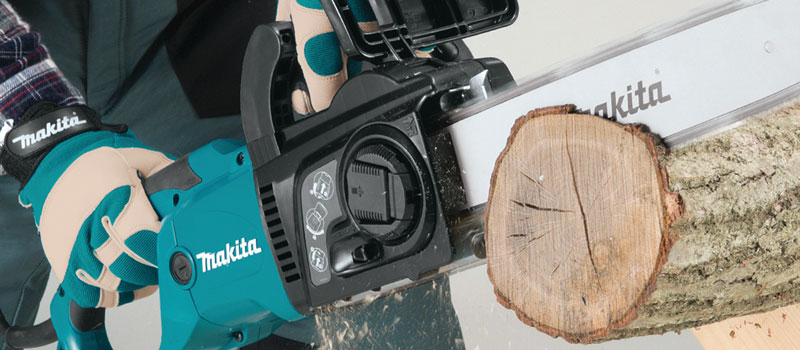 They are inexpensive and as such, they suit homeowners and woodworking enthusiasts. Their main drawback is that they are not portable since they have to be plugged into a wall socket to power them for use.
Battery-powered Chainsaws
Battery-powered chainsaws are electric in nature and they run on energy stored in battery cells. This deals with the issue of the lack of portability that corded chainsaws experience.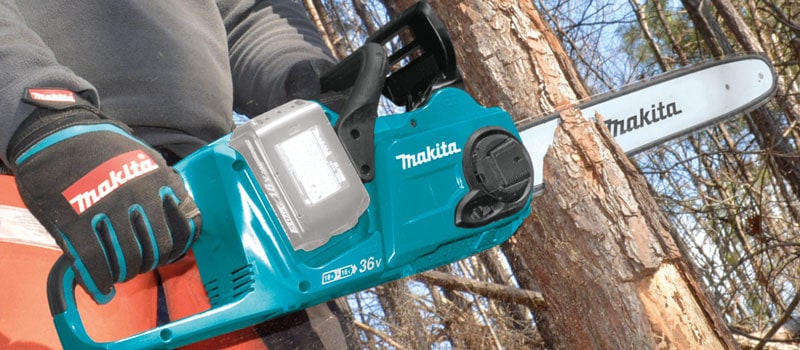 Large battery powered chainsaws have enough power to handle complex jobs but the low-end models hold very little charge for such jobs.
They are easy to maintain and your operations costs will be low when you choose a battery-powered alternative when buying chainsaws.
Buying a Makita Chainsaw ( What to look out for)
There are a few things that you have to take into consideration when choosing a Makita chainsaw for your woodworking needs. I will share some of them here so as to make the selection process as simple as possible.
Construction
Most chainsaws are made of steel and heavy-duty plastic. This gives the saws the stability they need to withstand wear and tear through continued use. The length of the arm is another construction aspect that you have to consider.
The length usually varies from 12 inches to 20 inches and the appropriate length will be determined by the type of woodworking job that you want to accomplish.
Power
Makita chainsaws have different power ratings. Gas-powered saws have a power rating of between 35cc and 60cc and a rating of 40cc and above is what you need to cut through branches and stumps with ease.
Ease of use
The chainsaw you get should be easy to use and some of the things to look at in this regard include the starting mechanism and item weight. Electric saws are turned on easily using a power button while gas saws use a drawstring which is quite tedious.
Cutting ability
The cutting ability of a chainsaw is not determined by its power. Different saws have different configurations that make them suitable for certain tasks than others. Chainsaws that feature automated oiling mechanisms run smoothly than those without it and this allows you to make precise cuts with greater efficiency.
Noise
Chainsaws are generally noisy but their noise levels vary. Gas-powered chainsaws are the loudest while the electric versions are bearable.
Makita Cordless Chainsaw Review
1. Makita XCU03PT1 14†Cordless Chainsaw
If you are looking for a powerful chainsaw for your woodworking needs, then the Makita XCU03PT1 is a good choice in that regard. Its powerful 32 cc motor delivers enough power that will allow you to go about your duties with ease.
Makita cares about the cutting performance of its tools, and the Makita XCU03PT1 employs a variable speed trigger that significantly boosts its cutting performance. You can adjust the chain without using any tools and this allows you to operate the saw in a convenient manner.
Extended run time is one thing you may be interested in if you perform extensive woodworking jobs and this chainsaw supports you in this regard. It comes with two 18V lithium-ion batteries for maximum power and extended run time.
For cordless chainsaws, the ability to regulate energy is one of the things that is highly sought after since it allows you to use the saw for long.
The Makita battery-powered chainsaw has a built-in switch that automatically switches off the saw when it is not in use. This helps preserve the battery and this way you will be able to use the saw for long as you cut and slice trees and branches.
The chainsaw that you choose for your woodworking jobs should also be safe to use so as to guarantee your safety and those around you. The Makita XCU03PT1 features an in-built lock-off lever that prevents the blade from engaging accidentally.
This minimizes accidents on your workstation and this is one of the main reasons why I recommend this chainsaw to woodworking enthusiasts and professionals.
Additional Specification
Best For: Woodworking Needs
Weight: 21.8 pounds
Voltage: 36 volts
Power Source: Battery Powered
Chain Speed: 0-3, 940 FPM
What We Like:
What We Didn't Like:
2. Makita UC4051A 16†Electric Chain Saw
A good chainsaw should be comfortable to use, convenient in operation and deliver enough power for your woodworking jobs. I have personally used the Makita UC4051A, and I can say with confidence that it meets all these requirements.
This woodworking monster packs a powerful motor that delivers a chain speed of 2900 FPM that makes cutting and trimming wood easy.
The Makita 16 inch electric chainsaw has also been designed to automatically reduce the power of the motor when it has been overloaded. This protects the rotor from burning out, an impressive feature that allows you to use the chainsaw for long.
How a chainsaw feels when you are using it affects your experience with it and the Makita UC4051A has been designed ergonomically for a smooth operating experience. Its rubberized grip is gentle on your hands and this ensures that you are comfortable the entire time you are using the chainsaw.
You will not struggle to get this chainsaw to start working as it comes with a large trigger switch for a smooth startup. The chain oiler works automatically and this ensures that the chainsaw is operational for long.
The oil reservoir is large as well and it comes with a view window that allows you to monitor the level of oil in the chainsaw. With the oil reservoir full, you will not have to interrupt your heavy continuous cutting exercise to add oil to the saw and this will allow you to get a lot done in a short period of time.
Performance-wise, the Makita UC4051A is convenient and easy to use and this makes it a great tool for the passionate woodworker and the experienced professional that need precise cuts when working with wood.
Additional Specification
Best For: Fast Cutting
Weight: 9.93 pounds
Voltage: 110 volts
Power Source: Corded Electric
Chain Speed: 2,900 FPM
What We Like:
What We Didn't Like:
3. Makita XCU04Z Cordless 16†Chainsaw
Power and efficiency are good characteristics to have on your chainsaw and the Makita XCU04Z has them in plenty. It runs on a brushless motor that delivers high-efficiency when working on wood.
Woodworking enthusiasts and professionals are demanding cordless alternatives to the power tools and this Makita battery-powered chainsaw meets this demand. It runs on two 18V lithium-ion batteries that deliver enough power for heavy applications and continuous work.
Its variable speed trigger allows for seamless adjustments when working on wood surfaces and this simplifies your operations further. The chainsaw also has an in-built lock-off lever that prevents the saw from engaging accidentally. Your safety and that of others should be your main concern when working with power tools and the Makita XCU04Z caters to this demand with this feature.
Another impressive feature of this cordless chainsaw is its auto power-off function. This function shuts the chainsaw off when it is idle and this helps preserve vital battery life. You will, therefore, be able to use the saw for long and this will allow you to accomplish a lot without having to constantly charge the battery.
The fact that it is not loud like other chainsaws made the Makita XCU04Z appeal to me. It also does not emit gases to the environment and this makes it one of the environmentally-conscious chainsaws in the market.
The chainsaw has also been designed to keep water and dirt away from the internal components and this adds to its durable nature. Finances really affect our purchase decisions and if you are looking for a chainsaw that will serve you for long and is easy to maintain, then the Makita XCU04Z is a good choice.
Additional Specification
Best For: Extended Battery Life
Weight: 11.2 Pounds
Voltage: 36 volt
Power Source: Battery-powered
Chain Speed: 0-3, 940 FPM
What We Like:
What We Didn't Like:
4. Makita XCU02Z 18V X2 12†Chain Saw
If your working area is not fixed, then you will need a cordless chainsaw that allows for free movement when working on wood. This Makita cordless chainsaw review highlights the features of one chainsaw that will come in handy if you are looking for a saw that gives you the free reign to move about when chopping, slicing, and trimming wood.
The Makita XCU02Z has two 18V lithium-ion batteries that pack enough power for some serious woodworking.
You can get a lot done with this amount of power and that is why this chainsaw is quite popular with woodworkers.
It features a 12 inch blade that cuts through wood with ease but if you are looking for more cutting capacity, you may want to get a chainsaw with a larger blade.
Makita products are built to be durable and through its Extreme Protection Technology, Makita chainsaws are able to last long. The chainsaw contains protective seals within its structure that channel water and dirt away from the critical machine parts for added protection.
Being an electric chainsaw, the Makita XCU02Z produces no emissions and this will appeal to you if you are passionate about environmental conservation. It is also less noisy than other chainsaws of a similar build and power rating and this makes it ideal if you prefer working in a quiet environment.
Safety is one of the things that I look for in the chainsaws that I get for my woodworking ventures and if you value occupational safety as much as I do, then you will appreciate the front handguard fitted on this saw. The guard ensures that you don't get your hands close to the blade when operating it and this will keep you safe at all times.
Additional Specification
Best For: Serious Woodworking
Weight: 8.8 Pounds
Voltage: 36 volt
Power Source: Battery-powered
Chain Speed: 1, 650 FPM
What We Like:
What We Didn't Like:
5. Makita DSC6421RFG 20†64 CC Chainsaw
Big blades get the job done faster, and if this is what you are looking for in a chainsaw, then the Makita DSC6421RFG is a good option. It comes with a 20-inch blade that cuts through wood with ease.
The big blade is matched with a powerful motor that simplifies operations further. As a professional, I know that time is of the essence and this powerful motor will help you get through complex woodworking assignments faster and with ease.
The 64cc engine generates 4.7 hose power at a speed of 13,500 RPM and this makes this chainsaw ideal for complex forestry work such as striping and tree felling. This chainsaw is too powerful for a novice to handle it properly and as such, it should be left to professional landscapers and woodworkers.
You may be worried about chips getting into the chain compartment and interfering with your operations but that will not be the case with this Makita 20 inch chainsaw. It clears wood chips away and this allows you to proceed with your wood processes without interference.
It runs on fuel and it has a large tank capacity that will keep you going for long. Construction-wise, it is a little bit bulky and you may struggle to operate it for a long period of time.
For a machine of its power, it reduces vibrations effectively for a smooth operation. Its advanced vibration dampening system keeps vibration to a minimum and this makes operating it a pleasure.
Additional Specification
Best For: Powerful Motor
Weight: 22.6 pounds
Motor: 64cc
Power Source: Gas Powered
Engine Speed: 13500 RPM
What We Like:
What We Didn't Like:
Makita Cordless Chainsaw Comparison Chart
[table id=39 /]
Frequently Asked Question and Answered
Are lithium-ion tools compatible with other battery types such as Makita Ni-MH and Ni-Cd batteries?
No. The lithium tools can only work with lithium-ion batteries. The charging system is also different and this explains why they are not compatible with other battery types.
Does over dis-charging affect the battery?
Yes, it does. The tool's performance will start diminishing. When this happens, stop using the tool and charge it immediately. You risk damaging the tool's battery when you continue using it in this state.
What is the warranty on Makita chainsaws?
Makita chainsaws, battery, and charger are warranted against defects of workmanship and poor materials for a period of 3 years from the date of purchase.
Final Thoughts
Makita makes amazing chainsaws that are ideal for both domestic and commercial use. They have a lot of saws on the market and this makes the selection process challenging to novice and even experienced users.
From all the Makita models that I have gone through, the Makita XCU03PT1 stands out for its power and ease of use. It is also safe to use and this is one of the things that makes it a great option for woodworking enthusiasts and professionals alike.
Its long-lasting battery makes it ideal for extensive woodworking jobs and as such, I recommend it to anyone who wants to perform some serious woodworking assignments.
However, if you need a constant supply of power that batteries cannot provide, then you can go with the corded Makita UC4051A. Its 16-inch blades cut through wood with ease and this will see you accomplish a lot in a short time.
I have also shared the things that you need to consider when buying chainsaws and this information will help you make an informed decision the next time you are in the market for a chainsaw.