Renovating around the home can be fun, especially if you can find methods that help you do it quickly and efficiently. While there are many tools that can help you get the work done quickly, a good stain sprayer can speed up the process while making it look like a professional got the work done.
The biggest issue is to find a reliable unit that will get the job done. While there are many suggestions, not all will be able to provide the results that you would like. Finding the right one will ensure that you can get the job done in time.
Our Top Stain Sprayer Reviews
When you do a little bit of research, you will find that there are different types of stain sprayers that you can go with. Knowing which one is right for you can be the biggest challenge. Having a good idea on the type of project you will do with the sprayer can make a world of difference.
There are many types of sprayers that you are able to choose to help get the work done for your deck, fence, furniture and so much more. With all of the choices in paint sprayers out there, it is hard to know which one is best. Some of our top picks for best stain sprayers include:
Invalid table id.
Wagner 0417005 Sprayer
The Wagner 0417005 Sprayer is the best sprayer for stain on our list. It is capable of spraying different materials including stains, sealers, varnishes and more. You will love how it can provide a continuous flow of material from the outdoor-rated air turbine.
Use it to stain your deck, refinish any of the lawn furniture around the home, or more fine woodworking projects.
One thing that we enjoy is that this sprayer has a three-position air cap that is able to adjust the pattern of the spray. You are able to choose from a vertical fan, horizontal fan, or a round pattern shape. With all of these choices, you will be able to get the results that you need in no time. And with a variable trigger, you will be in control of how the material flows the whole time.
You will be able to use it to apply a coating up to 4.1 oz. per minute without overspray. The plastic housing and reservoir make it easy to use and clean.
Overspray is minimized due to Wagner's more precise spray mechanism. Learn more about overspray from airless sprayers in our guide.
Pros
Can apply a coating up to 4.1 oz. per minute
Low overspray
Can hold onto different types of materials
Has a three position air cap
Cons
Takes a few seconds to get going before the spray comes out
Wagner Spraytech 0417005 HVLP Control Spray Stain...
HVLP SPRAY GUN: The Control Spray stain sprayer offers control and efficiency when spraying thin...
ACHIEVE THE PERFECT FINISH: The Control Finish nozzle sprays a smooth, consistent finish and is...
THREE SPRAY PATTERNS: Turn the air cap to spray horizontal, vertical, or narrow round to suit the...
Last update on 2023-09-27 / Affiliate links / Images from Amazon Product Advertising API
Thunder Hardware HVLP Spray Gun
The next sprayer on our list is the Thunder Hardware HVLP Spray Gun. This one is going to be great for many of the different projects that you want to get done from steel furniture, car parts, wooden products and more. And it provides you with all of the control that you need to do all three spray patterns to get the work done in no time.
This spray gun also has adjustable valve knobs to give you full control over the flow rate, whether you would like it done fast or you prefer slow and steady to get it done. This gives you the control over a precise stain application and coatings that are sprayed on evenly each time.
The canister can come off the spray gun and with a 5.9 foot power line, allowing you to roam freely across your work space and stain a lot of wood at once.
The design for this is all about portability. All of the parts on it are removable. This can make it easier to transport as you need and can help you clean it out without a problem.
The rated power with this gun is at 500W and the water flow rate is at 800ml/min. Compared to the Wagner 0417005 Sprayer, the warranty is much longer at 12-months, which means that you will be able to use this spray gun for a long time to come.
Pros
Two sizes for the nozzle
Three spray patterns
A portable design
Will not need an air compressor to use
Cons
Does not provide good leak protection when tilted
Has to be close to the surface for thick coverage
HVLP 500W Advanced Hand Held Electric Spray Gun...
▲THREE SPRAY PATTERNS AND TWO NOZZLE SIZES - it can be adjusted to three different spray patterns...
▲ADJUSTABLE VALAVE KNOBS & 5.9 Ft POWER LINE - with adjustable valve knobs to adjust the flow rate...
▲PORTABLE DESIGN - with the best spray gun distance (20~30CM), the Hand held electric spray gun is...
Last update on 2023-09-27 / Affiliate links / Images from Amazon Product Advertising API
Graco 16N659 TrueCoat Plus II Paint Sprayer
The Graco 16N659 TrueCoat Plus II Paint Sprayer is a good choice if you need to do a one or two gallon staining project. Compared to the Thunder Hardware option, this one is going to provide a more professional finish and is pretty portable as well.
One thing that is really neat with this spray gun is that it provides a ProDurance Piston pump and the ProControl feature. These are there to help you have complete control over the pressure and can reduce the amount of overspray that happens.
With this sprayer, you will be able to use it to spray in any direction you would like, including up, down, and sideways, which is similar to the other spray guns on the list.
The Tilt-N-Spray functionality provides a flexible pendulum suction table inside of the device helps you to tilt and turn without having to worry about things spilling or getting ruined. The Graco does a better job eliminating spills compared to the Thunder Hardware.
There are a few other features that you will love about this option. It has a 32 oz cup with cover to hold onto more stain, a 515 reversible tip, and 5 cup liners so you can easily clean out the stain or switch between colors for the same job without issues. The device also has a DVD that comes with it to show you how to use the product.
Pros
Flexible Tilt-N-Spray suction tube
Easy to set up and use
Easy to take along with you
Cons
Harder to clean and clogs easier
Heavier to carry than other options.
Graco 16N659 TrueCoat Plus II Paint Sprayer
Delivers the same professional finish as Graco's professional airless sprayers with no material...
ProDurance piston pump delivers twice the life of TrueCoat II
The ProControl feature allows for easy adjustment of the spray pressure to improve control and...
Last update on 2023-09-27 / Affiliate links / Images from Amazon Product Advertising API
FIXKIT Electric Paint Sprayer
Not only will you enjoy the appearance of this sprayer, you will love how useful the FIXKIT Electric Paint Sprayer can be. There are three different spray patterns that go with it as well as a width lever so you can decide how narrow or wide the patterns will be. The adjustable valve knobs ca be used at the same time to help adjust the flow of the stain or other material on it.
You will find that this electric sprayer will give you the maximum control no matter what project you want to do.
You will be able to use this electric sprayer for a lot of different tasks. It works on furniture, cabinets, fences, and decks. The finish is consistently smooth and even, and we like how well it sprays outdoors. That is why we opt for this to be our top choice when working on staining a deck.
This sprayer is easy to use and has a durable housing for the stain and a storage pressure pot. The water flow that comes out of this device is 750ml/mn and the rated power is 500W, which is similar to the Thunder Hardware spray gun. The canister capacity is at 1000 ml so it is practical and convenient at the same time.
Pros
1000ml capacity in the canister to last.
Wide application
Easy to use
Cons
It heats up very quickly and can be harder to use
The instructions when starting can be hard.
VonHaus Electric HVLP Spray Gun
When you are looking for power for your spray gun, then the VonHaus Electric HVLP Spray Gun is a great one to use. It comes with a 6.5 amp motor and a maximum flow rate of 25 fl. Oz. which is much higher than what we would see with some of the others on the list.
It also has the most accurate and continuous flow or any sprayer on the list. The adjustable spray pattern and volume are added benefits to the powerful spray gun.
For some of those projects that need to have a larger viscosity in the liquid, this is the right spray gun to work with. The 35 oz. capacity in the canister will help you to hold up to 60 Din-S viscosity to get that project done. Depending on how much stain you need for your project, this could be an added benefit.
You will also enjoy some of the safety features that come with this spray gun thanks to the power cutting out when the motor starts to overheat.
There are also a lot of great features that you are sure to enjoy. This spray gun will come with a flexible shoulder stray and hose to make carrying around a little easier. You will enjoy the comfort and have confidence when you do decorating. When it comes to other spray guns on the list, you will find that many are hard to clean. This VonHaus spray gun will make cleaning a breeze.
Pros
A very strong motor
A maximum and continuous flow rate of 35 oz.
Flexible hose and shoulder strap
Cons
Can be noisy and gets hot
Does create a lot of stain/paint dust
Last update on 2023-09-27 / Affiliate links / Images from Amazon Product Advertising API
Wagner 0529014 iSpray Front End Kit
The Wagner 0529014 iSpray Front End Kit is made out of better materials compared to the VonHouse Electric, which means that it is going to last a lot longer. you can control the flow rate of the material in the sprayer and the patter settings to ensure that you are always getting the constant flow that you need and maintaining a lot of control.
This is one of the most advanced options on our list when it comes to stain sprayers that you are able to use. The iSpray nozzle is going to be one of the patented features that you will enjoy with this sprayer to ensure you get the pattern you want each time.
It is going to deliver one of the best in light textured finishes when you spray latex and a smooth finish with some other materials that are a little thinner.
You will enjoy the portability that comes with this device. One neat feature that you will enjoy with this one is the Lock-N-Go technology. This technology helps you to switch out the material in the sprayer quickly, saving a lot of time in the process.
Pros
Portable
Suitable for all types of materials.
Lock-N-Go technology to make life easier
A patented iSpray nozzle
Cons
Harder to clean than other options
The tips are not as strong as other options.
Last update on 2023-09-27 / Affiliate links / Images from Amazon Product Advertising API
Stain Sprayer Features and Considerations
Stain is a great way to color the wood of your deck or fence to make sure that it will look the way that you want when everything is done. However, staining by hand or brush is time consuming. It is also hard to get a smooth, consistent finish without brush marks or thin pockets.
Spraying your stain has numerous benefits. Not only do you get a more finished look, but it is a lot quicker than rubbing or brushing it on.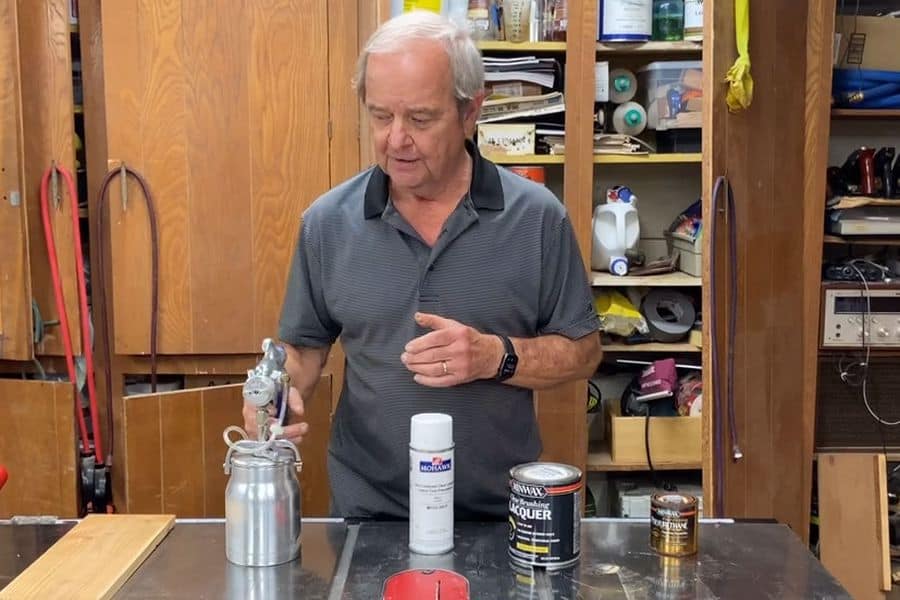 There are a number of different benefits that you can enjoy when it comes to choosing the right stain sprayer for your needs. Some of the benefits you will experience include:
Speed
If you decide to stain your deck with a paint brush or a roller, it can take at least four to five hours to get done on a small deck. However, you can really speed things up when you work on a stain sprayer.
A sprayer will allow you to get a really quick finish on the deck or fence so it looks amazing in just a few hours or less, depending on which stain sprayer you decide to go with.
Quality Finish
Not only does the stain sprayer help to speed up the process, but it will give you a quality finish that you are sure to love. An uneven thickness and some of the brush marks can often be seen when you decide to brush or roll the stain on the surface. This does not look all that professional and can be a bad way to spend your time.
If you want to make sure the project looks like it was done by a professional, then a stain sprayer will quickly become your best friend. With this device, as long as you follow the right procedure, you will be able to get a high-quality finish that looks even and beautiful in the process.
Simple to Use
One of the best things about using a stain sprayer is that it is really simple to use. Using this machine is going to be more enjoyable and way more efficient compared to using a roller or a brush.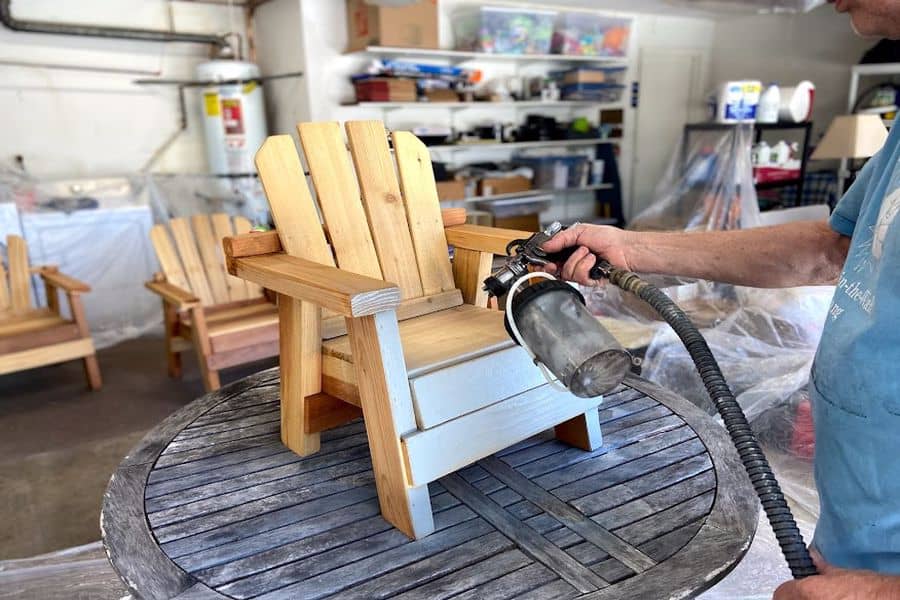 First, you get the benefit of not having to bend on your hands and knees to stain the deck. There is also no need for you to bend and hunker down if you decide to stain the fence.
Instead of all that hassle, you can work with a stain sprayer to make life a little easier. You will be able to just stand up and spray the stain on, choosing the speed, thickness, and direction that works the best for your needs.
The best part is that most stain sprayers can also work for a paint job. This gives you a lot more flexibility in what you are able to do with your sprayer.
As long as you clean it out well, you will find that the stain sprayer is going to be a great option for not only staining, but also for painting when necessary. For a long-term investment, this is going to be good news.
How to Stain Plywood for Your Next DIY Home Improvement Project
Choosing the Right Spray Gun for You
There are so many projects that you will be able to use a spray gun for. When choosing one, you need to make sure it is versatile, meant to last, and will get the job done. Check out some of the great options that we have above when it comes to spray guns to ensure that you are able to get the right one for your needs.