The best chainsaw helmet will offer a clever combination of quality protection and utility. Chainsaws tend to be one of the most dangerous tools on the market, and you need to fortify yourself against the hazards in any way that you can.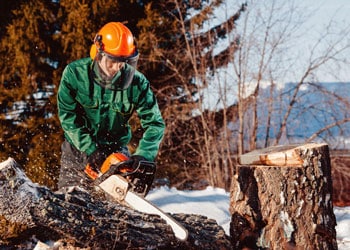 The products on our list today are designed to help you do exactly that. The best chainsaw helmet for your needs is on this list but the truth of the matter is that what's right for one user may not be right for a different one.
There is only one way to know for sure which product is suitable for you. Read my chainsaw helmet reviews on this page to see what I think about this year's lineup of helmets.
Recommended Chainsaw Helmets

Husqvarna 592752601 Forest Head Protection Helmet

Premium Helmet

Its safety system offers hearing protection, head protection, and faceguard
Includes hand ratchet to adjust the size of the helmet without removing it.
For a sweet-free experience, this helmet has an Egyptian cotton core sweatband.

View Latest Price

TR Industrial TR88011 Hard Hat Forestry Safety Helmet

Quality Helmet

Excellent combination of hard plastic exterior and lightweight design
Features interchangeable plastic and mesh visors for maximum protection depending on the task
Includes dial knob to adjust the circumference between 20 – 24.5 inches

View Latest Price

STIHL 7010 888 0800 Woodcutter Helmet System

Heavy Duty

Built with ABS thermoplastic shell to guarantee optimal protection in harshest of conditions
With its 6-point ratchet-style suspension system, this helmet delivers superb shock absorption for better overall comfort
Includes a durable steel mesh to act as a face-screen against flying debris

View Latest Price
Things That Matter the Most When Buying Chainsaw Helmet
We've taken a look at quite a few high-end products to this point. But while all of the options on our list are good at what they do, only one is sure to be completely perfect for your needs. Which product will be right for you? If you haven't quite decided yet, you may want to read on for some buying considerations that do well to simplify the process.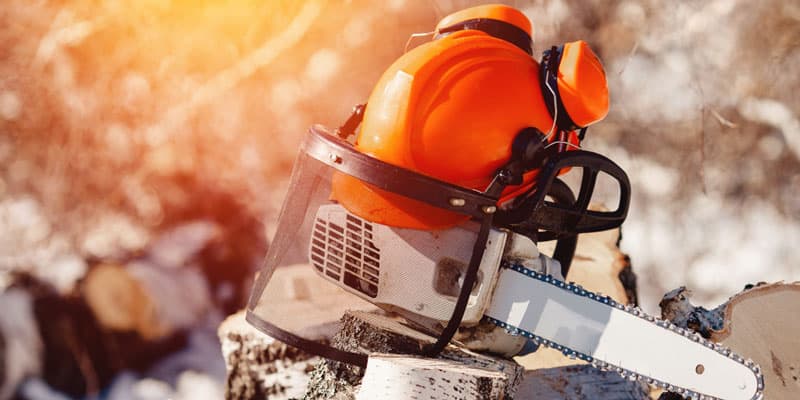 Size
Nearly every forestry helmet is designed to fit just about anyone. They accomplish this by including a wide range of adjustability features that vastly enhance the utility of the helmet.
However, it doesn't always work out that way. If you have dimensions that are not quite average, you will definitely want to pay special attention to the measurements of a given helmet even if it does claim to be one size fits all.
Mesh
Most helmets feature a breathable mesh protective screen that tens to give the user the best of both worlds. It makes it easy for you to breathe while also protecting against the various different types of debris that can be hazardous to the wielder of a chainsaw.
That said, the mesh is also one of the quickest components to break down. That being the case you will probably want to pay special attention to this consideration.
The best way to find out about the quality of a mesh filter is simply to read reviews like this one. If I come across a low-quality mesh screen, I am definitely going to mention it.
Headphones
Headphones are nearly just as important as the mesh mouthpiece. If you use chainsaws regularly, they are going to damage your eardrums. You don't want your chainsaw to damage your eardrums. I don't want your chainsaw to damage your eardrums.
The solution? Invest in something with a great set of earphones. Unfortunately, this is another consideration that is not necessarily apparent just from reading the box. Again, if earphones aren't great I will mention them, so read up on your products!
Build Quality
The build quality of a helmet is one of the most important considerations to bear in mind because it determines both how protective it is and how long it will last. Generally speaking, hard plastic is the way to go. This building material accomplishes several things.
One, it keeps the design lightweight. A heavy helmet is exhausting to use, and it really limits your range of motion.
A high-quality plastic build essentially accomplishes everything you need it to.
Price
You don't always shave to buy high-end products. However, this is one purchase that you might want to allocate some funds for. Why?
Well, when it comes to making a chainsaw safer, you really don't want to cut any corners. Chainsaws may very well be the most dangerous power tool on the market and your helmet is pretty much the only thing standing between you and a serious accident in some situations.
You don't necessarily need to buy the most expensive product you can get your hands on but you will want to allocate more funds to the purchase than you might otherwise.
Best Chainsaw Safety Helmet Reviews
1. Husqvarna ProForest Chain Saw Helmet System
This industrial quality product will be perfect for the buyer that needs a true combination of comfort and protection. The unit features an onboard mesh mouthpiece that makes it extremely easy to breathe while also protecting your face from the various refuse that crops up when you bust out a chainsaw.
It also features industrial-grade earphones that will drown out the harmful sounds of a chainsaw. These simple but effective measurements make the Husqvarna Proforest an indispensable part of any safety kit!
I also found the helmet to be very comfortable to wear even for long periods of time. However, it does come with one major con: it is pricey. That's kind of a common theme with all Husqvarna products. The money you spend is well worth the cost but be prepared to spend a lot of it.
Additional Specification
Best For: Dedicated and Hardworking
UV-protected: Yes
Color: Orange
Weight: 1.7 pounds
Key Features: Rain Neck Protector
What We Like:
What We Didn't Like:
2. Oregon 563474 Chainsaw Safety Protective Helmet
The had plastic of the Oregan unit is specifically designed to last basically forever. It is an industrial-grade unit that will be optimal for long periods of use.
The mesh protection of the mouthpiece fortifies you against excessive refuse while the earphones do a really good job of blocking out the loud noises of a worksite.
The ventilation is really good which is great for the demands of most users, and the all-around hard plastic build of this helmet makes it a good one to wear for most people.
It is a pretty decent combo item for protecting against sound and refuse but there is one major issue: it's not very comfortable. If you only wear the helmet for an hour or two at a time it's a pretty reliable hard plastic helmet.
However, there are definitely more comfortable helmets on the market.
Additional Specification
Best For: Majority of Safety
UV-protected: None
Color: Yellow
Weight: 2.25 pounds
Key Features: Ear Protection
What We Like:
What We Didn't Like:
3. TR Industrial Forestry Safety Helmet System
The TR Industrial features a good lightweight design and a hard plastic exterior that most buyers are sure to appreciate. It is a combo product with a one-size-fits-all build. That means that pretty much anyone will be able to use it safely without issue.
Like most of the good helmets on our list, it features a ventilation mask that will make it easy to breathe while you wear your helmet. It also comes with headphones that are designed to block out sound around the job site.
Unfortunately, however, it is with the headphones that I most took issue. While they are ok in a tight spot, they also let in more noise than I tend to care for. If you are an occasional use this probably isn't going to be a huge deal. However, it is still a reliable piece of equipment that will do well to service the needs of the occasional user.
Additional Specification
Best For: Dynamic Protection
UV-protected: None
Color: Orange
Weight: 2.6 pounds
Key Features: CE Approved
What We Like:
What We Didn't Like:
4. STIHL 7010 888 0800 Woodcutter Helmet System
The STIHL features a lightweight build and pretty much all of the features that most people look for in a chainsaw helmet.
The combo product features a lightweight build, hard plastic components that ensure it will last a long time, and all of the features that most products of this nature require. You get the kneck protector, anti-fog goggles, an ANSI-approved safety rating. In short, it checks all of the boxes that most people establish for themselves as they vet their products.
What's not to like, right? I personally found that all of the features provided here are ok for the layperson but their quality tends to fall a little bit short when stacked against the demands of a professional.
The mesh is a little bit fragile, the earphones are somewhat ineffective and the overall build quality will eventually cave against constant use. To make matters a little bit worse, this is also one of the priciest options on the list.
It's not a bad piece of equipment per se but you can definitely get something better at a more affordable price if you look for it.
Additional Specification
Best For: Helping you Keep Cool
UV-protected: None
Color: Orange
Weight: 2 pounds
Key Features: Suspension Style Mount
What We Like:
What We Didn't Like:
5. NoCry 6-in-1 Industrial Forestry Safety Helmet
The NoCry is a versatile product that features an accessible price tag. It's a lightweight design that is easy to adjust and fairly durable. The hard plastic build will help to ensure that it lasts for a long time.
It is also easy to adjust and can effectively fit just about anyone. If you are looking for an affordable piece of equipment that will do well to satisfy the needs of an occasional user this will be a pretty decent product to keep in mind.
However, there are also some issues that are worth a little bit of concern. The main problem? None of the components are of particularly notable quality. The earphones tend to let in noise, the screen is similarly fragile, and the fit is a little bit off.
It's a decent piece of equipment at the end of the day, but it definitely will not do well to serve the needs of an industrial user.
Additional Specification
Best For: Easily Adjustable For Any Needs
UV-protected: None
Color: Red
Weight: 2.14 pounds
Key Features: Hard Hat Eye & Ear Protection
What We Like:
What We Didn't Like:
6. Felled Forestry Safety Helmet Vented Forestry
This is the most affordable product on our list today. If you are in a tight spot financially and need a quick fix, this will probably be the product you reach for. For a very reasonable price, you receive the benefits from pretty much all the features that we have seen to this point.
The unit is lightweight and features a breathable mesh screen, earphones, and a reasonably durable plastic build.
You do, however, need to understand that this was never made with the professional in mind. The earphones tend to let in some sound, and the mesh protective screen may even begin to succumb to debris if you use it too much.
I wouldn't necessarily say that this unit raises safety concerns, but it certainly does have questionable long-term sustainability. Eventually, it will break down, at which point you will need to acquire a new piece of equipment.
Additional Specification
Best For: Top-Quality Protection
UV-protected: None
Color: Red
Weight: 15.5 ounces
Key Features: Adjustable Size
What We Like:
What We Didn't Like:
Chainsaw Helmets Comparison Chart
[table id=4 /]
Frequently Asked Question And Answered
Conclusion
So there it is. We've gotten pretty in-depth in this guide so if you are feeling overwhelmed that isn't outrageous. Which one of these products is going to be right for your needs? Maybe you are a high roller that wants a durable, effective product that you can count on.
If that is your situation you are probably going to favor something like the Husqvarna ProForest Chain Saw Helmet System. It is a consistently reliable piece of equipment that can be counted on to effectively get the job done.
However, there are also economical options out there for the buyer that is on a restrictive budget. The Oregon 563474 Chainsaw Safety Protective Helmet With Visor Combo Set is a good piece of equipment that is affordable for the buyer on a budget.
At the end of the day though, all of these products are pretty reliable for what they accomplish. You just need to find the one that is most suitable for your situation.