While woodworking is really interesting, it can be a little tough for beginners. This is why it is essential to ease into the woodworking process by starting with simple woodworking projects. Experimenting is one of the best ways to learn in woodwork, so even when you make mistakes while handling these easy wood projects, you get to learn a lot.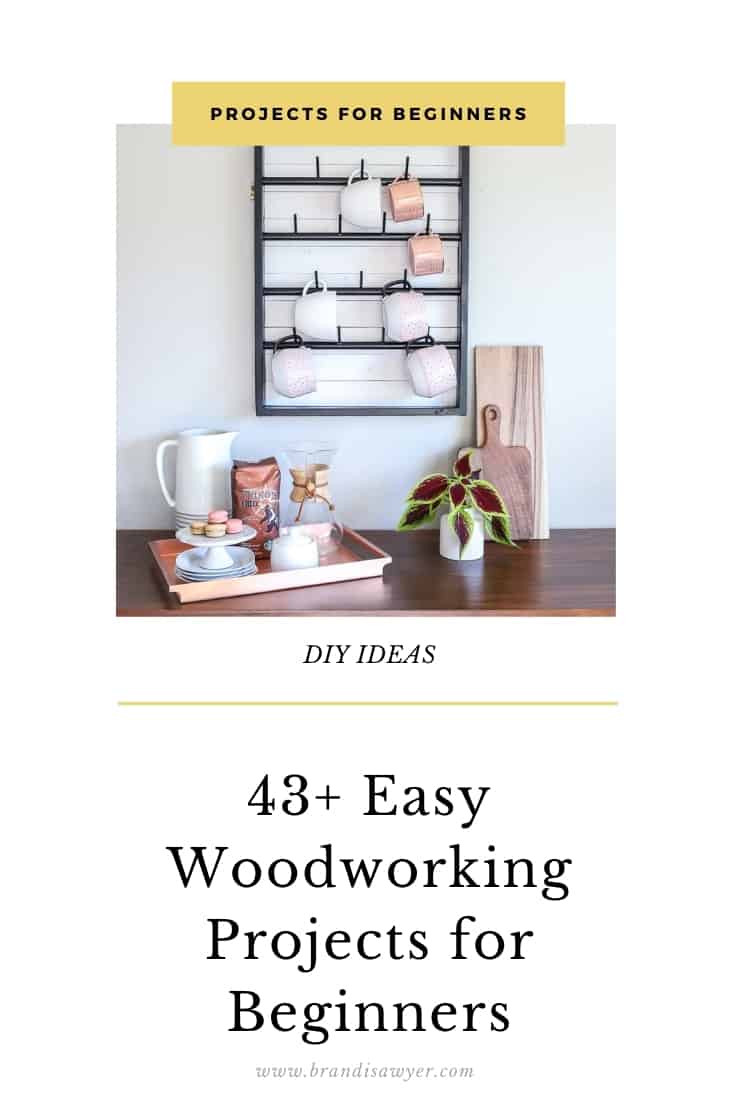 For the convenience of beginners, we will talk briefly about some cool woodworking projects for beginners, basic tools for woodworking, and some safety rules.
Here 45 Beginner Woodworking Projects
1. DIY Bunk Buddy
A bunk buddy is a bedside shelf designed to attach to bunk beds and lofted beds. Typically, they hold books, drinks, stationeries, and other things that may be needed during the night.
As a beginner in woodworking, making a DIY bunk buddy should not be so difficult. It will cost you very little or nothing as you can make use of scrap wood; all you need to buy are a couple of bunk bed ladder hooks.
2. DIY Wall Wine Holder
This is another interesting woodworking project for beginners that can be made in no time and with little financial implication. If constructed carefully, it does more than just holding wine bottles, it adds to the aesthetics of your interior space.
It may look complex when you look at already made wall wine holders. However, the process is not so complicated. All you need is the wood material, screws, glue, and some other basic woodworking tools.
3. DIY Coffee Mug Rack
This requires so little woodworking skills, and it should not present any trouble to a beginner. If you are low on cabinet space, you have a special set of coffee mugs you want to display; why don't you make yourself a coffee mug rack.
There are so many different styles to choose from when it comes to coffee mug racks; all you will need are essential woodworking tools and a few supplies to make yourself a rack that will hold you beautiful mugs.
4. DIY Wooden Doormat
Instead of going to the store and spending considerable amounts on doormats, you can make yourself one at home and even improve your woodworking skills in the process.
Wooden doormats are unique, and everyone coming into your home will have something good to say about it. Also, it ensures that your dirt is not carried into your home from outside as you and your visitors get to scrape your footwear before entering the house.
5. Simple Serving Tray
How about a simple and beautiful serving tray you can use in your kitchen, dining, and even on your patios. For people who have little or no experience in woodworking, this is one of the easiest things to make.
Cut your tray to whatever shape you want, and you can even paint it in whatever color you choose; there's no considerable technicality in the process. You don't need more than the wood, nails, and handles.
6. Wooden Bench for Less
This is another project you can embark on to challenge your skills as a beginner woodworker. If you have a garden, it is an excellent idea for you to have a wooden bench in there, and you can even make one for your patio.
What's better? You can make yourself a wooden bench in a couple of hours, once you have the necessary basic tools. It is certainly cheaper and more exciting than having a professional make one for you.
7. Magazine Storage Containers
Make yourself one of these if you have too many magazines lying around your house. It is an easy thing to make, and you can get it done in no time.
With wood, glue, and basic tools, you can construct one and make your interior space more organized.
8. Sleek and Simple Coat Rack and Hat Rack
Instead of going out of your way to pay so much for a fancy coat and hat rack, why don't you make yourself one that is just as fancy but with fewer cost implications?
A coat and hat rack is not a compulsory thing to own. However, if you want to keep your interior space organized, you need a feature that can hold your personal coats and hats and those of your visitors.
9. Easy DIY Earring Stand
Having your earrings scattered or in the clutter on your dressing table is not the best thing; with this simple woodworking project, you will be able to display them in an organized manner.
Woodworking is not all about complex projects, with simple and minimalist projects like this, you will enjoy your intro into woodworking.
10. No-Sew Embroidered Dice Bag
For your BBQs, family reunions, and other activities, you need to plan entertaining activities for your friends and family members to partake in. Dice games are a great way to achieve this.
Making lawn dice doesn't require more than wood and your basic woodworking tools; any additional equipment needed can be gotten at your local hardware store.
11. DIY Mid-Century Nightstand
Good news for you if you are just a beginner in woodworking, and you love mid-century furniture; you can easily make one for yourself- a mid-century nightstand. This project will add a classic touch to your space.
Depending on the things you want the nightstand to house, and they style you have in mind, you can customize it further by including a drawer in the design.
12. DIY Wooden Picture Holders
One of the interesting things about woodworking is that you can easily make simple and beautiful things that will add aesthetic to your interior space while performing certain functions. One of such is a wooden picture holder.
You get to display different sizes of photos without necessarily framing them. Also, you won't need too many tools to make one.
13. Pet Bed DIY
Why don't you challenge your woodworking skills and make a bed for your pet? Dogs and cats love comfortable spaces where they can snuggle up and get some rest.
This project is a bit harder than most of the projects on this list, and it may cost a bit more. However, if you can pay attention to instruction, it is a great way to improve your skills and make something good for your pet at the same time.
14. Tic Tac Toe Game
It's quite easy to make an oversized tic tac toe game putting your woodworking skills to use; it's almost like making lawn dice, but it will require a wooden base on which the game will be played.
Another fun part is when you paint the tic tac design on the blocks; you can go with the traditional Xs and Os, or you can customize further by choosing whatever you prefer.
15. DIY Wooden Pencil Holder
If you have young children, you can make a wooden pencil holder keep their pencils organized and easily accessible. Kids love to draw and scribble whenever they get the chance, and they should be encouraged.
With just a piece of wood and a few tools, you will make the right pencil holder in no time. Moreover, a pencil holder is not for kids only; if your work requires you using pencils, you can make one for yourself.
16. Pallet Shelf
The best woodworking projects for beginners are those that can be completed quickly and with little effort. A simple pallet shelf is one of such projects.
When you compare the cost of a DIY pallet shelf to an already made one from the store, you will see that it is better to make one yourself. Besides, you get to improve your woodworking skills.
17. Scrap Wood Stool project
This is another simple woodworking project you can work on during summer. You get to utilize and get the best out of all the scrap wood you have laying around, instead of disposing of them.
Scrap wood stools may not have the nicest of looks, but if you construct them well, they can be really strong, durable, and very functional.
18. Address Number Wall Planter
Believe it or not, you can actually complete this project in less than 1 hour. It is a great way to bring some life to your front door, especially if it looks blank at the moment.
You don't need more than a few pieces of wood, essential tools, and some numbers. This is one of the easier projects on this list, and if you are scared to take on a seemingly harder project, and address number wall planter is a great project start with.
19. Baseball Cap Rack
Actually, this is quite similar to the coat and hat rack discussed earlier. However, it is smaller in size and designed to hold caps only.
It is an excellent project for beginners in woodworking as you will get to practice the basic woodworking skills: measuring, marking, straight cuts, curved cuts, and even painting (if you like).
20. Hanging Basket Wood Stand
This is another feature you can add to your porch to get a warm and welcoming aura. While it is possible just to hang flower baskets above your porch, making a hanging basket wood stand is more unique.
Also, it is not so hard to make; once you join the pieces of wood together and hang the basket, you are free to put in whatever flower is your favorite.
21. DIY Large Wood Sign
A lot of beginners in woodworking quit early because they find it hard; nonetheless, this doesn't have to be the case for you. If you can follow the instructions to the latter, you can steadily develop your skills, and eventually, you will find out that woodworking is quite interesting.
A wood sign can go up anywhere, in your bedrooms, on your porch, or even in your office, and it can carry any text you want it to.
22. Wood Herringbone Coffee Table
This DIY coffee table can be built easily, using plywood and wood planks. You can use any type of legs you want, hairpin legs are quite good, and they go well with the herringbone pattern.
The part people find challenging the most is getting the herringbone pattern right. However, you should be able to get it right with some online assistance.
23. DIY Plant Hanger
There are many woodwork projects you can embark on as a beginner to house and hold your plants and flowers, and like the hanging basket wood stand, this DIY plant hanger is simple and very elegant.
Moreover, if you are a mid-century design lover, you will love this project. With a couple of screws, a rope, some tools, and a little effort, you can make yourself a cute plant hanger in no time.
24. Jelly Bean Dispenser
Your children will definitely love this!! If constructed properly, it will dispense not only jelly beans but any other similarly-sized candy. This project will, however, require some precise measurements, but it is nothing a beginner can't handle.
You are bound to gain some significant woodworking experience from this project, and at the same time, you get to create something that will create fun memories for your kids.
25. Wood Candle Holder
Of all the woodworking projects for beginners, this is one of the simplest. You don't need much wood to build yourself one, and likewise, you don't really need many tools.
If you have wood pieces that will not be sufficient for large projects lying around, you should consider making a wood candle holder. Better still, you can use a variety of designs and finishes to improve the look.
26. DIY Bottle Vase
Isn't it interesting that there are so many interior design projects for beginners in woodworking to embark on? With nothing but a few pieces of wood, bottles, and a few tools, you can build yourself a charming bottle vase.
You don't have to spend much money at the store, buying a flower vase; it is considerably cheaper to make one yourself, and the satisfaction you will get from completing a project like this cannot be quantified.
27. Mountain Wall Hooks
These mountain wall hooks are so aesthetically pleasing, and they do not require much to make. The fact is that you can just go ahead to fix wall pegs in your rooms, but why not add some flair and uniqueness.
You don't even need much wood for this project; with a small piece of scrap wood and some hooks, you are good to go.
28. Desk Organizer from a Single 1×3 Board
This is a chance to make something that will help you keep your desk more organized in your workplace. A desk organizer doesn't have to be really grand, and with little wood, glue, and tools, you can make one in no time.
There are days when you have so much work to do with your workspace left in total disarray; however, if you can put your woodworking skills to use and make yourself a desk organizer, you will find your desk organization easier.
29. DIY Circle Wood Shelf
In recent times, circle wood shelves have become more popular. They have a simple look and are very easy to make, an attestation to the saying- less is more.
The only significant challenge would be getting a circular wood piece for the project. However, there are many substitute materials you can use, one of such being quilting hoops. With some other materials and a couple of tools, you can easily make your circle shelf.
30. DIY Bike Stand
Bikes can't stand on their own if they don't have kickstands, thus, you need to get a bike stand if you want your bike standing upright. The good news is that you don't have to go out to buy, you can always put your woodworking skills to use and build one.
It does require accurate measurements and a bit of effort, but you can get it all done in no time.
31. Curvy Side Table
If you can put in the effort required to make a curvy side table, you will be delighted by the result at the end of the project. It will give any of your interior spaces a classic and unique touch.
You will, however, need some more advanced tools like the band saw to cut the curved legs properly. Still, it presents excellent woodworking opportunities for beginners to learn and develop their skills.
32. DIY Wooden Triangle Shelves
DIY woodworking project affords you the opportunity to construct unique things that may be too expensive to buy or too hard to find on the market. These wooden triangle shelves are not so popular, so if you like them, you have to make them.
Once you have all the necessary materials and tools, you can make as many triangle shelves as you need.
33. Easiest Stools Ever
Any good "beginner woodworking projects" list must include stools and tables; these are arguably the most typical projects among woodworking beginners.
You may wonder if you really need stools around the house; however, if you have a patio or sufficient outdoor space, it is not a bad idea to have stools in these spaces. The most basic woodworking skills are what you need; no complex techniques required.
34. Simple X Table
This is a very creative idea as it solves the problem of having to hold your tablet while using it, more so if you have to carry out other activities at the same time.
It is very easy to make one, just like joining pieces of wood together, albeit with specific measurements, careful marking, and precise cutting.
35. Guitar Picks
Who knew you could actually make guitar picks with wood? Yes, you can!! And you can make them from scrap wood you have lying around. If you are a guitar player and you are interested in woodworking, take some time out and make some wooden picks for yourself.
You don't have to be a guitar player to embark on this project. As you get better with time, you can begin to make them commercially.
36. Beads, Wooden
This is another area where you can put your woodworking skills to use. The good thing about wooden beads is that they make such a great gift, and you can make them for commercial purposes.
This takes more time, however, and you have to be ready to put in the effort. Also, the difficulty of the process will depend on the shape and size of the bead you are making: round, oval, or square.
37. Beer Stein
A lot of woodworking beginners would shy away from a project like this; nonetheless, it is something that can be done of you pay close attention to instructions, and you put in the effort required.
It is not as simple as most of the other projects, but think about the outcome- a beer stein; it doesn't get more exciting and more original than this. You should know that you will need a lot of woodworking tools to carry out this project.
38. DIY Scrap Wood Designer Table Tutorial
If you have ever seen a scrap wood designer table before, you know that it looks very complicated and as if a lot of work and materials go into the construction process; it's all just wood.
The construction process is a reasonably repetitive one as soon as you have all your materials and tools at hand. When the cost of construction is compared to the cost of getting a ready-made one, it pays to put in the effort and do it yourself.
39.Modern DIY End Table
This a wonderful summer project idea- a modern DIY end table for your interior space. The process is quite tasking, more so if you don't have all the necessary tools. However, it is still a reasonable woodworking project for beginners.
There are lots of ways to customize your modern DIY end table, depending on your preference; the finishing, the legs, the joints, and even features like drawers all depend on you.
40. Scrap Plywood Candle Holders
Like the wooden candle holders discussed earlier, this is another project that needs very little wood to make; the significant difference between this and the other option is that this is entirely a plywood project.
To make your plywood candle holder look unique, you can use distinct finishes for each layer of plywood.
41. Wood Book Shelf to Window Bench
If you have a beautiful view from your window, get the best of it by making yourself a window bench. There are many steps involved, but if you follow them faithfully, the project should not be too challenging.
It will undoubtedly cost less than buying a ready-made one or getting a professional to construct one, and you get to improve your woodworking skills. Also, you can create storage space below the bench where you can keep a lot of things.
42. Simple Napkin Holder
When you are out on picnics or even have a family meal on your patio, this DIY napkin holder will help you hold your napkins in place and prevent them from getting tossed here and there by the breeze.
You don't need a lot of wood to make one, and you get done with the project in no time. This is a perfect example of a beginner woodworking project.
43.Cutting Board
Why do you have to go all the way to the store to get a new cutting board when you can easily make one yourself?
To make one of these, you don't need more than your wood, some rubber feet, and screws, and some basic tools. Definitely, this is one of the easiest on this list, and it is a perfect project to begin your woodworking career with.
44. Wooden Bookends
Woodworking projects don't have to be all about accurate measurement and precise cutting; as a beginner, you are bound to make mistakes, and with this in mind, you will have less hassle improving on your woodworking skills.
In fact, you will be amazed by how good the bookends will look when you put them to use, even if they don't look perfect.
45. Simple X Table
This is another table style that shouldn't be hard for beginners to make. It will teach you more measuring, cutting, and joinery skills.
A table like this will look good in your yard or in your garage, where you can always get some use.
Basic Hand Tools for Woodworking
These days, there are so many sophisticated and large woodworking tools that make the whole process easier. However, woodworking is more than these big tools. If you want to have the full woodworking experience, here are some basic hand tools you need to know about and have.
25-Foot Retractable Tape Measure
If you want to get better in woodworking, you need a tape like this at the very least so that you can get your measurements right. To make it easy for you, get a tape that has both imperial and metric markings, so you don't have to convert dimensions when following online instructions.
Claw Hammer
Most people have held one of these at some point in their lives. There are so many different hammers, and if we begin to name them, we will lose count. However, the claw hammer serves more purpose in woodworking than most-especially for beginners. They come in different sizes, so you will have to pick one that feels right in your hand.
Layout Square
In woodworking, you will need to mark angles, measure lengths, and mark straight lines. To some extent, this tool can help you achieve all these. It can be used to mark angle up to 45 degrees, and measure angles up to 6 inches.
Chisels
Chisels are needed to make precise cuts and notches; they are also required to clean waste from joints. They come in different sizes, the commonest ones being the 1/4 inch, 1/2 inch, 3/4 inch, and 1 inch.
Screwdrivers
These days people prefer to use power drills. However, it is a good idea to start with a screwdriver as a beginner. Besides, there is a small project that will exclusively require small screwdrivers. There are different types: flat-head, Phillips, square, Torx, star, and more. You will need to have various sizes of these drivers.
Block Plane
Together with chisels, a block plane can be used to clean up edges. Block planes are needed to remove thin wood shaving in order to make wood surfaces smoother.
Woodworking safety rules
As a beginner, woodworking safety rules are another one you need to pay close attention to before you embark on any project. These safety instructions will reduce the likelihood of accidents and injuries. Here are some of the guidelines you should follow to stay safe in your workshop.
Wear safety equipment
Whenever you are going into a woodworking workshop or working on any woodworking project, you should have safety equipment on. Safety glasses, hearing protection, and latex gloves are some of the safety equipment you should always have on, depending on the type of project you are working on and the variety of tools you are using.
Put on appropriate clothing
There is a way you should dress when working on wood projects, and there are things you shouldn't have on you, as you wouldn't want them to get entangled in any of the tools. Avoid loose-fitting clothing and remove jewelry before you start working. Also, if you have long hair, pack it into a bunch and put on some hair covering.
Don't drink or use drugs
This may seem like something everyone should know; however, taking one or two drinks before working on a wood project may seem harmless to some people. To be safe, put off any woodwork if you are under the influence of alcohol or if you are taking any drugs that can affect your performance.
Use one extension cord
Use only one extension cord for all your electric tools; whenever you need to switch tools, switch the extension cord also. This way, you will be able to confirm that all power tools will stay off when they are not in use.
Only use sharp blades
Blunt blades tend to bind or kick-back, and this can cause serious injury to the user. It easier to make clean cuts with sharp blades, so always stick to sharp blades and bits.
Clean your working space
Whenever you finish any project, clean up your workspace immediately; this is to prevent any form of injury from nails, wood pieces, and other waste materials. If a project takes more than a day, you may not be able to clean up until you eventually finish the project. The more reason why you should wear protective clothing. Nonetheless, you should clean up as soon as you finish a project.
Conclusion
These cool woodworking projects shouldn't be too hard for a committed woodworker, even if you are a beginner. If you can pay attention and follow the instructions faithfully, you are bound to discover how easy and fun woodworking really is.
Also, we discussed some essential information as regards some of the basic woodworking tools and safety instructions you should get familiar with as a beginner in woodworking.